Hey guys and gals,
What a wild market it's been…
But my trading performance continues to go well…

I've been able to put about $150K to work and realize $96,813.64 so far.
Right now, I feel as if I'm trading in the zone… and will continue to do so.
Over the past few weeks, I believe I've discovered a trend that has actually benefited me.
You see, with the influx of retail traders…
There's actually been a surge in demand for momentum stocks, in my opinion…
Consequently, that's caused a specific type of these fast-moving stocks to move.
What am I referring to…
And what trend have I been noticing?
[Revealed] The One Trend I've Noticed With Momentum Stocks
On any given day, there are liquid momentum stocks making a move…
But right now, I'm noticing some that have outsized gains, and it's not crazy to see momentum stocks double virtually overnight.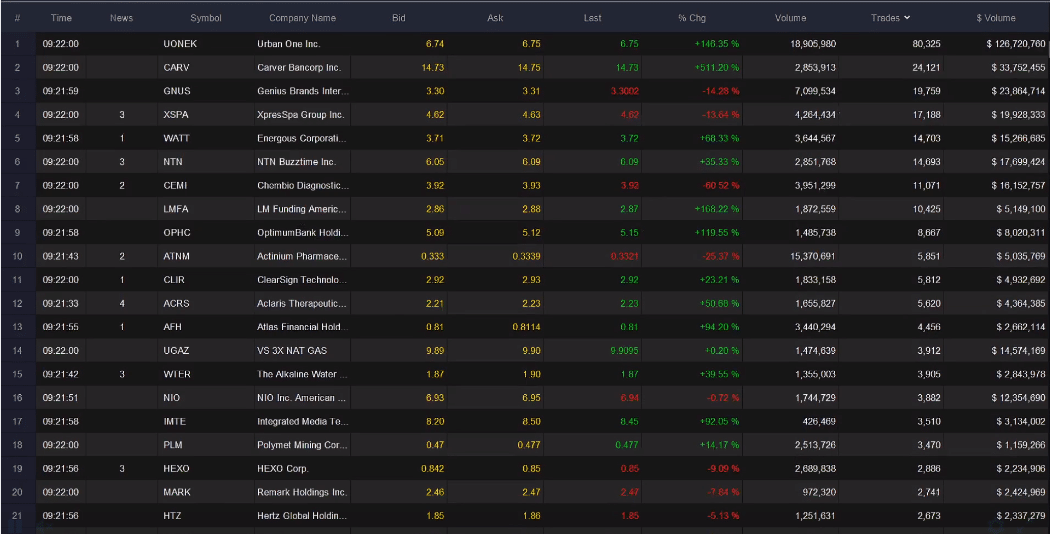 Source: Scanz Technologies
The reason?
Traders have been buying up stocks left and right…
And with so much demand… there's one factor to take into account…
The Float
You see, the float of a stock — also known as shares floating — actually lets traders know what the supply is in a specific stock.
If you think about it…
The float of a stock doesn't change very often…
And when there's high demand…
Shares can pop.
That's the trend I'm noticing at these levels.
Low floats are popping off.
For example, Net Element (NETE) was one stock on my Monday Movers watchlist.
The most interesting part about the stock to me at the time was the fact it had less than 4M shares floating.
To me, that's a really low float…
And if demand just picks up a little, the moves can be insane on a stock with such a low float.
Not only that, but there was a looming catalyst.
Well, the company actually announced positive news… and it moved all the way from below $4 to more than $13 at one point…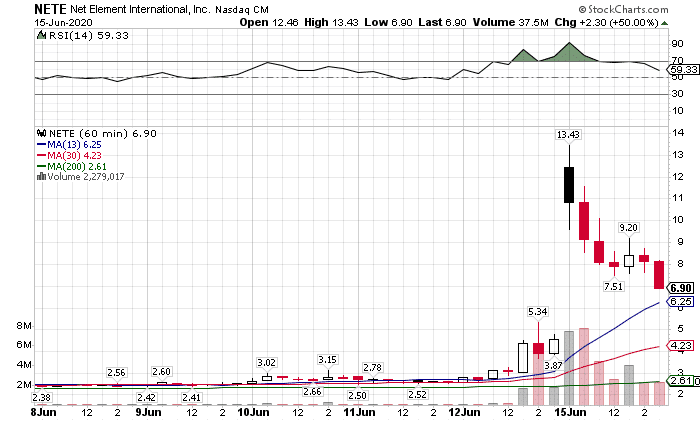 Source: StockCharts
If you want to get all the details about how I spotted the trade, click here and find out.
Another stock I spotted that was set to have its float reduced was Groupon (GRPN).
The company announced a 20-for-1 split. That meant the stocks floating shares would be reduced by a multiple of 20.
When the float gets reduced by that much…
There's a chance the stock could squeeze higher.
GRPN was actually on my Monday Movers watchlist last Friday as well…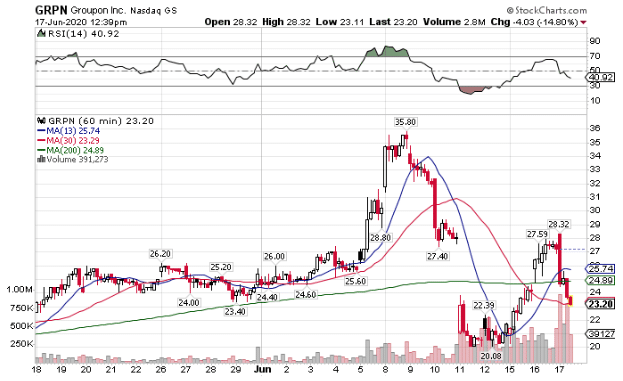 Source: StockCharts
The stock actually moved from $20.84 (the price where it was trading when I released my watchlist)…
To a high of $28.32 just this morning.
This is the one trend I'm noticing… and if you want to find out what the shares floating in a specific stock is, you can head over to Finviz, you should see an entry under "Shs Float".
I believe a float of less than 100M shares would be considered low… and those are the stocks to keep an eye on right now, in my opinion.
Now, if you want to learn how I'm able to spot some of the hottest stocks in the market… BEFORE they move, then click here and gain access to my exclusive momentum trading workshop.
WE MAY HOLD SECURITIES DISCUSSED.RagingBull has not been paid directly or indirectly by the issuer of any security mentioned in the Services. However, Ragingbull.com, LLC, its owners, and its employees may purchase, sell, or hold long or short positions in securities of the companies mentioned in this communication.
DISCLAIMER: To more fully understand any Ragingbull.com, LLC ("RagingBull") subscription, website, application or other service ("Services"), please review our full disclaimer located at https://ragingbull.com/disclaimer.