The market is a little crazy right now as it struggles to find a clear direction at these levels.
With earnings season kicking off next week, that'll be one catalyst traders will be focused on.
Now, I believe there will be a lot of noise in the coming weeks.
When there's noise, it's often difficult for traders to find potential trade ideas.
For me personally, I'll still be on the hunt for momentum stocks to trade…
And I want to teach you how I'm able to find the ones poised to move.
So what's my process to identify momentum trading opportunities, and how can traders develop their own?
How To Uncover Momentum Trading Opportunities
The first step in my trading process is to narrow down my trading universe.
How do I do that?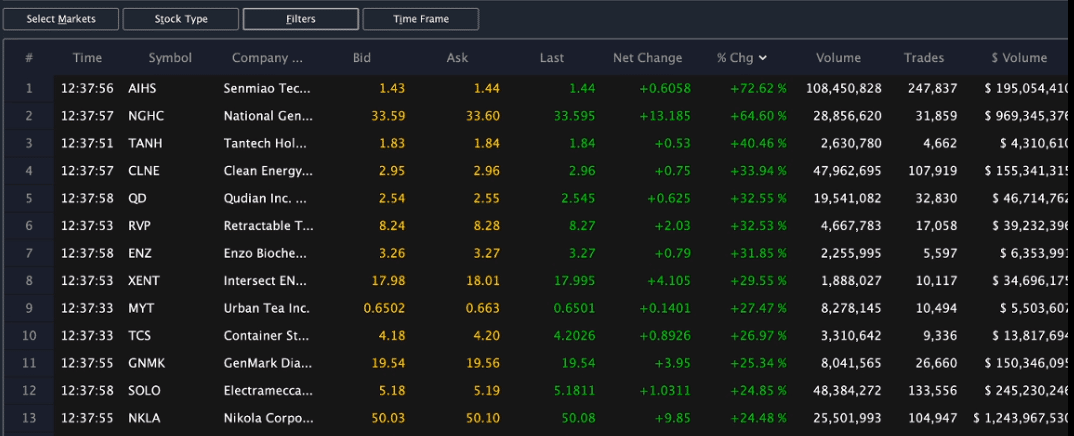 Source: Scanz Technologies
What I want to do is look for momentum stocks moving. However, I'm not just looking for any stock gapping up.
The stocks I trade must have a dollar volume ($ volume) of at least $2M. I find that $ dollar is a far superior measure of liquidity than number of shares.
For example, if I look for stocks with at least 1M shares traded… I may end up with random penny stocks that are actually thinly traded when you look at the bid-ask spread.
On the other hand, $ volume shows me the actual amount of money that has been exchanged that day at that specific momentum.
By doing so, it actually lets me find stocks I may want to trade.
Thereafter, I just sort by percentage change (% change).
This process sounds easier than some other ones out there, if you ask me.
Now, once I've filtered down to just a handful of names, I look at the charts and see if I find anything interesting.
For example, one name that looks interesting is Electrameccanica Vehicles (SOLO).
There's a lot of hype surrounding the electric vehicle market… and SOLO is one momentum stock to potentially play.
However, I don't just jump into any stock I find on the scanner… I conduct my due diligence.
With SOLO, there are only 30.44M shares floating. In other words, there's not a whole lot of supply out there.
If the demand for electric vehicle stocks continues… there could be a wild move if the demand levels exceed the supply significantly.
Now, although SOLO made 52-week highs this week, there are some levels to keep in mind…
The next level of resistance is $6.74, which was the 2019 high.
Thereafter, $7.48 is in play… and then the key psychological level at $10.
SOLO actually bounced off the $3.88 level very well, which happens to be the 50% Fibonacci retracement level.
Now, if you want to learn how I'm able to trade momentum stocks on a part-time schedule, then you'll want to check out this training workshop I put together.
In this masterclass, I detail my number 1 trading edge… and if you register for it now, you'll receive bonuses valued at $300, absolutely free!
Find out my techniques to hunt down momentum stocks.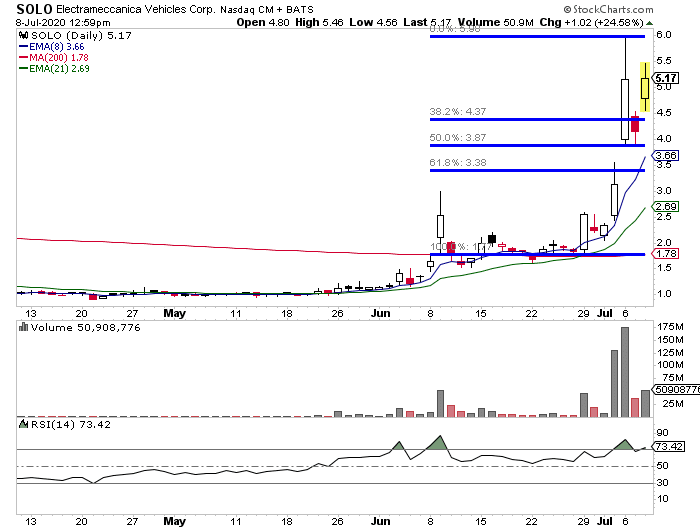 Source: StockCharts
If it pulls in to the $4.50s, I think that would be an area of value.
Why?
Well, there's a clear support level at $4.37, then at $3.88.
Since the stock has room to $6 (its recent high).
So the risk-reward is favorable there in my opinion.
I repeat this process and develop a watch-list… and then strike when I see opportunity.