On Monday, Tonix Pharmaceuticals (TNXP) was the sixth-most added stock on Robinhood.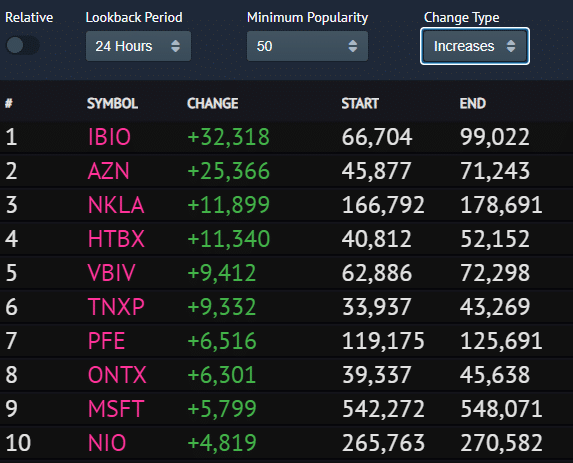 Nearly 10K users added TNXP to their accounts, and it seems as if they're just chasing momentum right now.
The thing is, chasing momentum can be dangerous especially in this environment.
I believe the key is to uncover these stocks is to find a pattern and follow the price action.
Now, with TNXP, there was an announcement the stock was in collaboration to develop techniques for COVID-19 vaccines.
That area of the market has been hot, and I figured traders haven't really priced in the news yet…
That's why it was one of my Monday Movers watchlist stocks.
There's one common pattern I've noticed — at the start of the week, traders are getting into stocks and trying to set themselves up for success…
Sometimes, the company may even announce news over the weekend.
I find developing a plan and getting in on Fridays has been helpful…
And that's how I was able to lock in a large winner in TNXP, before the Robinhood traders started to pile in*.
I want to show you how I spotted it, and the thought process behind the trade.
How I Locked In A 35% Return In TNXP
Here's what I sent out to Monday Movers subscribers on Friday.
TNXP I hate this stock but it's got a lot of range to $1 and monster volume today. The dip this afternoon has afforded me a decent entry. In play above $.70 for me.

Source: Finviz
Even though I didn't love the stock, I couldn't ignore the price action.
It had room to the $1 level… and on the hourly chart, there was a bull flag setup.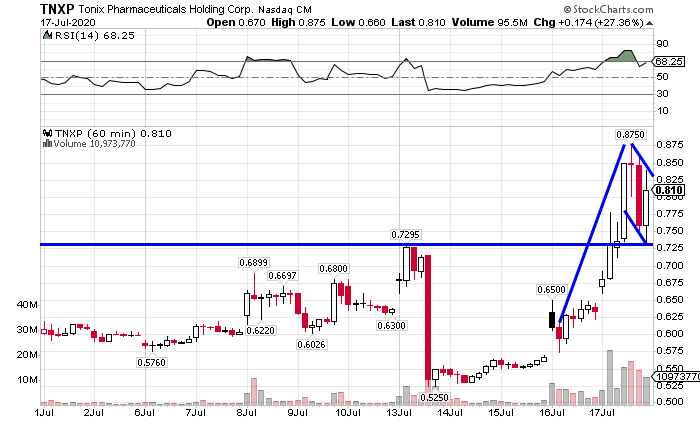 Source: StockCharts
Not only that, but the stock broke out above a key resistance level.
So why did I get in on Friday?
Well, I mentioned how this was a coronavirus name… and we've seen stocks like MRNA and HTBX pop.
TNXP could move in sympathy, and with a bullish setup and momentum in the name, coupled with rising volume… I figured the stock had a chance to gap up come Monday morning.
Was I looking for a massive move?
Not really, I was just looking for a base hit with this setup.
With a catalyst in play and a bullish chart pattern, momentum could build in the name… and get to my target of about $1.
I executed my plan and bought shares for $0.78.
One the market closed on Friday, I stuck around for a bit to see if TNXP would make a move during the afterhours…
But no cigar.
So I just went about my weekend, relaxed and hung out with my family. My work was done, and I just had to get up on Monday to check in on the position.
Well, when I got up and check the markets…
I found that TNXP was the second most active stock at 7 AM ET during the pre-market.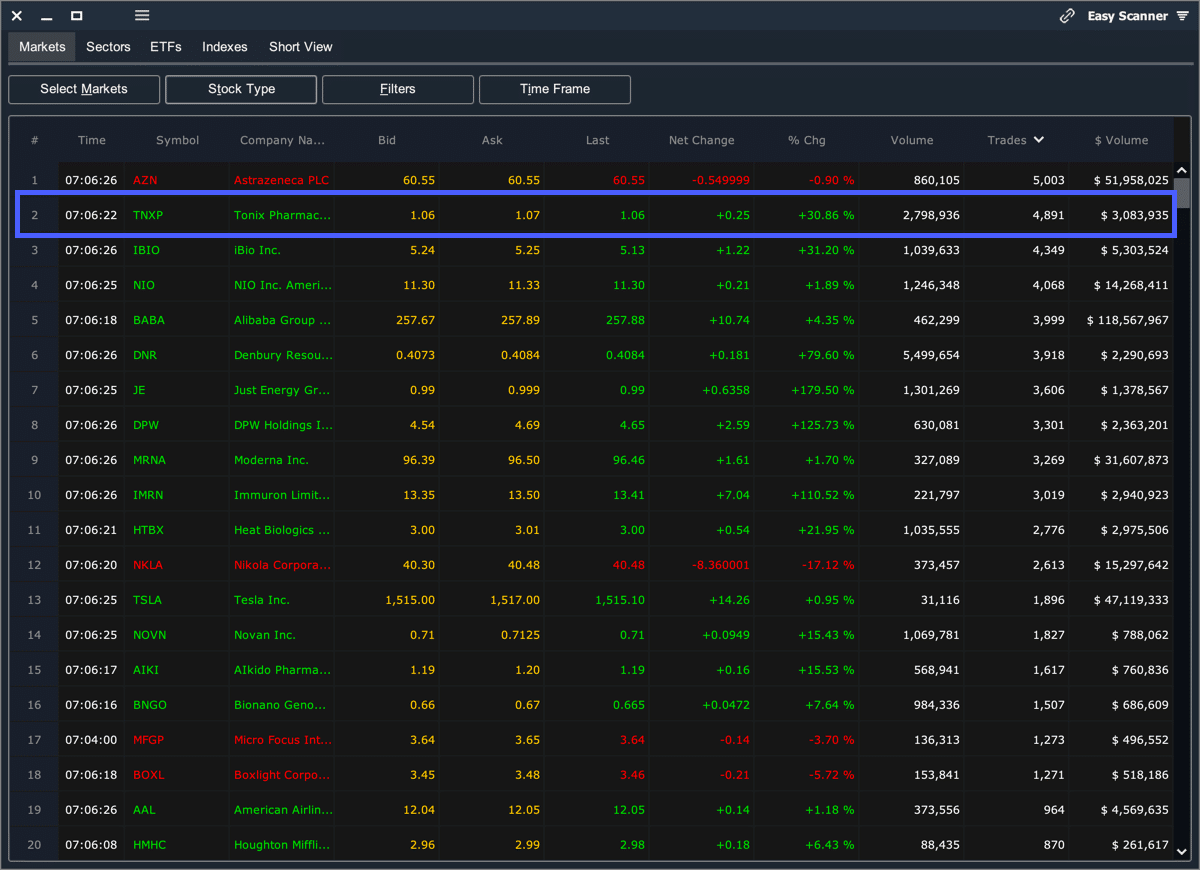 When I conduct my scan and filter for liquid momentum stocks… It was seventh on the list of largest percentage movers with a minimum of $200,000 liquidity at 7:30 AM ET.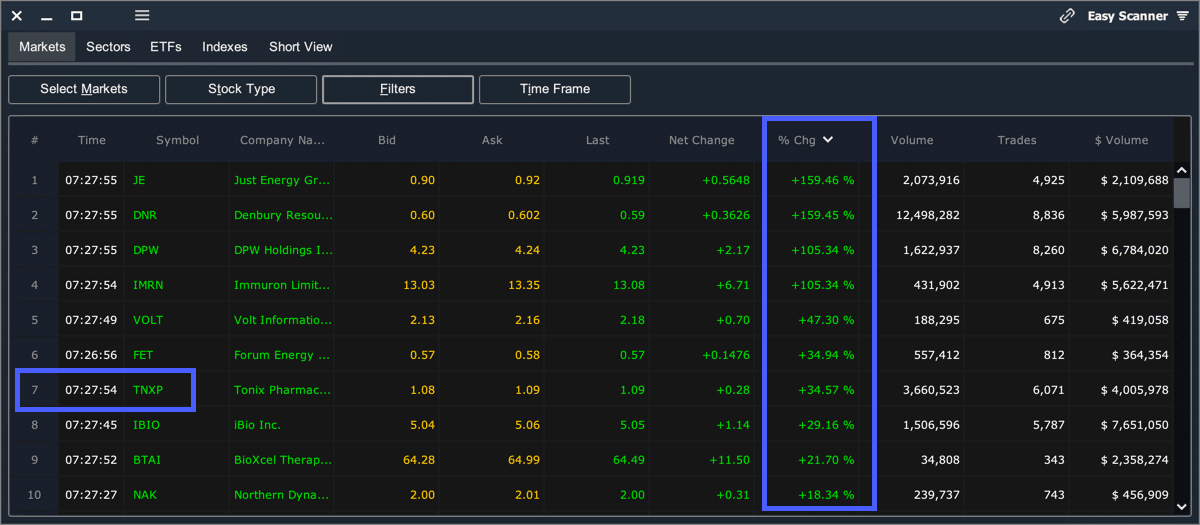 Now, I know what some of you may be thinking…
Did you wait until the opening bell to take profits?
No, I didn't.
I cashed in at $1.06 for about a 35% profit or about $8,400 realized to start the week.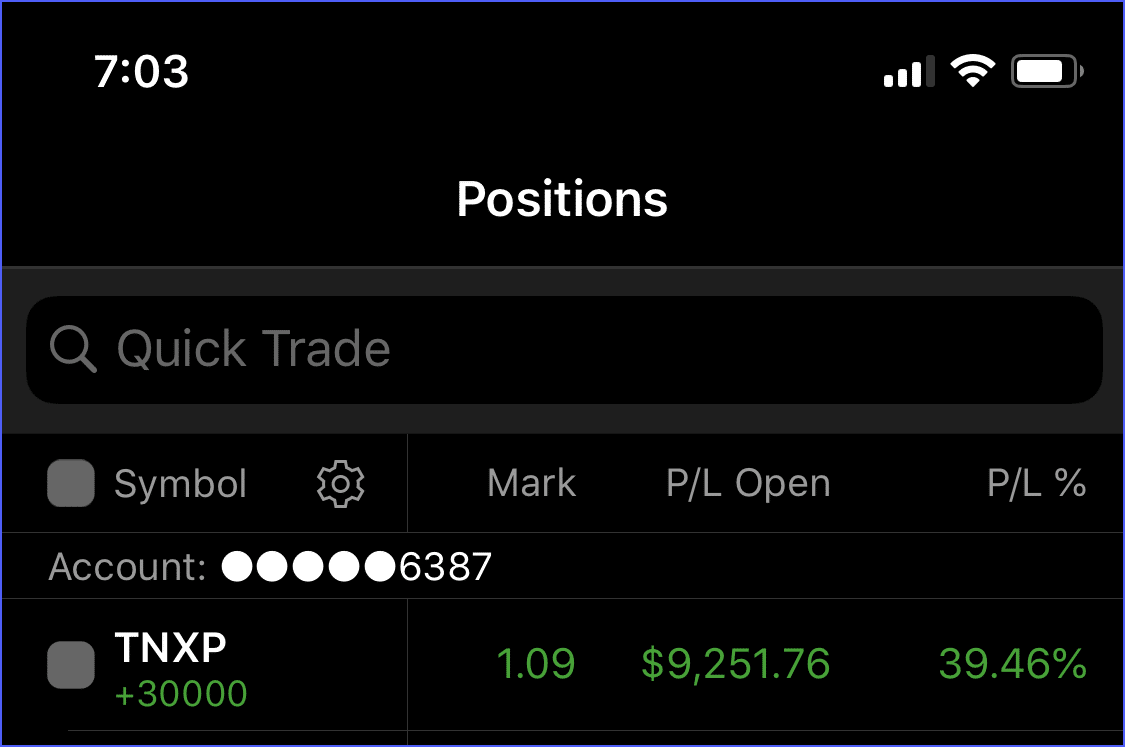 Some of you might be wondering how I was able to trade before the bell.
Years ago when I was new to trading, I didn't know I could trade in the extended hours either.
All it took was a quick call to my broker on how it works and I was good to go.
They were happy to help and it's good to learn.
For me, at TD Ameritrade, all that's required is I select 'Day + ext.' instead of just 'Day' in the 'Time-in-force' box.
I think TD charges me a tiny fee for that but given the big, big win, a tiny fee is no concern for me, part of doing business as far as I'm concerned. The 'ext.' part just means extended hours which is 7:00 AM ET – 9:30 AM ET and then again at the end of the day from 4 PM ET – 8 PM ET.
When stocks gap in my favor for any reason I use that option to lock up my wins.
Not bad for a weekend hold.
Sure the stock could go higher, or it could go lower, but when a stock exceeds my plan, I don't sit around debating that, I've learned to pay myself and disregard the rest.
To me, my "weekend" strategy puts me in a position to kick off the week right… and if I'm able to lock in winners, I won't have to trade with my back against the wall and scramble for ideas.
Now, if you want to learn more about my Monday Movers watchlist and what it's all about…
I put together this short training clip, detailing the power behind the watchlist.