I've been getting so much feedback over the last few weeks about Monday Movers…
I wanted to take some time out to let readers know what's it all about.
Earlier today, I showed all attendees exactly how I identify stocks to buy and hold into the weekend — ones poised to pop off come Monday morning.
If you missed out on the event, click here to watch the rebroadcast.
I want to give you another look at why it's so crucial to utilize a strategy like the one I'm about to share with you…
And show you the pattern I look to exploit every Friday.
If You're Not Looking For "Weekend" Plays, Listen Up.
You've probably heard the term, "Money doesn't sleep" and that rings true on Wall Street.
I know what you're thinking already, "Jason, the markets are closed on the weekends silly. So how can money not sleep, if the markets are closed?"
Well, sure… stocks don't trade over the weekend. However, there are deals going on behind the scenes.
I mean think about the potential $2.4T stimulus that's on the table…
Do you think the politicians who are working on this deal are taking off on the weekend?
Of course not. They're trying to figure out the next course of action and that should dictate where the market goes.
The same is true for companies.
Listen, the executives are always at work, wheeling and dealing… and they just can't wait to let the world know about it because their stocks skyrocket sometimes.
I mean, take a look at one of the top gainers today SG Blocks Inc. (SGBX). The company announced it would bring rapid coronavirus testing centers to Los Angeles International Airport.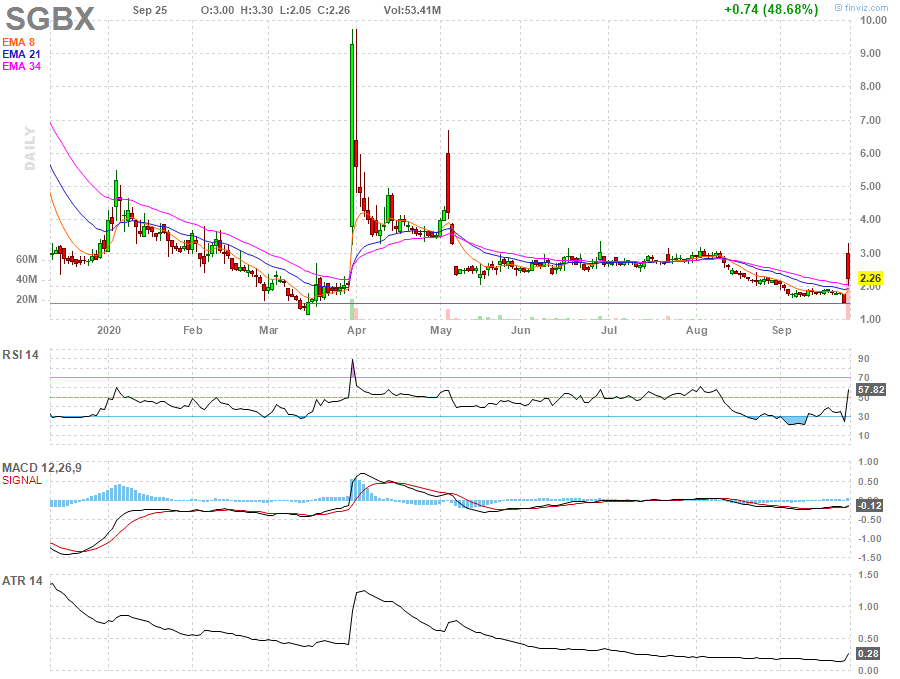 This happens over the weekends too.
I mean think about it like this, they work from Friday – Sunday and if they have a breakthrough… they'll release news about it. You can think about it as a catalyst, every single week.
It happens in different pockets in the market.
For example, we've seen positive news cycles in DraftKings (DKNG) and Penn National (PENN), and the goal is to take part in it to generate weekend profits.
For me personally, I keep an eye on the overall market and look at stocks with bullish chart patterns, as well as ones with catalysts on the table.
I know what you're thinking, "Holding into the weekend is risky, don't you think?"
Well, sure… if you're just picking a random stock and not being wary of what the overall market can do, then yes, it is risky.
This Friday, I noticed positive developments in the market, and that indicated to me there's less of a chance we'll gap down big on Monday.
Can it happen?
Sure, but I don't think it's likely.
So it was much easier for me to look for plays.
I found coronavirus names, some large-cap plays, as well as trade ideas that would help me establish a bullish opinion while placing me in a position to win in three different scenarios.
I'm confident those plays will work out come next week.
Listen, if you're not utilizing a strategy that allows you to gain off potentially monster moves over the "weekend", then you're doing yourself a disservice in my opinion.
Let me show you how I uncover "weekend" plays and put myself in a position to win on Mondays, ahead of time.