One of the hottest momentum stocks in the market now is Tesla Inc (TSLA)… and the stock can go through violent moves, in either direction.
It's one of the most hated, and most loved stocks.
The stock has an 8.59% short interest, which is a lot for a mega-cap.
At the same time, retail traders are piling into TSLA…
With more than 25K Robinhood traders adding the name to their account over the last 24 hours.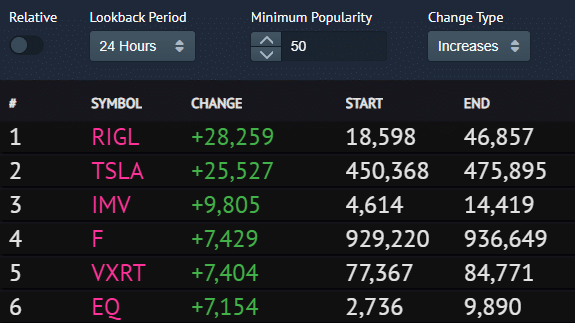 Source: RobinTrack
Who's going to be right?
I don't really care because I've figured out a way to play upside and downside momentum.
Of course, buying momentum stocks and locking in gains is easier when the market is on a remarkable run…
That's why I want to show you how to take advantage of pullbacks in momentum stocks with a real money case study in TSLA.
On Monday, even though I had a dentist appointment and was off the desk, I was able to lock in a 46.58% winner in TSLA puts*.
How did I do it?
How I Locked In Nearly 5-Figures On TSLA In A Matter Of Hours…
I know what you're thinking…
Who would really want to bet against TSLA at these levels?
I'm not going out on a limb saying TSLA will tank… I'm just trying to take advantage of the short-term momentum.
Now, we all probably know TSLA is a hot stock, so how would one know when and how to bet against it?
For me, it's simple…
I just look at the charts.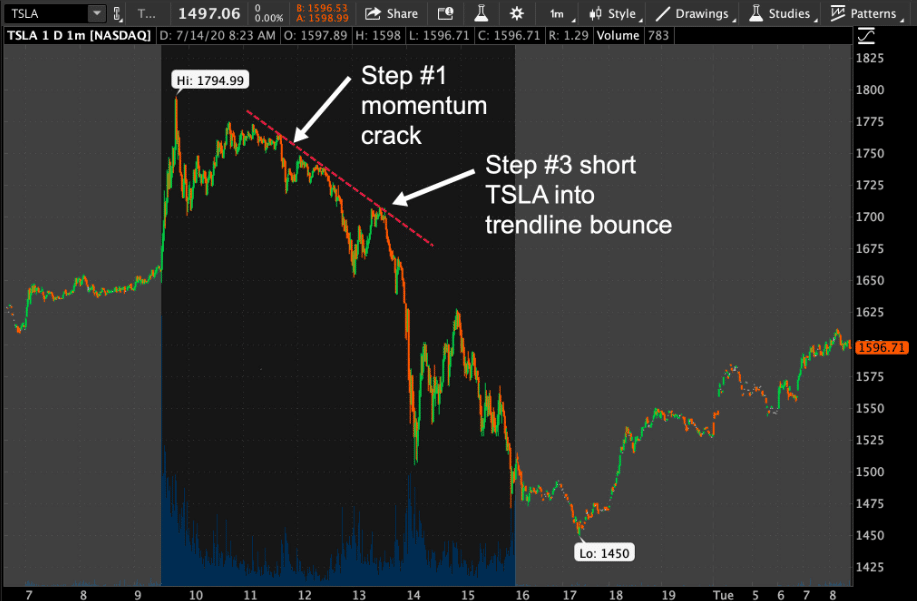 Source: thinkorswim
With TSLA, I noticed how the stock tried to get above $1,800, but failed. Thereafter, it tried to make a move higher, but failed again.
At that time, TSLA was actually forming a short-term downtrend.
When I notice this, I like to focus on the price action. As you can see, on the 1-minute chart, TSLA was making lower highs and lower lows.
The stock held that short-term downtrend line, and after it bounced into it, I bet against TSLA.
However, I didn't short shares because that would eat at my capital and it would be dangerous.
So what did I do instead?
I bought at-the-money (ATM) puts to take advantage of the momentum.
Of course, TSLA is a wild stock… and can move with the market, so I looked at the SPDR S&P 500 ETF (SPY) to see if it was moving in tandem.
Well, what do you know?
SPY was teetering, and I actually bought puts on SPY (but that's a lesson for another day).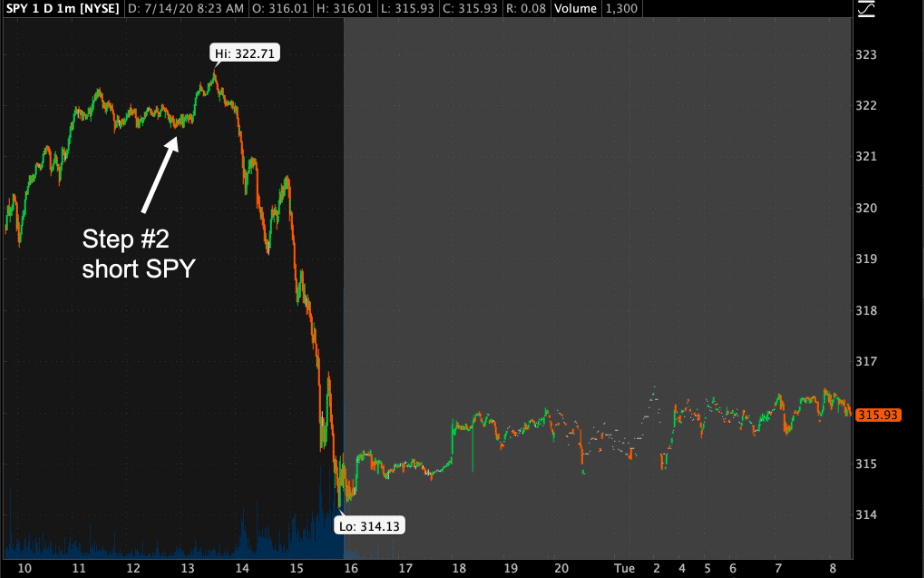 Source: thinkorswim
The whole idea here is to understand that there are pockets in which traders can take advantage of the downside momentum.
With TSLA pulling back, and tech stocks selling off, as well as the SPY rolling over…
It didn't take long for TSLA to gain downside momentum.
In just a matter of hours, I was able to lock in more than 5 figures on those puts*…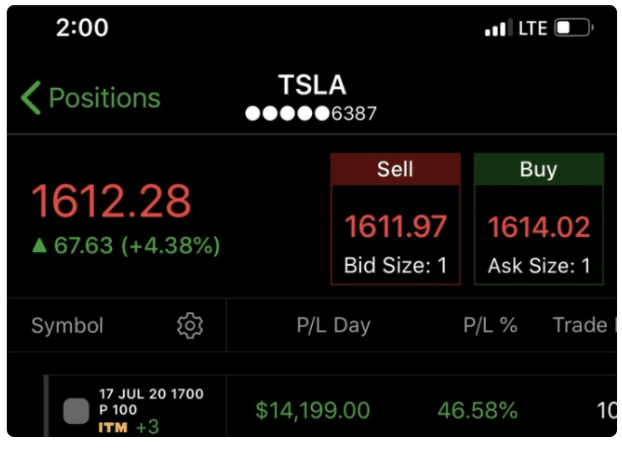 For me personally, I don't think it's too difficult to spot these patterns and take advantage of them.
I believe there will be plenty of momentum trading opportunities out there to take advantage of.
That's why I put together this special momentum trading workshop.
I want to teach you my techniques to hunt down momentum stocks before they move, as well as some of my favorite setups.
Register for the training session here.
*Results presented are not typical and may vary from person to person. Please review our full disclaimer located at ragingbull.com/disclaimer.