If you look at all the major news outlets, they're still trying to connect the dots and figure out who's going to come on top.
While I have been keeping an eye on the results, there's one area that's been popping off and it seems like these stocks don't really care what the results will be right now.
The best part — it's in one of my favorite areas in the market, and I've been teaching traders how to identify these plays for a decade.
Small-cap stocks are where it's at.
Just take a look at some of these wild moves that happened today.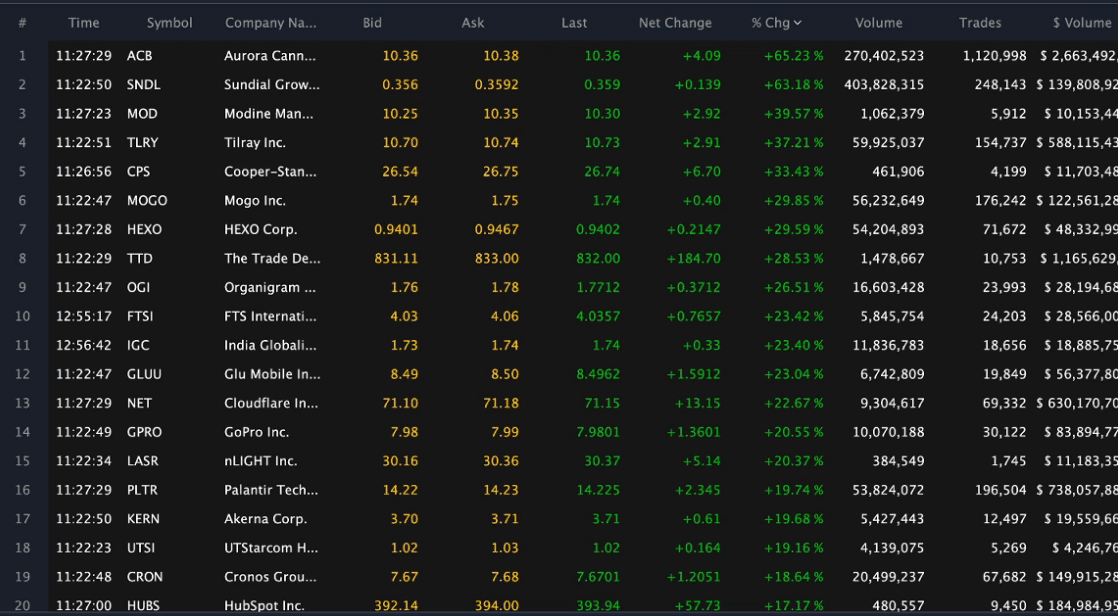 Right now, I want to show you patterns that have been working and how to identify these opportunities.
Small-Cap Stocks Take Center Stage
The key to identifying these momentum stocks is through pattern recognition in my opinion.
You see, there are specific setups that let me know that a stock can take off — ahead of time.
Take ACB for example.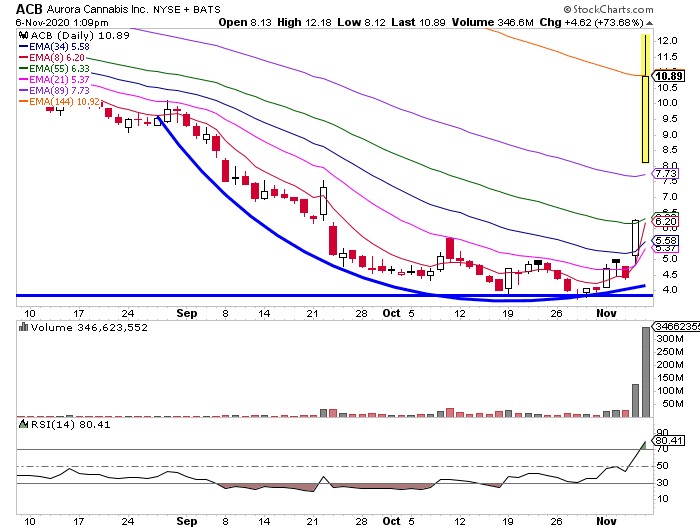 This was actually the fish hook setup. Basically, I'm looking for a sharp decline, followed by an area of support. ACB found support just under $4, and one it started to tick up, that was the signal to get in.
While I didn't take the trade, I think this is a perfect example of how to use chart patterns to attack the market.
Of course, you're probably wondering, "How exactly do you find these setups?"
Well, for the most part, I'm scanning and filtering for small-cap momentum stocks to trade.
What I want to identify is strong stocks running higher with at least $2M in dollar volume during market hours.
So take Glu Mobile Inc. (GLUU) for example. The stock came up on the momentum hunter scanner today and it beat earnings.
Here's was my thought process…
It is an earnings winner up 17% this morning and has a pivot in the middle $8's and gap recovery ahead of that. Overall market is down a little today so that's a consideration on where I'll try to enter and this is likely a swing trade over the weekend.
I've talked about the upgrades here, specifically Goldman who initiated with a Buy and price target of $9.80 back on September 1.
As I look at the early weakness in the market I'm hoping it brings this into the $7.60 area which would be my buy zone. I'm ok buying in the $7.70's too but given the situation with the election I won't be too aggressive out of the gate but rather looking for gap recovery and go. My goal here is 5-10% and I tend to trade GLUU bigger as it's a very liquid name.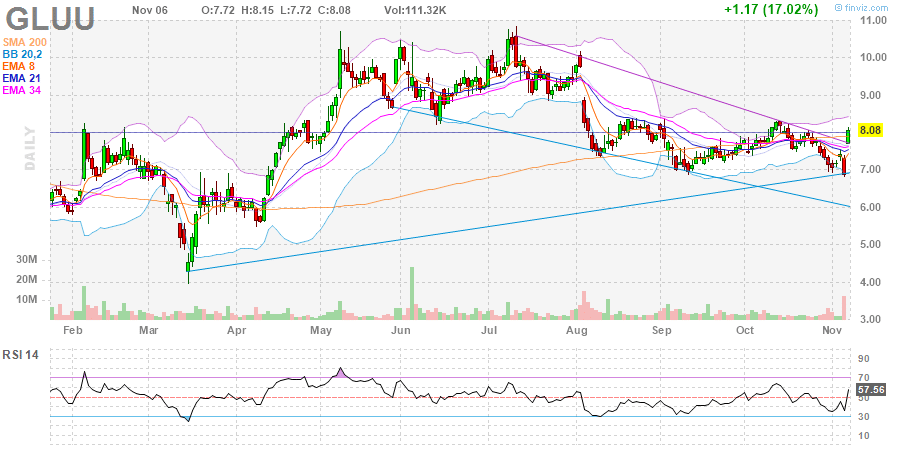 I bought shares at $8.44 around 11 AM ET on Friday…
The stock ticked up, and I was able to lock in more than $4K on the trade shortly after 12:30 PM ET. It did exactly what I expected, a quick 5% move.*
Right now, there are momentum stocks popping off, and I want to teach you how to identify these setups and use them to your advantage.
That's why I put together this important training session.
You'll discover some of my favorite setups and how I use them to uncover momentum stocks to trade ahead of time.
With small caps taking off, I believe now is the perfect time to learn how to trade them.