Hey guys and gals,
The market locked in its largest weekly loss since March, last week.
Some traders are stuck wondering whether they should buy the dip…
Or play the downside momentum.
For me personally, I'm going to remain patient and look for key levels in major market ETFs before I make any moves betting on the overall direction of stocks.
Now, that doesn't mean I'm on the sidelines…
In fact, I'll be actively hunting down momentum stocks come Monday morning.
You see, I believe now is the best time for momentum trading…

And today, I want to share my thoughts on the market…
As well as, show you two stocks that were on my Monday Movers watchlist, which was sent out to subscribers on Friday.
[Revealed] What I'm Watching This Week
Right now, I'm keeping an eye on the iShares Russell 2000 ETF (IWM).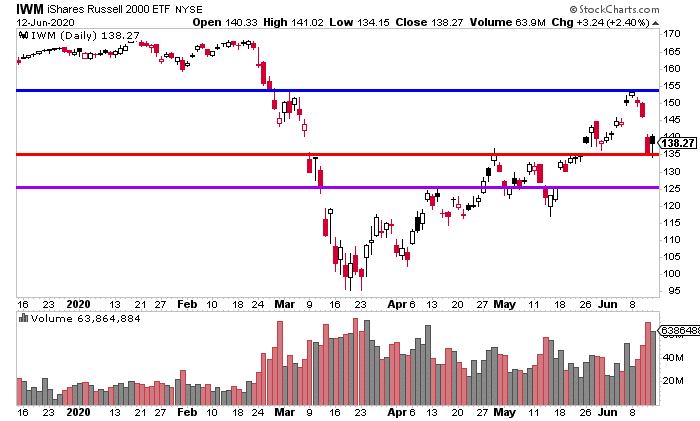 Chart Courtesy Of StockCharts
IWM just pulled back from a key resistance level (the blue horizontal line)… but found some support right around $135 — a key inflection point.
QQQ is also on watch right now…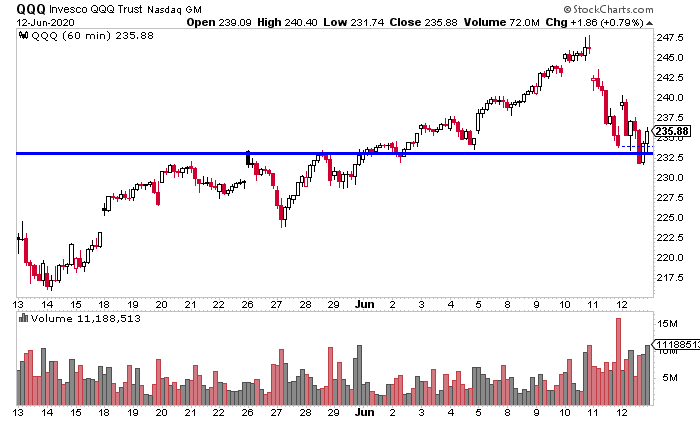 Chart Courtesy Of StockCharts
With tech pulling in to a key inflection point around $232 / $233…
Right now, there are so many catalysts on the table, and I don't want to jump the gun just yet.
That being said, I'm going to keep a close eye on IWM and QQQ because they can provide me with potential trading opportunities… as well as trade ideas.
Now, while I am keeping an eye on the market at these levels…
My main focus is on finding momentum stocks set to move… ahead of time.
For example, on Friday, I sent out a watchlist of stocks that I wanted to get into for the potential gap up after the weekend.
One stock that was on my watchlist on Friday (and will probably still be on my radar this week) was Net Element (NETE).
Here's what I sent out to my subscribers at 2:58 PM.
Wild card. NETE is a very, VERY speculative play I like around $3.50-$4. The price action is already ripping today, likely because the company has indicated they're looking into 'strategic alternatives' and that's the type of news that keeps shorts on their toes.
I hate chasing so I'd be going small if I entered this trade but I do like the idea given the action. Outside shot I get lucky on some news, also a shot it just keeps squeezing and I sell into a gap.

Source: Finviz
The stock already made a move on Friday… but I figured with a positive catalyst on the table… the stock can make a large run higher.
Not only that but according to Finviz… there are less than 4M shares floating.
That means there's a really low supply and any rises in demand can cause some insane moves, which we saw on Friday in the after hours.
Source: thinkorswim
The stock nearly doubled at one point in the after hours and closed at $6.00 at 8:00 PM ET on Friday.
I'm going to keep an eye on this one, even though I didn't take the trade on Friday… I think if it gaps up on Monday, there is a possibility one of my favorite patterns presents itself after.
Another stock on my radar is GRPN… and you can read more about my thoughts on the stock here.
I do have a position in GRPN, so I'll be monitoring that very closely.
With so much going on in the market, I believe momentum stocks are where it's at.
If you want to learn more about my techniques to uncover momentum stocks set to pop off… then I've got two important lessons for you:
My Monday Movers Training Clip
Jason Bond Unchained Training Workshop.
Related Articles: