While most traders will be focused on bank earnings this week…
I'm going to stick to my bread-and-butter setups and trade momentum stocks.
You see, in this environment, it's important to focus on your trading edge… especially since major catalyst events will be hard to read.
Right now, stocks are moving based on the reaction of traders and price action, rather than the actual numbers.
Instead of getting chopped up and trying to figure out where the market is headed next…
I've found some momentum stocks to keep on my radar.
Could These Momentum Stocks Catch A Pop?
The other day, I sent out a few momentum stocks on my watchlist… ones I believe can catch a pop early this week.
Today, I want to show you how I identified two of those stocks on my radar.
Here's what I sent out about one of the stocks:
TEDU is on the move today and if history repeats this could trend a little from here. Range between $2 and $2.50 is good and beyond that the next level of clear resistance is $3.
On Friday, Tarena International (TEDU) made a nice run and closed at $2.32. Now, since this is a Chinese education company… it may have some more legs.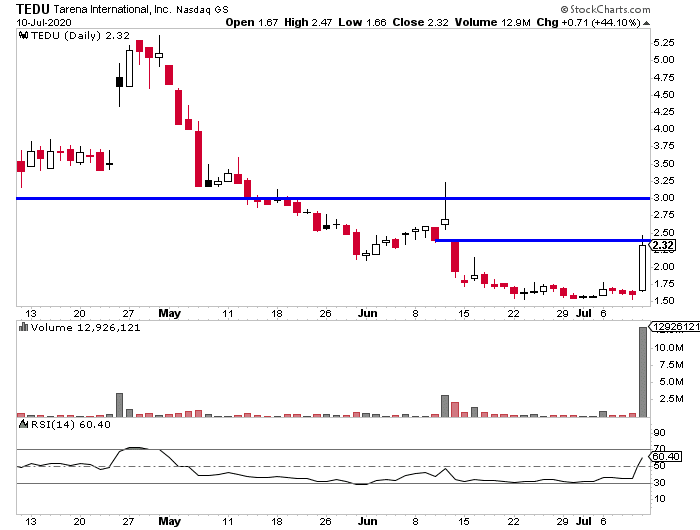 Source: StockCharts
We've seen a remarkable run in other Chinese education companies, such as TAL and EDU… and TEDU has been a laggard.
However, with the price action on Friday, I believe this is one stock to keep on the radar.
Not only was there bullish price action but the stock has a low float. There are just 37.22M shares floating, and if the demand picks up…
I wouldn't be surprised if TEDU gets to $3 real quick, and potentially $3.50 if it breaks above the next resistance level.
Onto the next momentum stock on my watchlist.
Hexo Corp. (HEXO).
Here's what I sent out to subscribers on Friday.
HEXO continues to consolidate above $.70. I like this space headed into the election. Might be a boring trade but there's big range to $1 and therefore plenty of room for 10-20% on a swing into next week.
The price action here signals to me HEXO can catch a bounce. It's found some support around $0.70, and the fish hook pattern is forming now.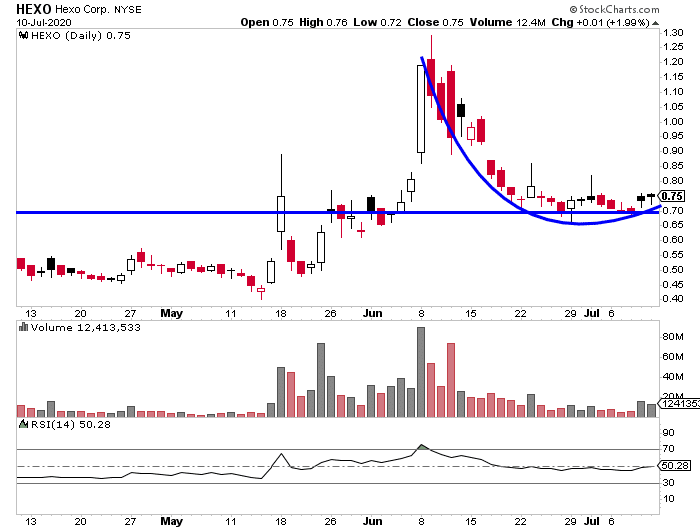 Source: StockCharts
Typically, when I see this pattern, there's a quick move higher after it's held support, and I think HEXO could make a 10-20% run next week.
If it breaks and stays above $0.85, the stock has got room to $1.
Of course, those aren't the only stocks on my radar this week… I'll be actively hunting down momentum trading opportunities and looking for my bread-and-butter chart patterns.
If you want to learn how I'm able to uncover stocks poised to move, on a part-time schedule, then check out this training workshop I put together.
You'll learn the techniques I use to hunt down momentum stocks without the need to be at my desk all day.