No doubt about it, this market has been crazy… I can't remember the last time I saw stocks halt for trading shortly after the open and just chop around all day. Saudi Arabia launched a price war over the weekend and coronavirus fears are still high, leading to Monday's crash.
This morning, futures pointed to a higher open after President Trump announced he would be meeting with Senate and House Republicans to discuss a payroll tax cut. This price action tipped so many traders off their game.
In this market environment, it's helpful if you could stomach the risk, and have the right mindset as well as scalable and repeatable patterns.
Today, I want to walk you through the mindset of a momentum trader, and show you the good and the ugly side of momentum trading.
Of course, with all this volatility, you would think it's momentum trader's galore. Stocks are moving so much and with the right patterns, it's not too difficult to uncover winning setups. However, as a momentum trader, it does get tough at times. 
With the market in a daze, I decided to go back to my recent sets to figure out what's been working for me. Things have been a bit challenging for me, but I believe in myself as a trade… and if you want to improve as a trader, self-reflection. In other words, journaling and reviewing your trades.
As a momentum trader, the whole idea is to lock down massive profits in a short period of time. However, when I looked through some of my trades, I found one momentum setup in which I could've done a heck of a lot better on… and my head wasn't screwed on right.
The Fumble In Netflix (NFLX)
On Thursday morning, NFLX popped up on my radar. There were two key reasons NFLX came up on my radar.
First, if you look to the five-minute chart below, NFLX was outperforming the S&P 500 (the teal line) right out of the gate.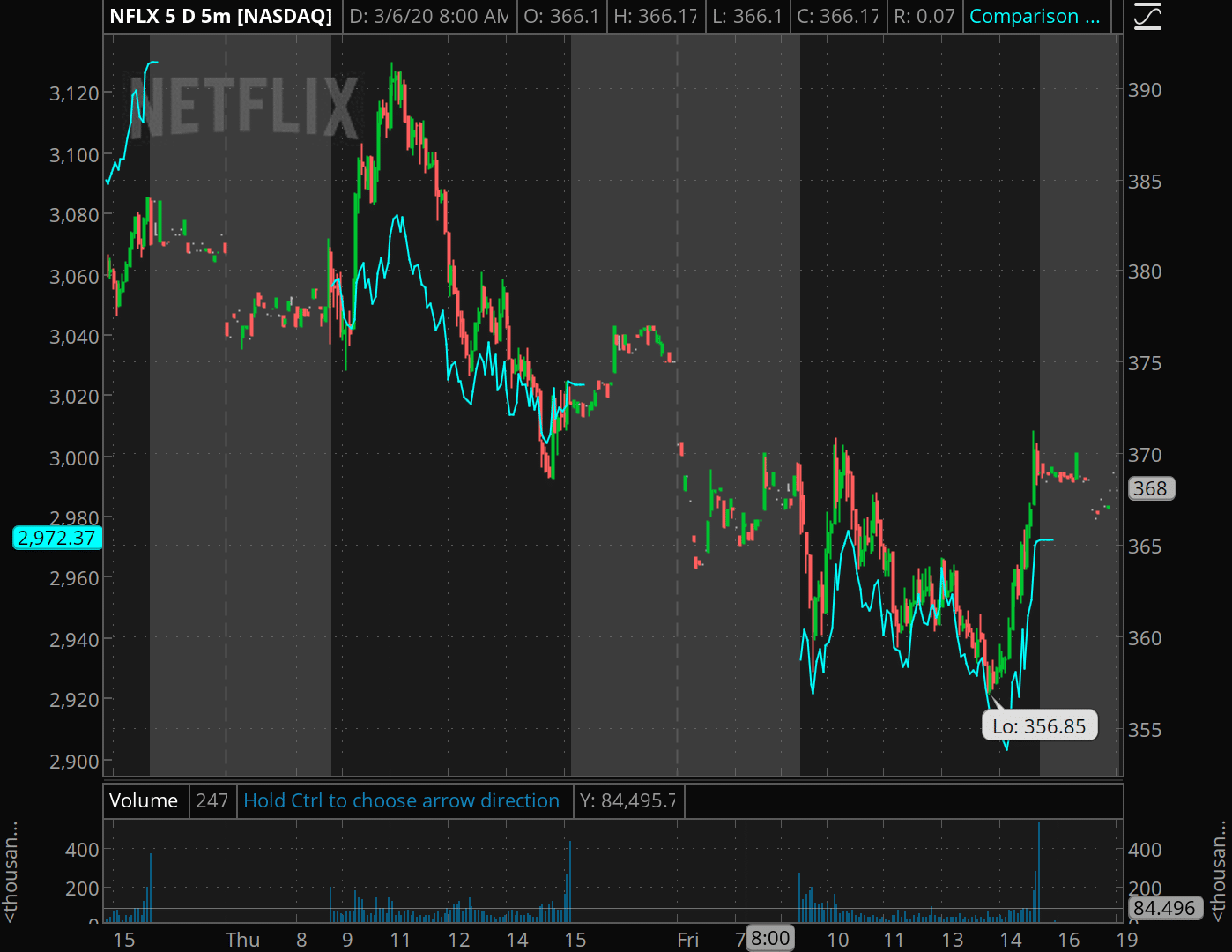 This meant there was a divergence with the overall market… and when most stocks are plummeting and there's a stock outperforming, it could be a signal a breakout is in the cards.
The chart pattern also signaled NFLX could run higher.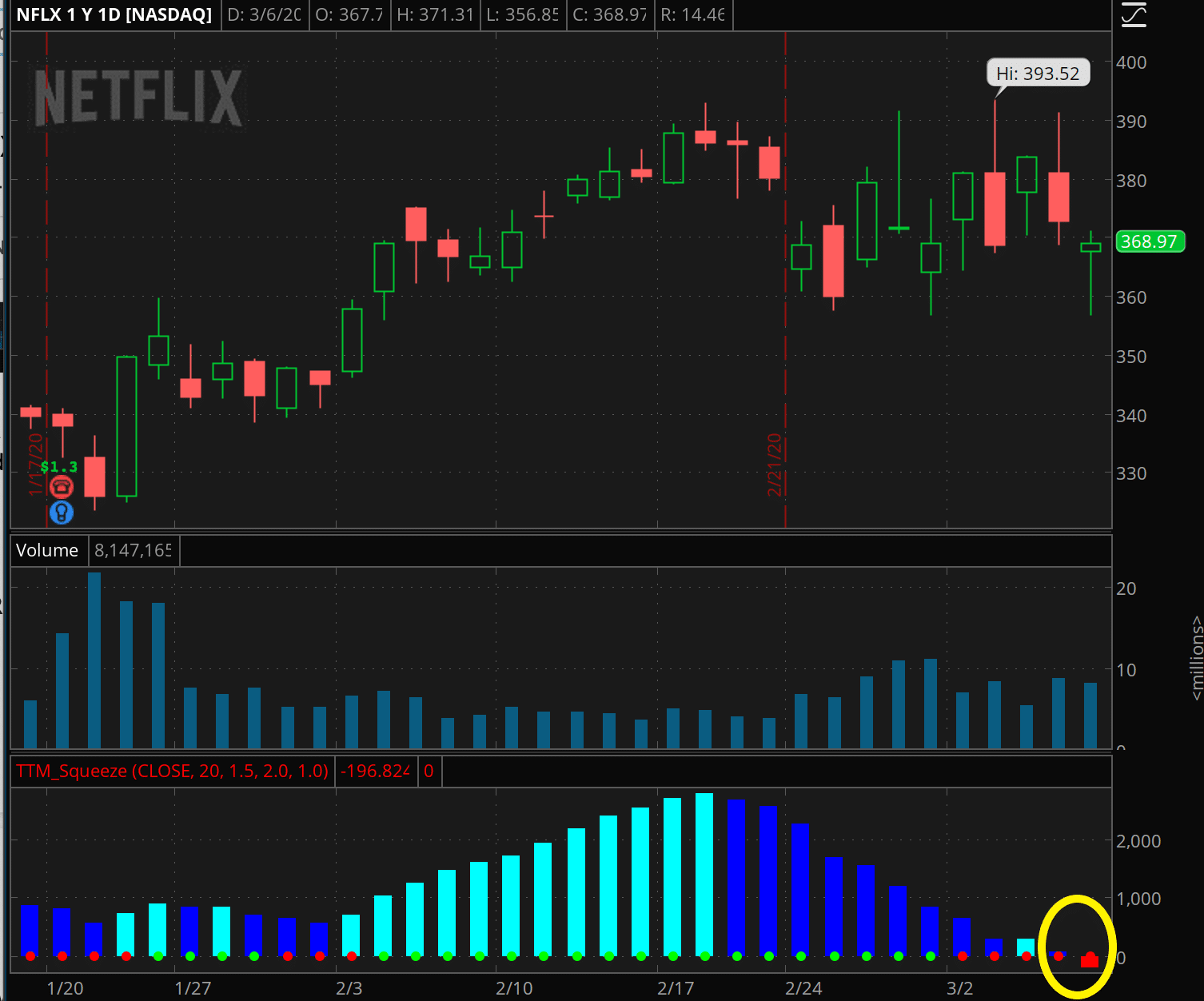 If you look at the chart above, it looks like a bull flag pattern, right?
Well, when I looked to trade NFLX, it was in the resting phase and looked as if it could break out. In this phase, I like to accumulate because the shares or options tend to be relatively inexpensive during the squeezes.
If you look at the bottom of the chart, you'll notice some bars. This is known as the TTM Squeeze indicator. Don't worry, you don't need to know the ins and outs of the indicator,
— If the zero line is red, it means the stock is consolidating.
— If the zero line turns changes from red to green, it means the stock is ready to move.
— If the indicator goes above the zero line, it indicates the stock could move higher, and it would be advantageous to place a bullish bet
— If the indicator goes below the zero line, it indicates the stock could fall, and a bearish bet would be advantageous.
Now, I traded NFLX in two ways… using my Weekly Windfalls strategy and I also bought in-the-money calls on NFLX (it's a different way to trade momentum stocks). At one point, the TTM Squeeze worked to nearly perfection.
However, as a momentum trader… I wanted to play for the larger move. Near the high on Thursday… here's where my profits sat at:
You're probably wondering, "Jason, that's a great day trade!"
The thing is, it was a great trade, but I got too greedy and wanted to play for the larger move. I ended up flat on the spread trade (the options expiring on March 13)… and I gave all my profits back in the calls, and then some.
I really believe NFLX could break out, but maybe it's due to the fact that I was trying to climb out of the whole.
There's one thing that shouldn't affect your mindset, and that's past performance. If you want to be successful as a trader, I've found what helps the most is honing in on your bread-and-butter setups and being in tune with the market helps.
Especially in this market environment, it pays to be nimble and it's no shame in taking profits off the table and missing out on the larger move.
Related Articles: