I've mentioned to you how there are major catalysts on the table, and that can cause some specific sectors to lift off.
Yesterday, I told you about how there's a major catalyst on the table on Dec. 10 — the advisory committee meeting for the Pfizer-BioNTech vaccine. That should affect Pfizer (PFE) and travel, cruise, and restaurant stocks, in my opinion.
Even there's this looming catalyst this week…
As a trader, I can't help myself but look even further out to next month when Biden is expected to assume office.
I think this can lead to another rally in some specific sectors, and there's one I've got my eye on…
And I think some of the moves can exceed a lot of traders' expectations.
Can The Cannabis Sector Run Up Into January?
Cannabis stocks rallied into the vote to decriminalize marijuana, and actually sold off into the positive news.
I wasn't too surprised of that action, it's the typical "buy the rumor, sell the news" trade in my opinion.
Now, with a democrat set to assume office, that's actually beneficial for the cannabis industry.
You see, the decriminalization is a step in the right direction for cannabis stocks. That actually opens doors and if the government decides to allow these companies to borrow from banks…
Well, that's a capital injection that can cause the industry to explode higher.
Of course, one can only speculate and nothing is set in stone.
Regardless, I think it's important to put myself in a position to potentially profit off this action.
How am I planning to go about that?
I'll look to some of my favorite chart patterns and see if they pop up in some of these names.
For example, take a look at Aurora Cannabis (ACB).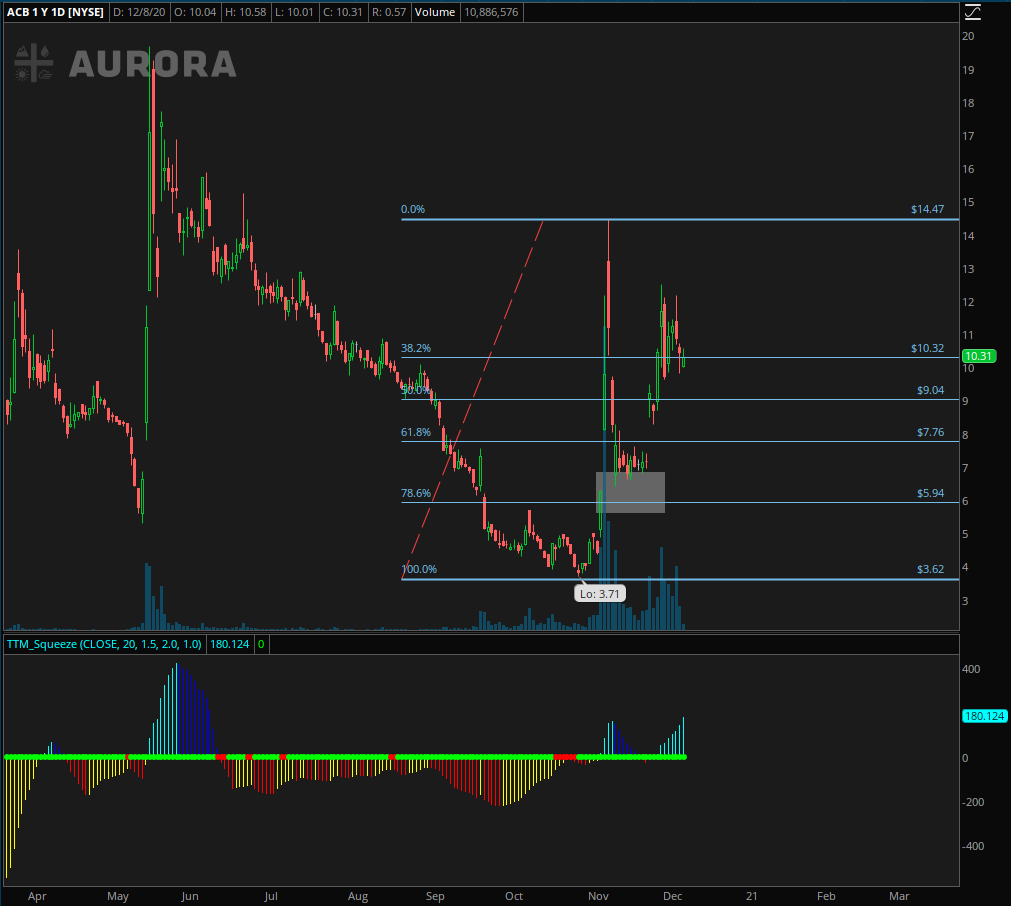 On the daily chart, this stock has seen some wild swings. If you look at this chart, you'll notice the Fibonacci retracement.
This actually lets me know where there can be support levels, and better time my entries and exits. With ACB, you'll notice how the stock ran from $3.71 to about $14.50. Those areas are important because they're the swing high and low.
When I find these two points, I utilize the Fibonacci retracement tool, and the platform does the rest for me. In other words, it lets me know the key levels to watch.
Notice how ACB slightly broke below the 61.8% retracement level, and tried to get to the 78.6% retracement level, but the stock quickly turned around and start to run higher?
That's a typical pattern I've noticed, and it's known as the rest and retest to me.
Now, this is just one pattern I have in my arsenal, and I believe it'll be useful when it comes to trading not only cannabis stocks, but momentum stocks in general.
That's why I want to invite you to this special training session, so you can learn more about my techniques to uncover momentum stocks to trade.
WE MAY HOLD SECURITIES DISCUSSED. RagingBull has not been paid directly or indirectly by the issuer of any security mentioned in the Services. However, Ragingbull.com, LLC, its owners, and its employees may purchase, sell, or hold long or short positions in securities of the companies mentioned in this communication.