The cryptocurrency got destroyed recently, and it seems as if the price action mimics the Nasdaq.
Bitcoin took a hit, caught a quick pop… and now is the time to keep an eye on cryptocurrency-related stocks.
The cryptocurrency market is still trading, and if it gets above $10,500 — I believe traders will start to look for sympathy plays in the stock market.
Right now, my specific patterns are showing up in three Bitcoin-related stocks… and it's a signal they're set to make a move.
Could These "Cryptocurrency" Stocks Pop Off?
I am currently keeping an eye on Canaan Creative (CAN), Silvergate Capital Corp. (SI), and Marathon Patent Group (MARA).
For me, these names are three of the few stocks that offer the most straightforward path to playing the bitcoin market without actually touching the cryptocurrency.
Canaan Creative (CAN)
First up, I want to bring to your attention the most recent catalyst for CAN
The company released its Q2 earnings on August 31 — announcing a 160% rise in revenue to $25.2 million compared to Q1. Net loss narrowed by over 50% to $2.38 million from $5.64 million in Q1.
There's a back story here with CAN.
After the May 11 Bitcoin halving event, Canaan stopped tracing bitcoin's steps because of fears that the halving event would make it hard for CAN to become profitable.
If you didn't already know, the bitcoin halving event, which makes bitcoin scarcer to find, meant that mining machines, the type of stuff Canaan makes, would witness a dip in demand. Things got worse when management said the COVID-19 outbreak made it hard to do business in its Q1 earnings.
During the company's earnings call, CEO Nangeng Zhang said: "We came close to clearing out our entire inventory and our Bitcoin mining machines that are now currently under production in the third quarter have all been pre-ordered."
This has dispelled the initial fears over the demands for CAN's machines, and early signs post-Q2 earnings are that CAN stock is beginning to start tracking Bitcoin again.
Now, from a technical standpoint, CAN is providing a good risk-reward opportunity.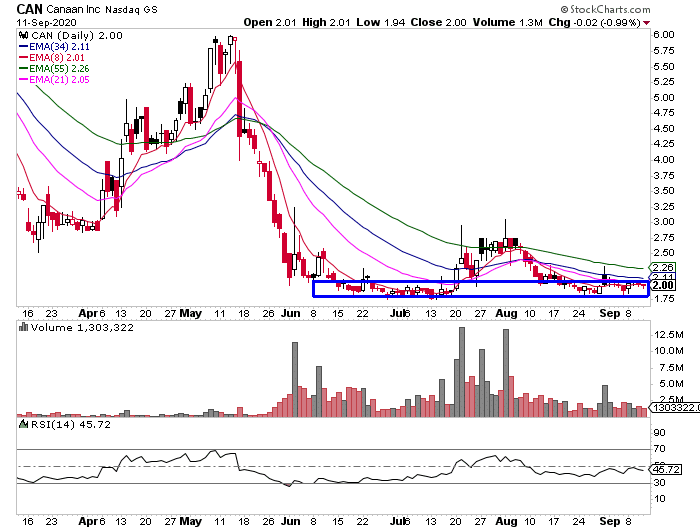 CAN is right near a key support level, and if it holds… that's a sign there's demand for the stock. Right now, I'm keeping an eye on the 34-day exponential moving average (EMA) at $2.11. If it can break and stay above that, I wouldn't be surprised if it makes a move to the $3 level.
Maraton Patent (MARA)
As for Marathon Patent (MARA), which uses machines made by companies like Canaan to mine bitcoin, I find its plans to acquire Fastblock Mining, a bitcoin mining provider, an important catalyst.
The juiciest part of the potential deal is that it will help MARA cut its mining bitcoin cost by over 50% — from $7.400 at present to $3,600.
Why is this important?
You'd remember that I mentioned above how the halving event makes bitcoin mining harder. That increased difficulty means that mining operators would need more computing power — and hence, higher electric power consumption for inefficient machines — to stay competitive.
This deal would help MARA become more competitive.
I also like the deal because MARA will be paying 100% in stock — zero cash.
For a company that had $775,119 in cash and equivalents at the end of Q2 to gain operational efficiency without raising additional money is impressive.
The deal is set to close toward the end of September, and I believe there's bound to be some movement.
Right now, MARA is sitting at a key level around $1.80. If this level holds, I think that's a sign the stock can pop.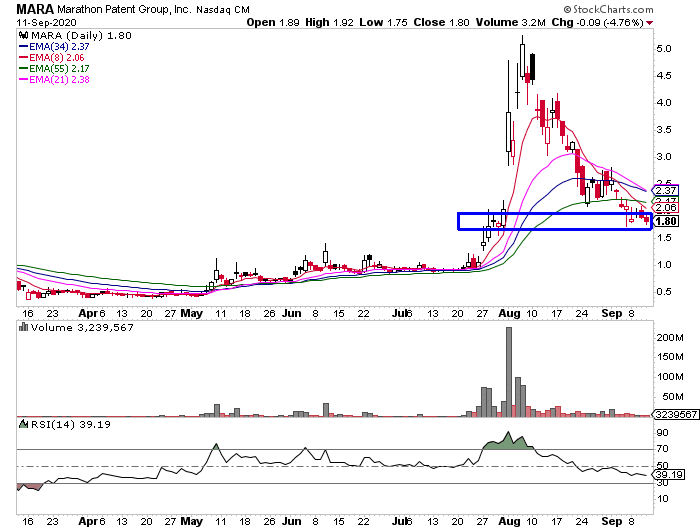 You see, that blue rectangular area in the chart above is actually the 78.6% Fibonacci retracement level, and it makes sense the stock is consolidating around here. I'm going to keep a close eye because if it holds and there's news about a deal…
It can make a quick move up.
Last up, we've got Silvergate Capital (SI).
Silvergate Capital (SI)
Silvergate Capital (SI) which is essentially a crypto bank, the issue was with the 53% drop in earnings that the company reported in Q1 versus 2019 Q1. In Q2, the situation improved, with SI reporting a 6% increase in net income.
With earnings out, I think there could be another piece of catalyst behind it, just by the way the pattern looks to me.
It's consolidating near its highs back in May.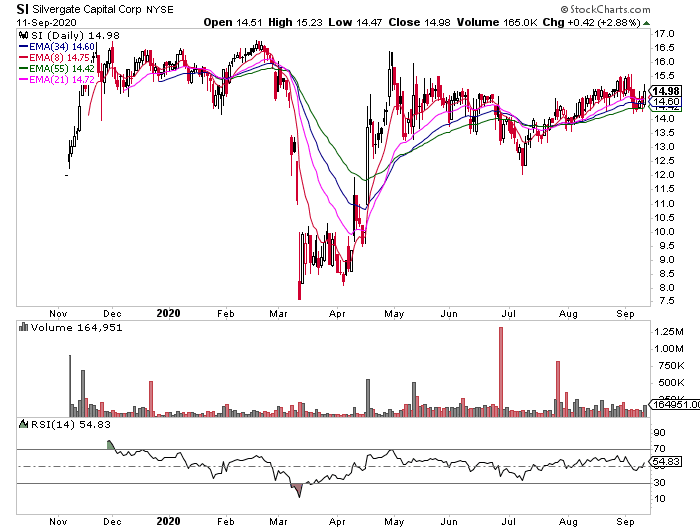 I'm keeping an eye on this stock around $15.50. If it breaks above that, I wouldn't be surprised if it gains momentum and breaks out from all-time highs.
If you want to discover how I'm able to utilize chart patterns to attack the market, click here to attend this exclusive workshop.