All major Asian indices finished their trading sessions lower, with China plunging 7.72%… all due to growing concerns of the coronavirus. However, the U.S. markets brushed off the news, and were set to gap up this morning…
It's a wacky market for sure. Typically, when we see Asia finish lower, we're staring at a gap down, but that's not the case here.
Have traders finally digested the news and believe the coronavirus won't hurt U.S. stocks… or are traders just blindly buying the dip?
Who knows right now.
The only thing I know is that it's a heck of a lot harder to find trade ideas, especially if you're looking to large-caps. That's why I stick with small-cap momentum stocks in times like these.
Why?
Well, these stocks move to the beat of their own drum and simply don't care what the overall market is doing. Not only that, but my patterns are effective at locating some of the best trade ideas out there.
Sometimes, All It Takes Is Two Patterns To Win In The Markets
When I'm filtering thousands of stocks to find just a handful of trades ideas, I look to my bread-and-butter patterns — the fish hook and the rocket.
You see, I've found success… and over the years, I've found that they work in any market environment.Remember how stocks got smoked last week?
My rocket pattern worked extremely well, despite all of the volatility. Last week, my best trade idea scored a 50% winner — it was good for a $10K winner overnight. However, if you stuck with it, you could've caught an even bigger move, 148% to be exact.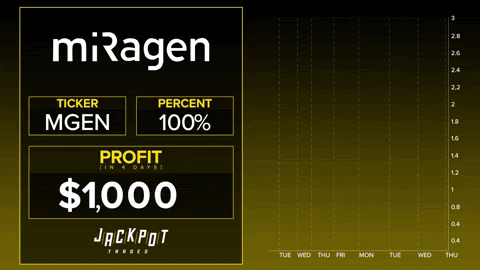 (Missed out on this massive Jackpot Trades winner? Sorry to say, but you missed out on my best trade idea, yet again. Stop missing out on these winners, and join Jackpot Trades now)
Every Monday, I look for my best trade idea for the week and send it out to Jackpot Trades clients.These ideas vary from options trades to small-cap momentum stocks because I want to attack the market on all fronts.
With last week's trade idea, I found one of my favorite patterns. Additionally, there was a catalyst in play, as well as an area of value.
When I look for my highest conviction trade idea, one easy step is to look for stocks that aren't tied to the overall market direction, especially in times like these.
In my most recent Jackpot Trade winner, that's exactly what I did… and here's what clients received in their inbox.

With MGEN, I actually spotted the rocket pattern, my breakout setup of choice and I bought shares at $1.11.
I know what you're wondering, what is the rocket pattern?
It's simple. All I'm really looking for is for the stock to break above a key resistance level on high volume with an uptrend.
The breakout above resistance is the "rocket," and you could see it as clear as day below…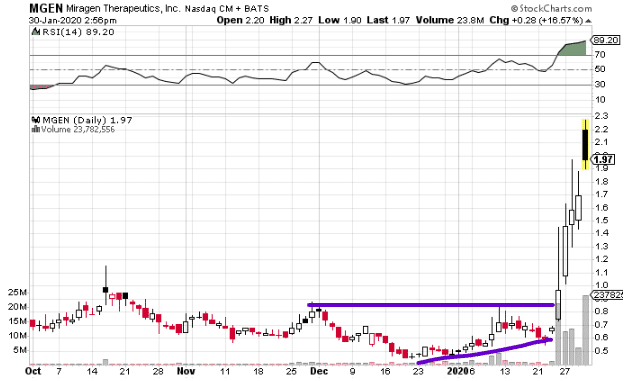 With the rocket pattern, there are three things to look for:
A resistance level that's been tested a couple of times before

An uptrend leading up to another test of the resistance line

Increasing volume on the breakout
If you look at the chart in MGEN, all the conditions were met. The price I got was an area of value. Basically, it was a recent high… and the break above indicated there was heavy demand for the stock. If it broke below, I knew it was an area to stop out of.
The icing on the cake was the upcoming catalyst.
Shortly after I alerted Jackpot Trades clients about MGEN, the trade got off to a strong start Monday afternoon, but I actually decided to hold the stock overnight.
Why? I expected the stock to build momentum…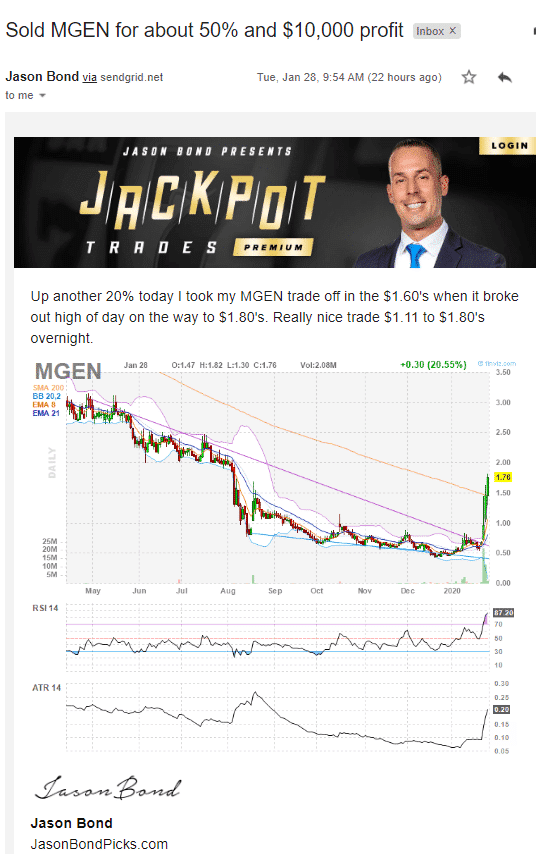 That's right, I locked in a 50% winner overnight!
Not bad when the market is crashing due to fears of the coronavirus.
The thing is… this isn't the only pattern I use to spot massive winners in the market.
The fish hook pattern also comes in handy.
Reel In Massive Winners With This Pattern
In times like these, it's useful to know a pattern that spots oversold stocks. You might think that's a tall order, but it's actually super simple to find oversold stocks.
The first thing you have to do is look for beaten-down names, and there are scanners out there that allow you to do this. For example, you can head on over to Finviz, and screen for stocks down say 10% on the week.
You can even filter for market cap, average volume, and RSI… the key ingredients to finding the "perfect" reversal play.
So with the fish hook pattern, all I'm looking for is three things:
The stock plummets (typically an overreaction)

The stock finds a support level and starts to come out of oversold territory, based on the RSI.

The stock starts to catch a bounce.

Sounds easy, right?

Well, it is.
Let me show you how it all works with a case study in a winner that I reeled in using the fish hook pattern. Check out the daily chart in Overstock.com Inc (OSTK).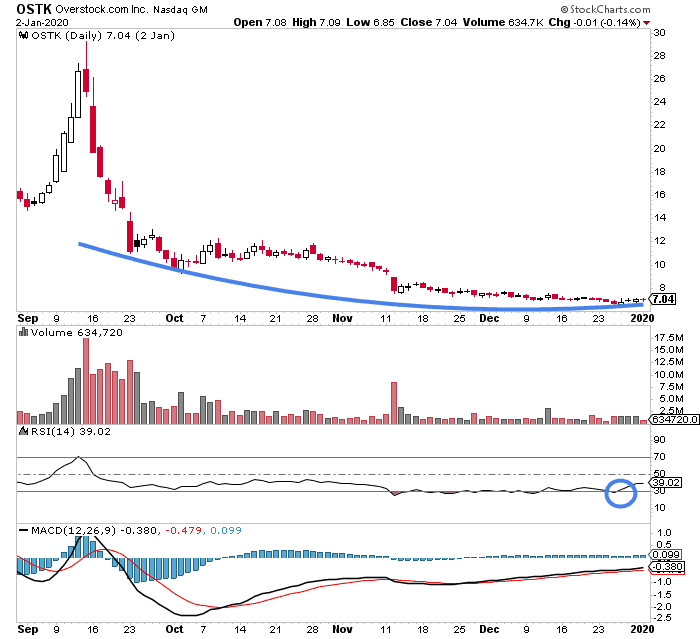 If you look at the chart above, you can see the pattern kind of looks like a fish hook. Basically, OSTK suffered a massive drop… found a support level right around $7.
Thereafter, it started to catch a slight bounce, and the Relative Strength Index (RSI) broke back above 30. That's a clear signal the stock could rebound and finish the fish hook pattern.
Now, it also helps to have a thesis with these plays. For example, with the Overstock.com Inc idea, I figured the stock was beaten down during the last few months of 2019… and the "January effect" idea could materialize.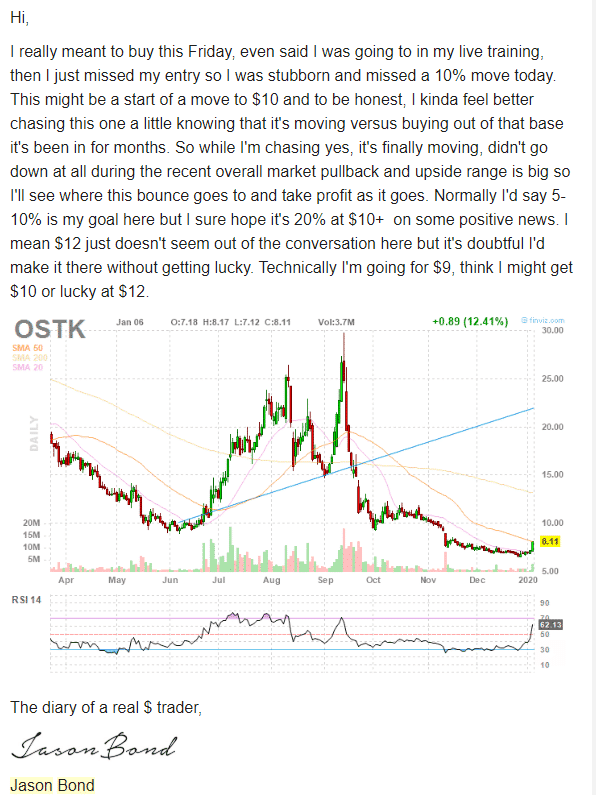 Guess what happened a few days after I got into the trade?
OSTK actually made the move and "finished" the fish hook pattern, allowing me to reel in $12K profits in total.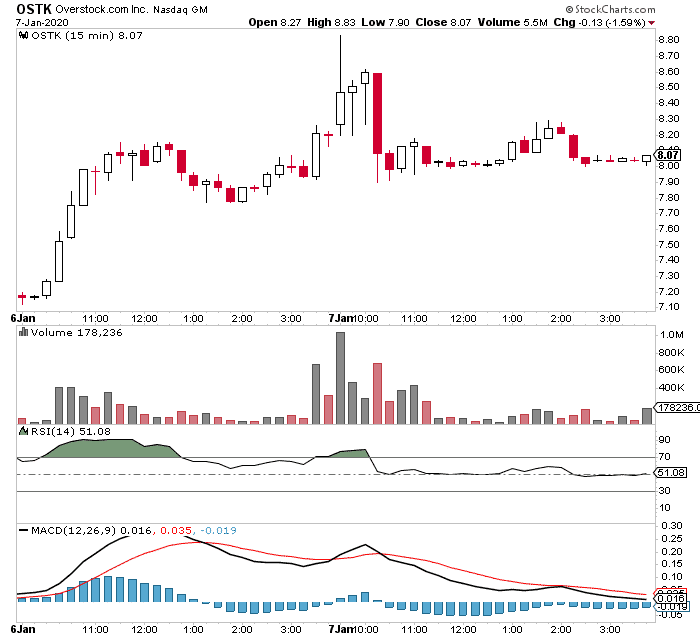 The stock hit a high of $8.83 not too long after I got in and I sold when the stock gained some momentum. That was good for about a 10% overnight, a $9,000 profit overnight!
I didn't want to get greedy, so I sold ¾ of my position, and let the rest ride.
Now, for the rest of my position, I actually put a stop-market order. My order got hit… and I locked in the rest of the position for $12K in profits.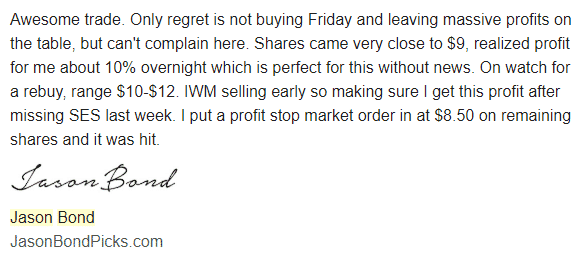 In this market environment, trading small-caps is where it's at… and I expect my fish hook and rocket patterns to come up more very soon. These patterns are not only repeatable, but they're also scalable.
If you want to start finding winners in any market environment, then check out my training session on the three simple patterns I use to consistently pummel the market.