Every day, there are momentum stocks making large moves… and I'm all about hunting those down — ahead of time.
Now, when I was looking through some stocks that caught a pop recently… I noticed one symbol that looked odd to me — VectoIQ Acquisition (VTIQ).
This stock more than doubled over the past few sessions (and is one of Wall Street's top gainers today). 
Of course…  I wanted to know what was going on.
When obscure stocks make moves like this, there's one trader I turn to — Kyle Dennis.
When I caught up with Kyle, I mentioned VTIQ… and he said, did you not see the message I sent to my readers mentioning this could be a runner?
Of course, I missed it, but I still want to learn more about this trade and how he spotted this ahead of time.
Kyle told me he used his "smart money" scanner to find this trade… and I was intrigued. 
So I asked him how it all works — he gladly explained the inner workings of VTIQ and mentioned I actually could've bought the options and captured the large runup.
When Kyle told me how his scanner detects "smart money" trades, I was a little confused at first so he walked me through the set up in VTIQ.
Kyle told me there's a looming catalyst in VTIQ. The company is expected to merge with Nikola Motor Company (NKLA).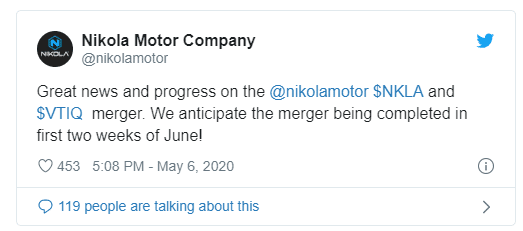 Source: Twitter
Now, VectoIQ Acquisition is the premier partner for leading organizations participating in the rapid transition towards mobility as a service and an autonomous vehicle society. 
The thing is, Kyle told me I probably wasn't the only one who hasn't heard of the stock before.
You see, at the time Kyle saw the "smart money" activity in VTIQ, it only traded 25 call options, on average. 
On Friday, a whopping 25,785 options traded… and that was an increase of 103,140% in call option volume. Kyle said his scanner actually picked up on the options activity in real-time.
Here are the exact trades he saw go off on Friday morning:
At 9:59 AM, a trader came in and bought 498 VTIQ June 20 $25 Calls at $1.25, paying $62K in options premium. 
16 minutes after the initial purchase, 426 VTIQ June 20 $25 Calls were purchased at $1.40, paying $60K in options premium.
Now, he said what was more interesting about the trade was the fact they paid up for those calls… and they had about 40 days until expiration.
At the time, VTIQ was trading at $17.04… and in order for the smart money trader(s) to profit, they would need the stock to move at least 54%.
I mean, who in their right mind would throw down $122K on a long-shot bet unless they knew something.
Here's a look at what VTIQ did over the past few sessions…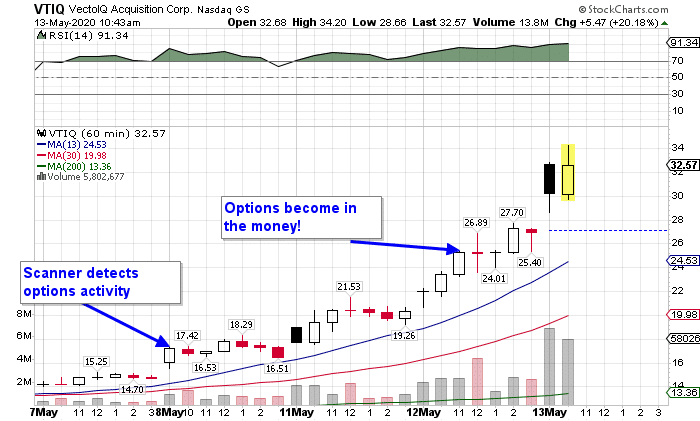 Chart Courtesy of StockCharts
The thing is, Kyle told me this isn't just a one-off trade because his scanner is designed to detect "smart money" trades… and it's one of the main reasons why he was able to generate more than $1M in trading profits in 2020 so far.


Now, for the first time ever, Kyle is going to reveal the inner workings of his Dollar Ace scanner in an exclusive live event tomorrow at 8:30 PM ET.
He has no plans to record this event, so you better believe I'll be in attendance.
Related Articles: