When I first got my start as a trader, I was actually a school teacher who had to sneak off during my break to place my trades…
It definitely wasn't easy to take breaks and run as fast as I could to a computer to open up my trading platform and see what was moving.
I'm so glad those days are behind me, especially these days — because there's just so much action, and that means more money-making opportunities for me to take advantage of.
Now, what gets me even more excited is the fact I'm able to teach subscribers all about my favorite chart patterns.
Of course, you're probably wondering if these chart patterns work…
Well, let me give you a taste by providing you with a watchlist of momentum stocks that can take off this week.
Can These 3 Momo Stocks Explode Higher This Week?
Before I tell you which 3 stocks can take off this week, I want to tell you about one factor these stocks have in common…
They're all considered "low-floats."
What that means is they have a low number of floating shares, relatively speaking. That signals there can be some wild discrepancies in supply and demand, which can cause parabolic moves… especially if demand significantly outweighs the supply.
That said, let's take a look at the first low-float stock on watch.
Net Element (
NETE
)
Net Element, Inc. operates as a financial technology and value-added solutions company. The stock's performance is loosely tied to the performance of Bitcoin

The stock broke out of its base around $6 and ran up to $14.97, shares have pulled back since and now might be ready to rally again

Float: 4.099M, SI: 18.15% — with the combination of lower float and high short interest, this one might get interesting should Bitcoin continue higher

From a chart standpoint, this stock just held at a key Fibonacci retracement level, the 61.8% area. Right after, the stock popped and it looks as if it can retest recent highs.If the stock gets to $15, I think it'll be interesting because that's actually a triple top, and to me… they typically don't hold.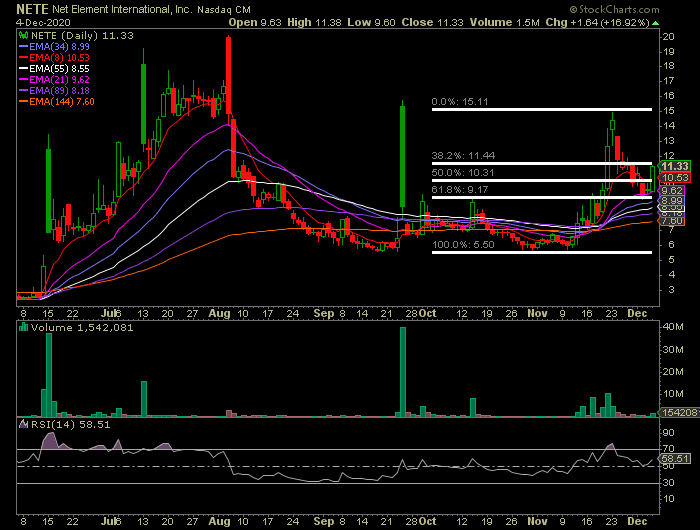 INSU Acquisition Corp(INAQ):
INAQ is set to merge with Metromile, a digital auto insurance company set to transform the customer experience through its online services. The merger is expected to close in the first quarter of 2021

While this is not an EV play, companies with disruptive business models have been performing well. Just take a look at LMND, a disruptor in renters' insurance space.

Float: 23.068M, SI: 0.0% – this is another play which you shouldn't lose off your radar

From a chart standpoint, I think this is worth a watch because it's at a key level around $13, and if it breaks above that downtrend line, it has the potential to move 5-10% in a relatively short period.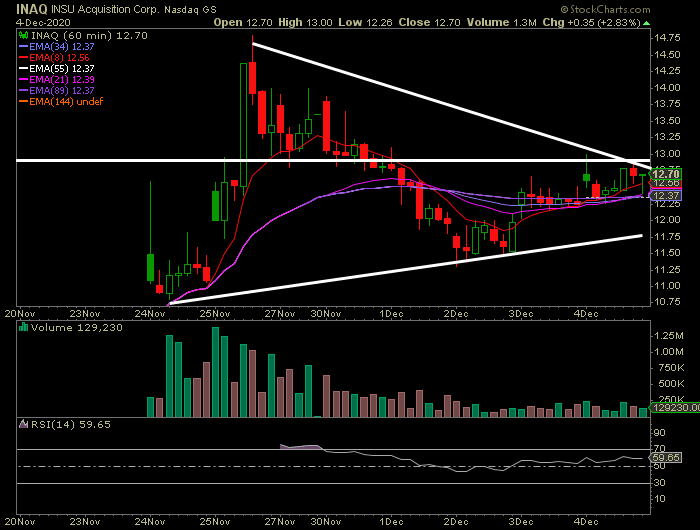 Eos Energy Corp (EOSE)
Eos Energy Enterprises creates zinc battery storage systems. The company offers energy storage solutions for various different applications

EOSE looks interesting given the recent strength in another battery stock QS.

Float: 15.201M, SI: 1.67 — the stock is forming a bull flag on the daily chart. Key area to watch on the upside is $15.4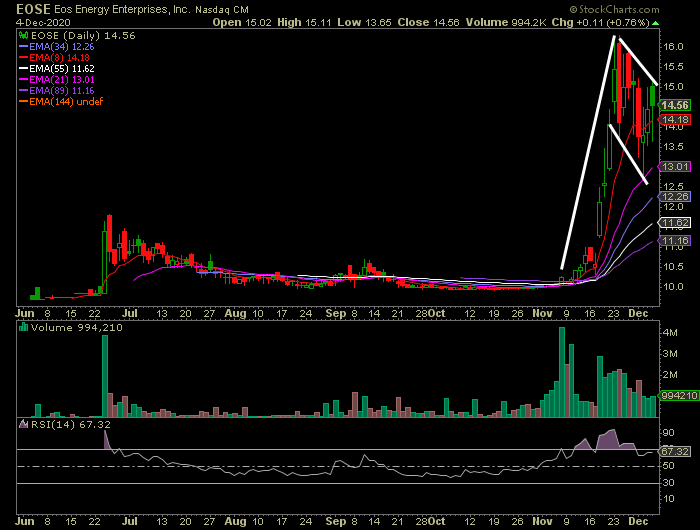 Keep these stocks on watch because I wouldn't be surprised if they're up on the scoreboard this week.
Now, if you want to learn more about what I believe to be 3 simple chart patterns…
And how to take the "guesswork" out of trading, then you must attend this exclusive training session.
I genuinely believe understanding price action and chart patterns can help you become a better trader.