Most traders will be focused on any stimulus news and the POTUS' and FLOTUS' health come Monday morning.
While I am keeping an eye on the news for potential catalysts that may move the market…
There is one strategy I love to use because if there are negative market-wide catalysts, the chances of it dragging the specific stocks I'm looking at is low, in my opinion.
What specific stocks am I talking about?
I've uncovered three that I believe can make a move this week, and I want to show you why I want to keep them on my radar.
Enlivex Therapeutics (ENLV)
ENLV is a clinical-stage biopharmaceutical company

On Thursday, the company announced positive results from the clinical trial of its key drug Allocetra with significant improvements in COVID 19 patients.

Shares shot up from $6 to $14.99 in the premarket session on Thursday, giving back some gains later in the day

On Friday the stock started to show some strength again, closing at $10.35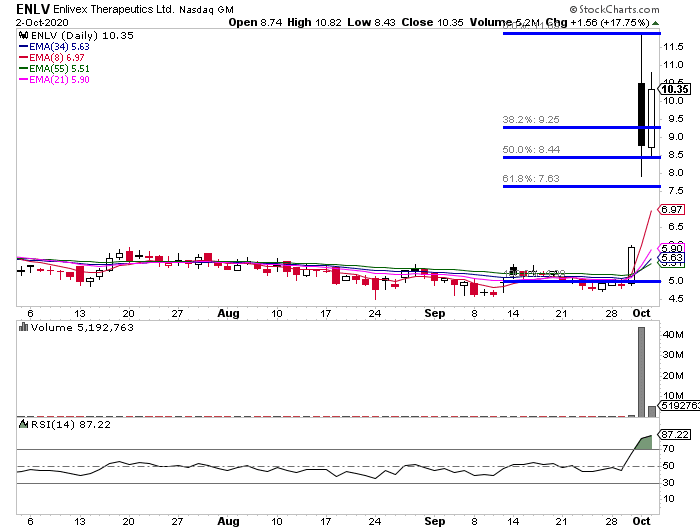 On the daily chart, the pattern that popped up is the rest and retest. With the 50% Fibonacci retracement holding up well, I would look for potential entries on pullbacks and use either 38.2% or 50% retracement levels as stops.
The target would be highs around $11.50.
Next up, WWR
Westwater Resources (WWR):
WWR explores and develops mineral resources essential to clean energy production. The company is involved in exploration of lithium, key component in lithium ion batteries

Shares skyrocketed on Friday, up 49% on the day. The move came with the tailwind from the sector. Another lithium miner LAC closed up 17%

Although there was no fresh catalyst in the stock, I believe the sector strength could continue the next week: a lot of shorts might be caught on the wrong side of the trade

I would love to see this one open weak but hold a support level like $3.5 or $4 to lure some fresh shorts in. If the stock is able to hold and start perking up later in the day, I believe it could go parabolic. While I will need to see some confirmation first, I will watch this one closely next week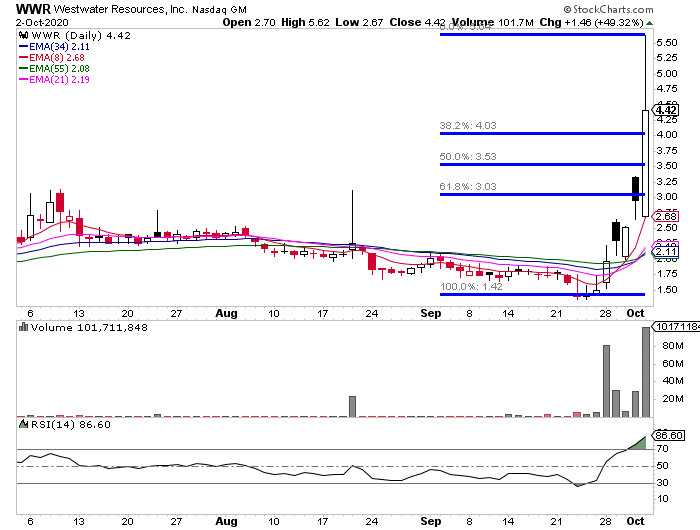 Cbak Energy Tech (CBAT)
Another battery sector play, CBAT is a manufacturer of lithium-ion batteries for portable digital devices

On Monday the company announced it developed a new battery technology that is expected to come into production in early 2021. According to the press release, the battery technology has technological advantages to Tesla batteries

On Monday shares short up to premarket highs of $4.16. After a slight pullback, CBAT is on the move again with shares closing at $3.13

With the tailwind from LAC and other alike, I believe CBAT could see a run higher next week. The most key areas of support are $2.5 and $3. If the stock is able to get above the pivot high of $3.45, I believe this one could go to $5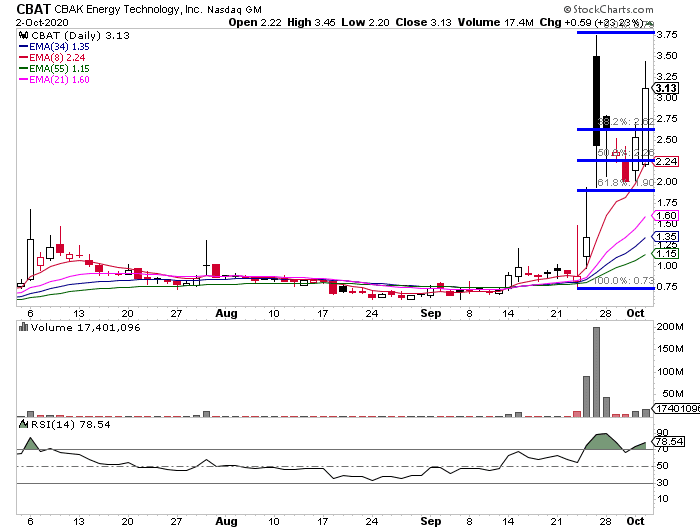 With volatility picking up, I believe many traders will start to turn to small-cap momentum stocks… and that demand can cause some wild moves.
If you want to find out how to uncover these small-cap momentum trading opportunities, click here attend this exclusive training session.
You'll discover my techniques and favorite patterns to uncover these momo plays before they run.