There's so much uncertainty on the table right now, and this market can be filled with whipsaws in the coming days… remember how crazy futures and the market were after the election?
Of course, I want to wait until the market presents itself with opportunities. However, that doesn't mean I won't prepare for election week and try to identify some of the hottest plays out there.
This week, I've got three stocks on my radar that might not move with the overall market…
And I expect a lot of eyes to be on this sector right now.
That said, I want to show you which stocks I uncovered utilizing some of my favorite chart patterns — and why they can make a move.
Three Biotech Stocks That Can Take Off

BioLineRx (BLRX)
A biotech company focused on developing oncology treatments and therapies

On Oct. 30, the company announced positive interim results from Phase 3 trial of motixafortide – its drug candidate for treatment of stem cell mobilization(SCM) in multiple myeloma patients.

Following the announcement, shares have soared over 70% on heavy volume and are trying to hold above long-term resistance of $2.50

The pattern I uncovered here is the rest and retest. Although the stock broke below a key Fibonacci retracement level, I still want to keep this on my radar and see what the stock does around the $2 area (the 61.8% retracement level).If it can break above that and that acts as a level of support, based on the pattern…

BLRX has the potential to move 10-20% in a relatively short period.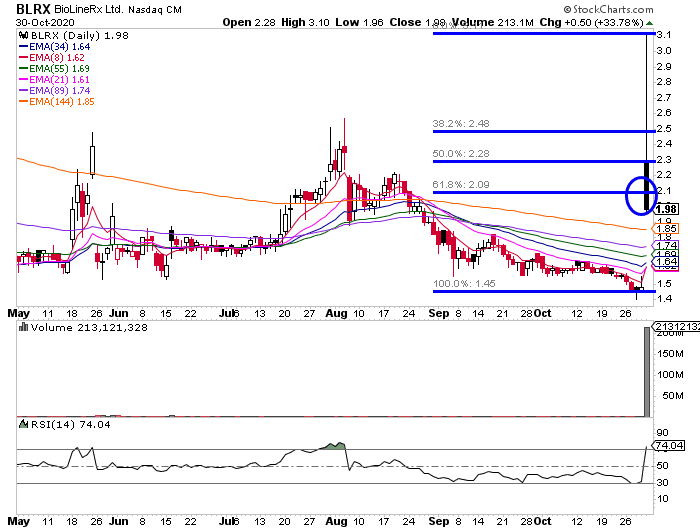 Soligenix (SNGX)
A late-stage biopharmaceutical company focused on developing and commercializing therapies for rare diseases

The company has received attention as traders circulated a positive peer-reviewed journal article suggesting the company's CoVaccine HT might generate immune robust response to coronavirus strains

The stock which has been in an uneventful chop in $1.4-$3 range might finally be gaining some traction, especially as the second wave keeps weighing in

This stock has a massive fish hook pattern forming and it's held above support real well. If it starts to make a move and breaks above $1.90, I think this could be a quick

15%+ mover

.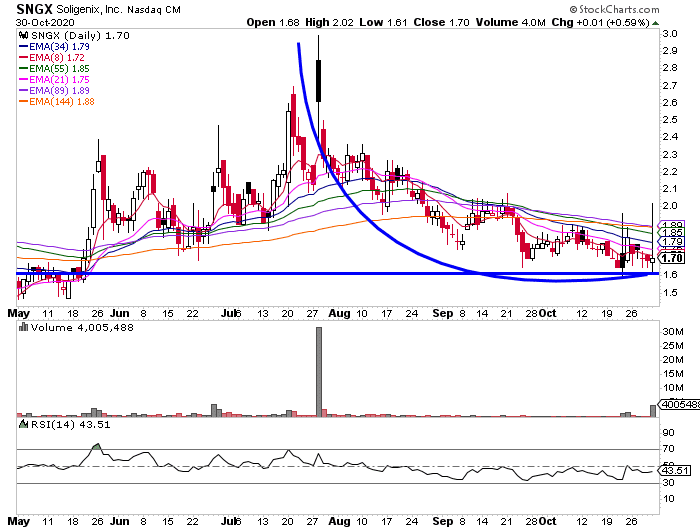 Cassava Sciences (SAVA)
The company is focused on Alzheimer's disease treatments

On May 15th, the stock crashed when the Phase 2b trial of PTI-125, the company's main drug candidate, didn't meet its primary endpoint. However, on September 14th, the company announced FDA's approval to initiate another trial for the reformulated drug with improved biomarkers.

The stock jumped out of its $3 area and has been consolidating in the $8-$12 range. It also has a high 23% short interest.

The company is scheduled to provide updates on its new trial on November 7th. So this would be a quick play because it's risky to hold into a catalyst event
SAVA is just sitting above its 50% retracement level (around $8), and if it holds there, I wouldn't be surprised if it starts to tick up and break above $9.
Listen, there are opportunities out there and I believe the best way to spot them is through pattern recognition. I believe if you can identify scalable and reliable chart patterns, you can uncover momentum stocks before they take off.
Register for my special chart patterns training workshop here.