With volatility picking back up, there's some fear mongering… and some traders are shook.
To be honest with you, the more volatility, the better it is for traders. You see, when stocks are actually moving, it can actually be easier to make money with just one trade a day, in my opinion.
When stocks move, it actually helps me uncover specific plays in momentum stocks not everyone is focused on.
Right now, there is actually one industry in which I believe momentum can pick up and there are three specific stocks I want to keep on my radar.
These three stocks are in the 3D printing space.
Although they've been beaten down, I think the tide can change very soon.
Why?
Are These 3D Printing Stocks Set To Pop?
The once-strong love story of investors and 3D printing stocks has grown sour since the peak of 2018.
A weak macro industrial environment had already started causing revenue to shrink, and the COVID-19 pandemic has only made things worse.
The short ratio tells the story best. The leading 3D printing names, including 3D Systems, Protolabs and Stratasys, have a short ratio of 17.53, 10.90 and 15.21, respectively.
But I do think that 3D stocks are ripe for a rally, and all the ingredients are starting to come together. Here are some trends I am monitoring
The U.S. manufacturing sector has had a tough year or two, thanks to Donald Trump's trade war against China and the coronavirus-induced economic slowdown. The numbers from the Institute for Supply Management (ISM) are showing signs of a recovery.
The ISM has just said that the U.S. manufacturing purchasing managers' index (PMI) for August was 56, the highest figure since January 2019.
Also, August was the fourth consecutive month the PMI index trended north. Generally, an index number of 50 and higher indicates that manufacturing activities are expanding.
What's the connecting with 3D printing?
The primary application of 3D technology is in manufacturing. So the faster we see manufacturing expand, the higher the chances of 3D companies doing more business — and that is the kind of news Wall Street loves.
The POTUS wants to end the reliance of the U.S. on China. His second term campaign's prominent features are to bring back 1 million manufacturing jobs from China and block federal contracts for companies that outsource from China. He also promises various tax incentives to companies that get back jobs from China.
Some experts have argued that 3D printing can potentially help companies bypass trade concerns while keeping the benefits of working with manufacturers in China.
I see this narrative resurfacing as we approach the election and trade concerns intensify.
The Desktop Metal Special Purpose Acquisition
The 3D space is jumping on the SPAC trend-wagon as 3D printing unicorn Desktop Metal prepares to go public via a merger with Trine Acquisition Corp.
I believe this deal will put the 3D printing industry in the spotlight once again. You'll remember that the earlier boom in 3D printing centered on consumer printers.
I believe Desktop Metal's move will herald the conversation about the mainstream industrial application in 3D printing. I mean, it already boasts of industrial giants like BMW, Ford and Lockheed Martin as customers.
The deal is set for completion in Q4.
There are three stocks I'm watching based on these trends.
3D Systems (DDD)
Wall Street hasn't liked DDD very much since missing Q2 estimates. The stock is down by about 13.7% since its Q2 earnings release.
But what stood out for me, despite poor results, is DDD management's decision to restructure the company's operations to focus on healthcare and industrials.
So yes, I think DDD is a potential beneficiary of the positives surrounding Desktop Metal's plan to go public.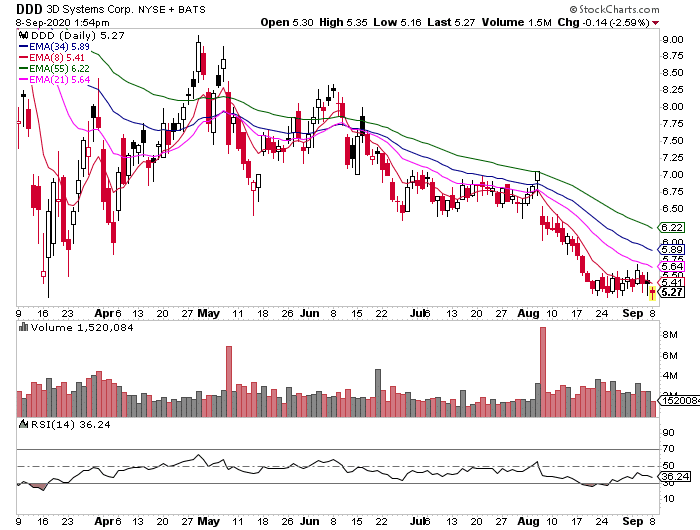 Right now, DDD is at a key support level right around $5, but if it holds… I think it can bounce rather quickly.
I'm going to wait until there's a clear technical signal in DDD because patience is key right now.
Protolabs (PRLB)
I see Protolabs benefiting from two of the trends I mentioned: manufacturing recovery and the Desktop Metal factor.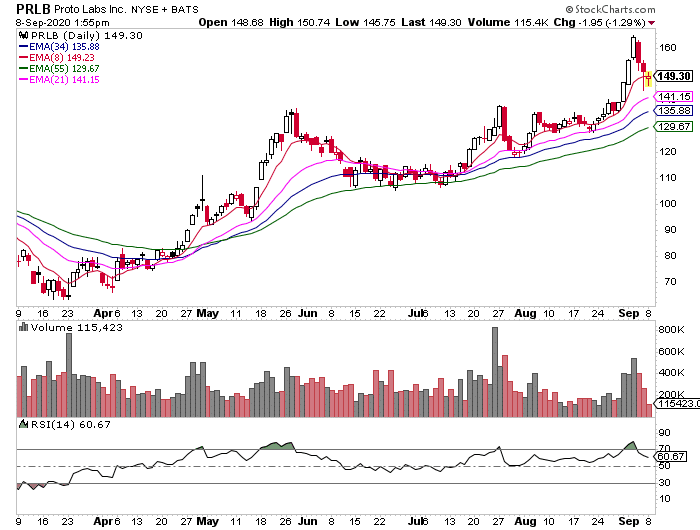 Protolabs does more than 3D printing. In fact, its injection molding and computer numerical control segments are larger than 3D printing. So it's possibly the biggest winner of the lot with regard to the manufacturing recovery. That partly explains why the stock is up over 15% in the past month.
Its presence at the intersection of 3D and industrial operations also makes it a potential winner of the addictive manufacturing 2.0 trend.
With the stock right at the 8-day exponential moving average (EMA), I'll look for a potential pullback for an entry.
Stratasys (SSYS)
Stratasys is one I am tracking purely as a candidate for short selling. This 3D name has struggled to find growth for the last five years, but it seems to always rally alongside other 3D stocks. 2018 was an example.
If any of the catalysts I mentioned above ignites a 3D printing rally, I will be watching how SSYS responds.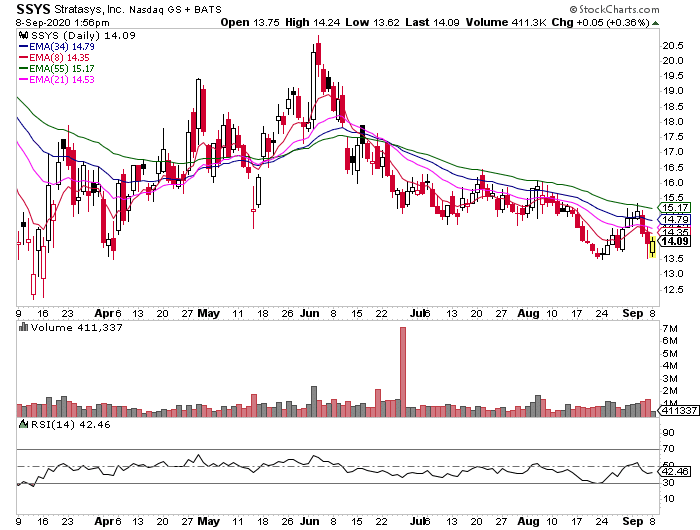 With SSYS, I think it's important to remain patient because it's pulling back from June highs, and on its way to March lows.
Listen, when it comes to trading momentum stocks, it's important to have an idea of a potential sector that can pop off… and have a few stocks on the radar.
If you want to find out how to uncover momentum stocks BEFORE they move, then you'll want to check out this exclusive training workshop.
I'll show you some of the techniques I utilize to attack the market and trade on a part-time schedule.