With digital assets exploding higher, BTC prices making new all-time highs…
A lot of traders are starting to wonder if these coins and blockchain-related will breakout.
I know what you're probably wondering, "Jason all those weird coins and tokens aren't as 'stable' as stocks, how can someone get in on the action without trading digital coins?"
Well, there are stocks that actually have exposure when it comes to coins and blockchain.
For example, RIOT, MARA, MSTR all exploded higher after the coin market went wild.
Of course, being a small-cap momentum trader, I already had my eye on one of these names and it was forming one of my favorite breakout patterns.
I want to show you how I identified this play, and how to utilize this pattern to trade these names.*
Why RIOT Was The Perfect Setup
This morning coin stocks got a crazy move after BTC started to breakout. Of course, my trader mind automatically thought about how I was going to make money off this move. So I thought of a few stocks that would benefit from this move. They also happened to be some of the top movers for the day.
So shortly after the opening bell, I mentioned this to subscribers…
Today coin stocks MARA, RIOT and IGC are in focus. My favorite is RIOT but all of these are extended so I'm cautious. What interests me though is they are nearing breakouts which could set the stage for new ranges so I'm watching closely for entry. RIOT for me is in play above $7.60 and breaking out as I type, with any luck round number $10 is now in the cards based on previous big candles.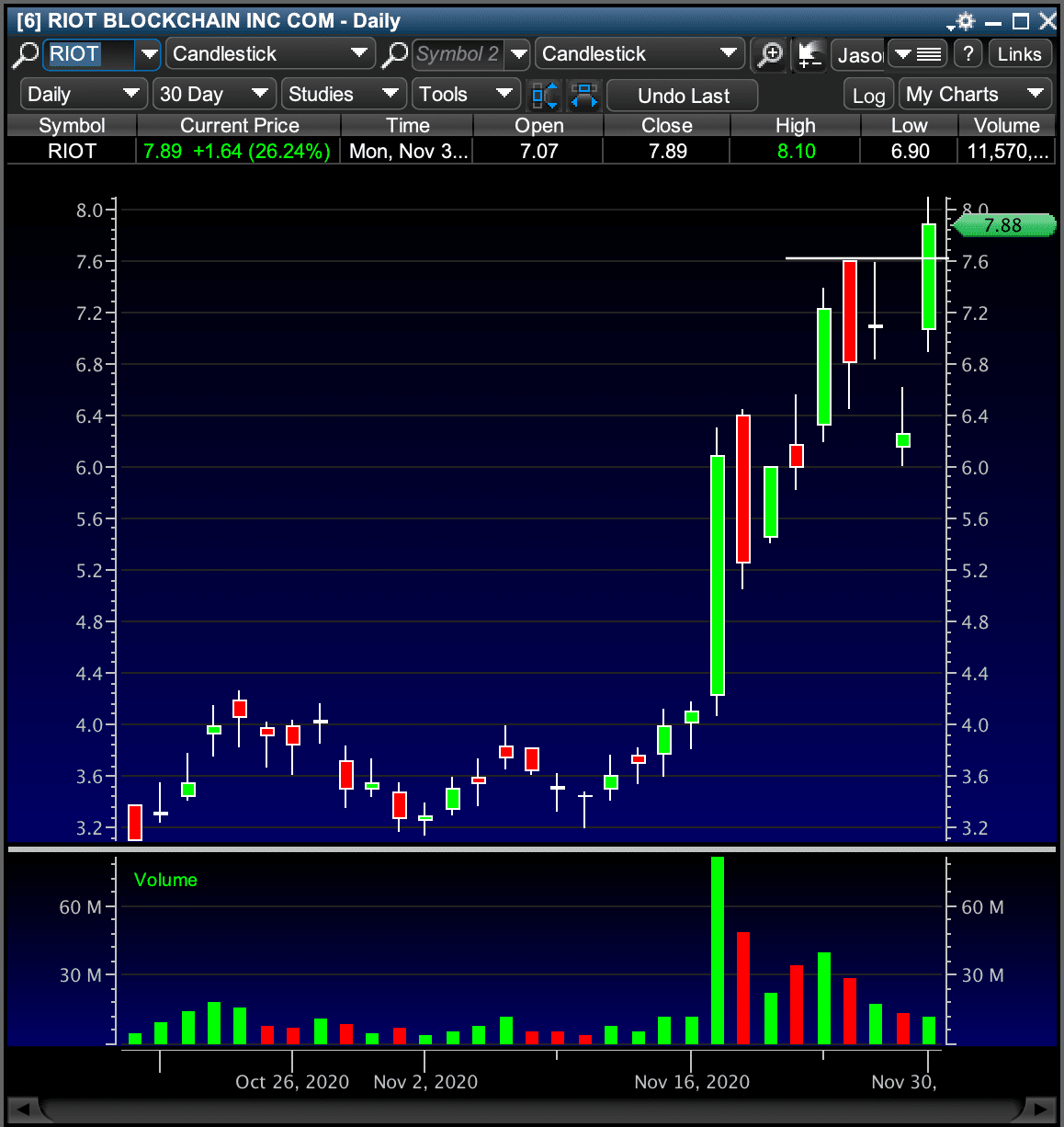 For me, this was a flawless trade…
You see, I spotted that ascending triangle pattern, and I liked it above that $7.60 area. However, it broke back below.
The reason?
IWM (the small-cap ETF) dropped and was actually right around support.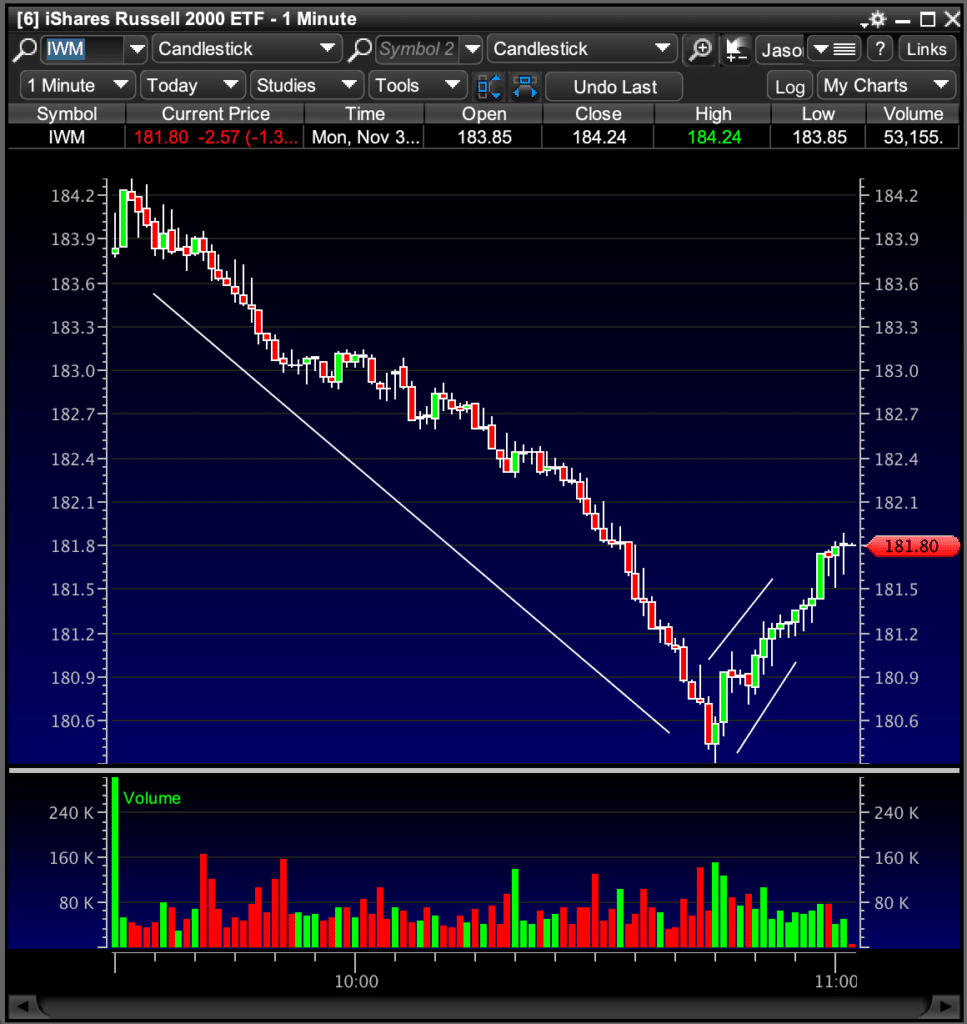 So I actually saw this as a buying opportunity. From a risk-reward standpoint, it made sense because I figured Riot Blockchain (RIOT) could retest highs, and potentially break above.
Well, guess what RIOT did?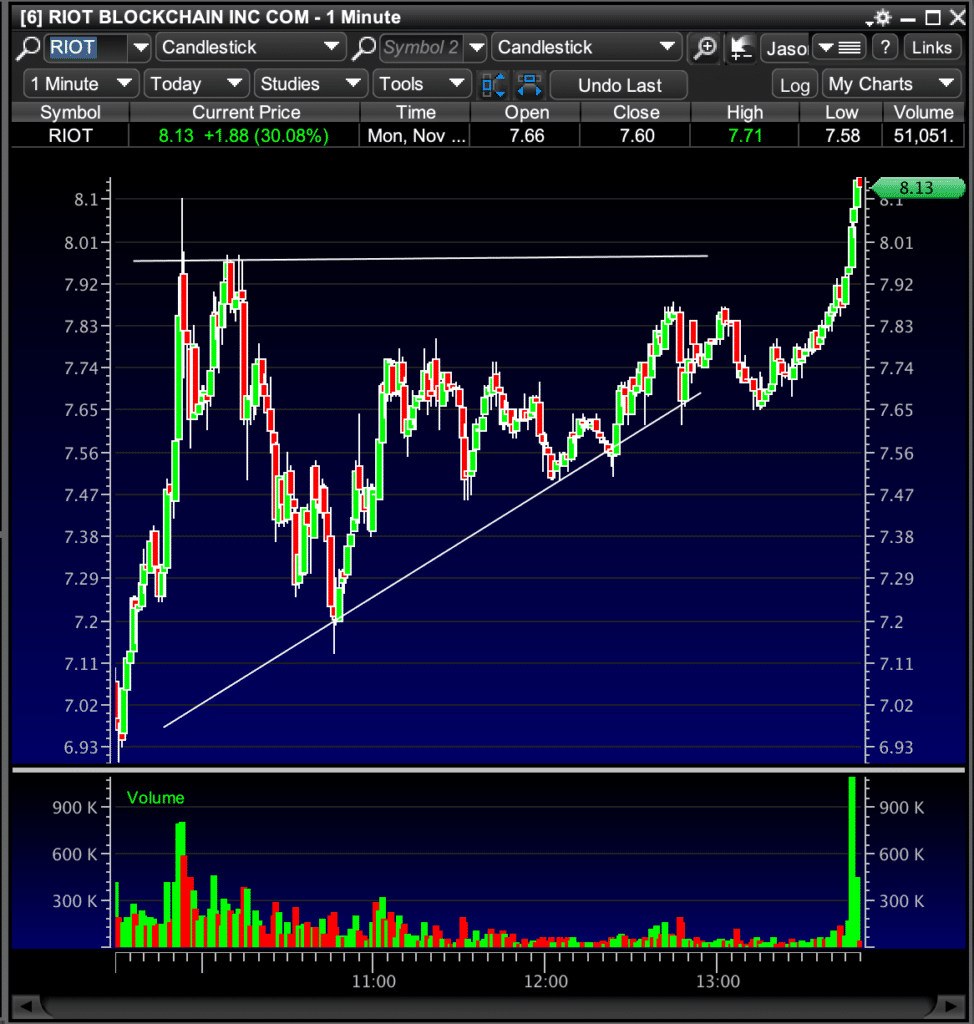 The stock actually made a new high of day, but I sold it prior to that and locked in about 10% at $8.04.*
Why was this a "flawless" trade for me?
I stuck to my plan and hit my goal. It wasn't a monster winner… but when it comes to trading, the one factor that matters is whether you stuck to your plan or not, in my opinion. What happens after doesn't matter.
Again, this specific pattern is known as the ascending triangle. It's typical with small-cap momentum stocks, and it's categorized as a breakout pattern. What I'm looking for here with this is a trend higher and the stock forms some resistance.
As the stock continues to approach that resistance level, it's can indication it can break out.
Now, these breakout patterns are important in this environment. If you want to discover how to utilize chart patterns and uncover some of the hottest trade ideas out there… then you'll want to watch this exclusive training session.
You'll learn some of my favorite techniques to attack the market.
WE MAY HOLD SECURITIES DISCUSSED. RagingBull has not been paid directly or indirectly by the issuer of any security mentioned in the Services. However, Ragingbull.com, LLC, its owners, and its employees may purchase, sell, or hold long or short positions in securities of the companies mentioned in this communication.