If you're interested in purchasing shares of the best marijuana stocks, here's what you need to know about the hot companies and investments to watch.
In the United States, cannabis is big business. CNN reports that legal marijuana was a $9 billion industry in 2017. With the opening of California's major retail cannabis market in January 2018, sales are projected to rise to $11 billion this year and $21 billion by 2021. As more states legalize marijuana for medical and recreational use, the grass is greener for investors who want to put their money into the cannabis industry.
With the opening of Canada's recreational market in July 2018, it will be easier than ever to make money by investing in the best pot stocks. If you're interested in purchasing shares of the top marijuana stocks, here's what you need to know about the hot companies and investments to watch in this sector.
Why Invest in Legal Marijuana Stocks?
Whether or not you support the legal cannabis industry, it's impossible to deny its incredible moneymaking potential. Consider these statistics from the "Marijuana Business Factbook," published periodically by Marijuana Business Daily:
As previously mentioned, legal weed sales are expected to double in 2018 compared to 2017 numbers.
By 2022, recreational marijuana sales are expected to bring in double the revenue of medical cannabis sales, making recreational marijuana stocks a hot property for investors looking for growth.
The total cannabis market in the United States, including illegal markets, is estimated at $52.5 billion. As more states legalize the substance, shareholders who purchase stock in legitimate cannabis businesses will benefit.
The industry is projected to show job growth of 21 percent per year every year from now until 2022. By comparison, the in-demand health care field is projected to grow by just 2 percent each year over the same period.
The total economic impact of the cannabis industry is projected to be $75 billion by 2022. Many states and municipalities are investing these funds in social programs.
Legal cannabis sales could soon pass cigarette sales in the United States. According to data from the Wall Street Journal, the cigarette industry brings in almost $94 billion annually.
Several markets for legal cannabis are rapidly expanding, including baby boomers and women.
Many analysts expect the cannabis industry to be as large or eventually even larger than the beer industry, currently at $110 billion.
The stocks listed on the U.S. Marijuana Index gained more than 71 percent between June 2017 and June 2018 compared to a gain of just 12 percent by the S&P 500.
American investment in the cannabis market totaled $3 billion in the first half of 2018.
Although the future of the marijuana stock industry looks bright, it's important to be aware of a few potential drawbacks. Even though most Americans support legal cannabis and many more states are expected to or are in the process of pursuing legalization, the substance is still illegal at the federal level. This leads to some challenges for the industry, such as a difficulty finding banks that will serve marijuana businesses.
Opposition to marijuana from leaders such as Attorney General Jeff Sessions has caused a dip in cannabis stocks in recent months. In early 2018, Sessions rescinded a policy from the Obama administration that gave states authority to set their own laws regarding cannabis.
Even as states legalize the substances, many are slow to roll out their medical and recreational programs. In January 2018, Scotts Miracle-Gro cut its sales outlook to 2 to 4 percent for the year from its previous projections of 6 to 8 percent. They cited the slow implementation of California's recreational marijuana program as the impetus for the first-quarter disappointment.
The liquidity of the industry is also a concern for some investors. At this point, investment in the industry must be done purely on a speculative basis.
How Do I Choose the Best Marijuana Stocks & Cannabis Stocks?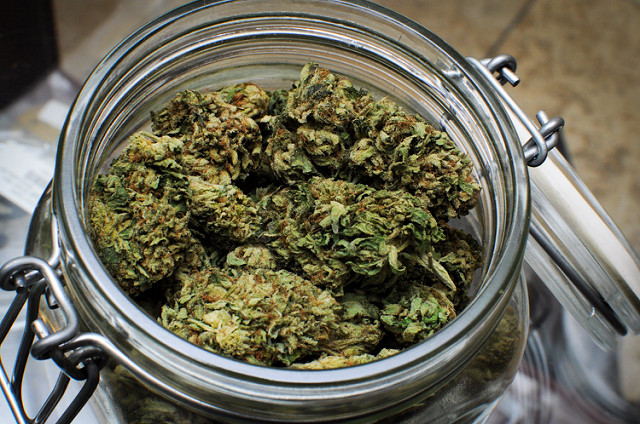 Image via Flickr by Dank Depot
Whether or not you're familiar with the industry, you can get information about top marijuana stocks with targeted research. Considerations to keep in mind during your research should include:
How long the company in question has been in existence
Whether they are primarily a cannabis business or also invest in other products.
Although many of the top marijuana stocks are companies strictly involved in medical and recreational cannabis, the marijuana stock market is also comprised of traditional companies that invest in cannabis products, businesses, facilities, and technologies. Choosing to invest in shares of businesses in the latter category can help protect you from the industry's regulatory uncertainty in the U.S.
What Are Some of the Best Marijuana Stocks To Buy Right Now?
Here are our current picks for the top marijuana stocks to buy:
22nd Century Group is a pick for those who want to dip a toe into the marijuana market without spending a fortune. This biotech company, which trades on the New York Stock Exchange, focuses on using industrial hemp to create cannabinoid-related products. They also invest in tobacco.
AbbVie Inc. (ABBV) is the pharmaceutical company that developed Marinol, one of the first legal cannabis-based medications. This drug is FDA-approved to treat loss of appetite in individuals with AIDS and chemotherapy-associated nausea in those with cancer. This company also makes drugs for autoimmune disorders, HIV suppression therapy, testosterone replacement, and many other conditions.
Acreage Holdings, which announced in July 2018 that they received $119 million in funding to be used to expand their 13-state operation into Canada. This business will be listed on Canadian exchanges in the fall.
American Cannabis Company Inc. (AMMJ) is a penny stock with potential, as the Denver company shows steady sales and limited debt. They focus on consulting and advising for those entering the legal cannabis industry.
Aphria (APHQF) touts itself as one of the most cost-efficient producers of dry cannabis and oils. In 2017, their stock price increased by more than 146 percent. In April 2018, they announced a deal to sell their products through major Canadian pharmacy chain Shoppers Drug Mart.
Arena Pharmaceuticals Inc. is a market leader in the pharmaceutical industry. They are currently developing a marijuana-based drug to treat chronic pain without psychoactive effects.
Aurora Cannabis Inc. (ACBFF) is a Canadian company that grows, harvests, and sells medical marijuana. They have a 55,000-square-foot facility dedicated to making the safest, cleanest medicinal cannabis available at affordable prices. Shipping is available for customers throughout Canada. Aurora became the most valuable Canadian marijuana company upon purchasing rival CanniMed therapies, worth an estimated $890 million. They have nine facilities in Canada as well as two in Denmark.
Axim Biotechnologies has more than a dozen cannabis-based drugs currently in clinical trials, including medications for opioid addiction, tobacco cessation, inflammatory bowel disease, and other conditions.
CannaVEST Corp. (CANV) produces consumer products such as body balms and other personal care products derived from hemp and focusing on CBD oil. They have assets of $2.3 million, one of the strongest positions in the industry.
CannTrust Holdings Inc. recently entered an exclusive partnership with Canadian pharmaceutical giant Appotex Inc. They are the sixth largest marijuana facility in Canada.
Canopy Growth Corporation (TWMJF) is the largest medical marijuana production company based in Canada, with half a million feet of production space dedicated to producing a variety of strains. Canopy is the world's first publicly traded weed company and is associated with rapper and cannabis entrepreneur Snoop Dogg.
Cara Therapeutics Inc. (CARA) is a biopharmaceutical company developing marijuana-based drugs that act on the body's cannabinoid receptors in the central nervous system. These are designed to treat both acute and chronic pain.
CLS Holdings USA Inc. (OTC:CLSH) has been selling recreational marijuana in Nevada for a year, during which they collected substantive data about what types of cannabis products customers buy and what types they want to see more of on the shelves.
Constellation Brands (CTZ), the company that owns the Corona line of beer, recently invested in cannabis-based drinks.
Cronos (CRON) is a Toronto-based marijuana cultivation company that serves national markets, including Israel, Australia, and Germany.
Emerald Health Therapeutics is a cannabis flower and oil production company in British Columbia. Their stock had a 262 percent return over the past year.
General Cannabis Corp. (CANN) provides a range of ancillary services to cannabis companies, including but not limited to consulting, real estate, security, and business development. They also sell a line of marijuana-themed lifestyle products and clothing.
Grow Generation Corp (GRGW) is an agricultural supply company that specializes in organic and hydroponic gardening supplies. It generated $14.2 million in revenue last year.
GW Pharmaceuticals (GWPH) is currently developing cannabis-based medications for multiple sclerosis, cancer, schizophrenia, type 2 diabetes, and other chronic conditions.
Heineken recently acquired Lagunitas, a California beverage company that developed Hi-Fi Hops, sparkling water infused with THC and CBD (the active ingredients in cannabis). It will be distributed at dispensaries throughout the state.
The Hydropothecary Corporation is Quebec's only producer of medical marijuana. Their stock has increased 203 percent over the past year as they prepare to launch a separate recreational cannabis label.
India Globalization Capital trades on the New York Stock Exchange and is an affordable cannabis stock. This company focuses on marijuana products to treat Alzheimer's disease. They also invest in the blockchain industry.
Innovative Industrial Properties (IIPR) is a real estate investment trust dedicated to the medical marijuana business. They own five properties in four states comprising more than 600,000 rentable square feet for medical cannabis companies.
INSYS Therapeutics Inc. (INSY) has already received FDA approval for two of its cannabis-based drugs and has seven more currently moving through the approval process.
Jack in the Box, a fast-food company that advertises directly to its cannabis users in California by offering a special meal in partnership with Snoop Dogg to celebrate legalization, is expected to benefit from the passage of recreational use in the state. Almost half of the chain's stores are located in California.
Kush Bottles (KSHB) manufactures vaporizers, packaging, supplies, and other products for the marijuana industry. Founded in 2010, they have a dozen U.S. facilities and reported revenue of $10.6 million for the second quarter of 2018, as well as a revenue increase of 117 percent over one year. Many experts name this stock as a good choice for those who want to invest in marijuana but are somewhat risk-averse.
LeafBuyer Technologies Inc. (LBUY) was named as one of the top five marijuana stocks to watch in anticipation of Canada's recreational market debut. This business focuses on providing cannabis customers with deals and resources and was dubbed The Priceline of Pot by TheStreet.com.
Maple Leaf Green World Inc. (MGW) saw its stock increase by 750 percent over the past year. This Canadian agricultural and environmental company provides medical marijuana for Health Canada and is planning to expand operations into California.
Marrone Bio Innovations, Inc. (MBII) is a NASDAQ-traded company involved in water treatment, turf, and agriculture as well as products for plant health and pest management that have been approved for use on California cannabis farms.
MassRoots Inc. (MSRT) is a social network for marijuana enthusiasts, the largest app of its kind with more than 900,000 registered users. It is affiliated with the National Cannabis Industry Association.
mCig Inc. (MCIG) manufactures vaporizers, electronic cigarettes, and related products. In addition to their retail business, they offer services for cannabis growers that include consulting, personal home grow rooms, greenhouses, commercial grow room design, and customized warehouse space.
MedMen, a California company that owns several dispensaries and production facilities, is one of the first American marijuana companies to be listed on the Canadian stock exchange.
Molson Coors is currently in talks with Aurora and other marijuana companies to develop cannabis-infused beverages.
Namaste Technologies Inc. provides e-commerce services for marijuana businesses in more than 20 countries. Over the past year, they purchased the CannMart Inc. distribution network and saw a stock increase of 742 percent.
OrganiGram Holdings (OGRMF) specializes in cannabis oils and vaporizers as well as organic dry cannabis. Their stock price has increased by 145 percent over the past year.
The Scotts Miracle-Gro Company (SMG) is not directly marijuana-related, but sells many products that are popular among growers. In addition to their residential and commercial plant and lawn care products, the founder recently invested in a Dutch growing hardware and lighting company called Gavita and a hydroponics and nutrients company called Botanicare, among other investments in cannabis-associated businesses.
Scythian Biosciences Corp. (TSXV: SCYB.V; OTC:SCCYF) may be a miniscule player in the big picture of the marijuana industry, but The Marijuana Index predicts that will change. The cannabis stock resource notes that Scythian is the only truly global marijuana company, with millions in seed money from larger companies that will be used to create an incubator for legal cannabis in Latin America and Europe.
Solis Tek (SLTK) is an indoor lighting company founded in 2007 that recently expanded to a new Arizona facility, adding 50,000 square feet of marijuana cultivation space and 10,000 square feet of production space.
The Supreme Cannabis Company Inc. is a marijuana production company that recently received funding for working capital and expansion equaling nearly $42 million USD.
Terra Tech Corp (TRTC) is a 10-year-old agricultural company that also has its own brands of medical and recreational cannabis and owns two dispensaries in Nevada.
Vitality Biopharma, Inc. (VBIO) invented cannabosides, which can deliver cannabinoids directly to the gastrointestinal tract. These drugs are designed to treat conditions such as inflammatory bowel syndrome (IBS) and Crohn's disease.
Zynerba Pharmaceuticals Inc. (ZYNE) specializes in developing drugs made from synthetic cannabis that can be delivered transdermally (through the skin). These can be used to treat pain associated with fibromyalgia, osteoarthritis, and other conditions.
How do I Buy These Best Marijuana Stocks?
Mainstream companies that have invested in cannabis, such as Scotts Miracle-Gro and GW Pharmaceuticals, trade on the major U.S. exchanges (NASDAQ and the New York Stock Exchange).
Most marijuana-specific companies trade only on Canadian exchanges, since their business currently violates federal law in the U.S. That's beginning to change, however, as Cronos began trading on the NASDAQ in February 2018 and Canopy Growth Corp. on the NYSE in May.
The Toronto Stock Exchange (TSE), Canada's largest exchange, lists only large domestic marijuana companies, including Canopy and Aphria. The value of the cannabis companies traded on the TSE exceeds $20 billion. American cannabis companies trade on the smaller Canadian exchanges, including more than 60 businesses with a market cap of more than $230 million.
Smaller cannabis companies primarily trade in the United States as penny stocks, those listed at less than $5 a share, on the over-the-counter (OTC) markets.
As with any investments, it's especially important to use caution when purchasing stocks on the OTC market, since these companies do not have to disclose their financials to be listed. This means they have no responsibility to their investors and are not necessarily solvent. Still, many good companies trade on this basis since they simply do not yet qualify for the larger exchanges.
What Trading Strategies Are Specific to Marijuana Stocks?
Because the marijuana industry is relatively new to the stock market, it naturally shows much volatility. Combined with the added uncertainty of the future legal status of the industry, this makes it difficult to predict how the market will move. However, many analysts note that the Trump industry is unlikely to interfere with state-level marijuana laws, as more than 30 states will have some form of legalization by the end of 2018.
Exchange traded funds (ETFs) allow you to invest in some of the top marijuana stocks with minimal risk. These funds combine a broad-range of well-researched stocks within the industry. Options include the ETFMG Alternative Harvest ETF, the Evolve Marijuana ETF, and the Horizons Marijuana Life Sciences Index ETF. ETFs do carry their own regulatory risks since the funds must be held by a U.S.-based bank, many of which have been reluctant to do business with cannabis companies.
If you're concerned about the effects of federal marijuana laws on your investments, consider purchasing shares in companies that focus on ancillary products. For example, packaging has become a substantial ancillary industry, since many marijuana businesses don't have time to ensure that they meet stringent state packaging regulations. Another unlikely growth area? Coworking spaces designed specifically for those involved in the cannabis industry. Many companies make special handbags with aroma-proof pouches, so women (and men) can transport their stashes discreetly.
When investing in cannabis, the volatility of the market means you should think long term. The marijuana business has huge growth potential and is currently in its infancy, which means you will likely see your investment increase if you're willing to wait out some ups and downs.
Diversity is key to any successful investment strategy. If you're new to investing and want to purchase shares in cannabis, consider buying shares in other industries as well to mitigate potential losses.
Do your due diligence with careful research on the marijuana companies in which you plan to buy shares. You should review the complete financials to make sure the company is solvent before moving forward. This is especially important when trading marijuana stocks OTC, since these markets don't require the same financial disclosures as NYSE and NASDAQ.
Pay attention to trends in the industry. For example, the traditional method of marijuana ingestion is to smoke the dried cannabis flower. However, advances like concentrated oil that can be vaporized are slowly surpassing the classic joint as they gain popularity among customers. Because oils and other niche cannabis products have higher profit margins, their prevalence is good news for investors. Recent industry expositions have seen the debut of everything from cannabis-infused sports drinks to Keurig-style dispensation devices to oral sprays, patches, and pain relief creams designed for athletes. This type of knowledge should influence your investment choices.
If you're a new investor or want to give your portfolio a boost, check out the resources available on RagingBull.com. You can enter your email address to receive a free guide to becoming a better trader in seven days. Our team of expert traders will connect with you in our day trading chat room and provide targeted advice to our subscribers about getting involved in the burgeoning, lucrative marijuana industry.