When you're trading the stocks, it helps to know the exchange-traded funds (ETFs) tracking major market indices. Now, one of the most traded index ETFs is the PowerShares QQQ Trust (NASDAQ:QQQ). This index ETF tracks the Nasdaq-100 Index, often thought to be the barometer of the technology sector. However, there are some things you might not know about QQQ. That said, let's take a look at what is QQQ, and how you might be able to uncover trading opportunities in this index ETF.
Nasdaq 100 Index (QQQ Benchmark) Overview
The PowerShares QQQ Trust (NASDAQ:QQQ) aims to track the performance of the Nasdaq 100 Index. Now, the Nasdaq 100 Index is also known as QQQ's underlying index or benchmark index. That said, it helps to understand what components are included in this market index. Although the Nasdaq 100 Index is thought to be a technology-tracking index, it actually tracks non-financial companies.
That said, the Nasdaq 100 Index includes 100 of the largest (based on market capitalization) international and domestic non-financial companies listed on the Nasdaq stock market.
Now, the Nasdaq 100 Index includes companies in these sectors:
Information Technology
Communication Services
Consumer Discretionary
Health Care
Consumer Staples
Industrials
Utilities
Moreover, a company must meet stringent requirements to be included in this index. For example, the company must:
Be issued by a non-financial company.
Have an average daily trading volume of 200K shares or more.
Be listed exclusively on the Nasdaq Global Select Market or Nasdaq Global Market.
Not have annual financial statements with a currently withdrawn audit opinion.
Now that we've gone over QQQ's underlying index, let's delve deeper into this ETF.
What is QQQ?
Since traders aren't able to actually purchase shares of the Nasdaq 100 Index, their only option is to buy an ETF tracking it. However, that doesn't mean they can't gain exposure through other asset classes. For example, if a trader wants to express a bullish opinion on the index, they can look to purchase call options. On the other hand, if they're bearish, they could look to purchase put options on NASDAQ:QQQ or the index itself.
Now, traders refer to QQQ as the tech ETF because it has heavy exposure to technology companies.
Here's a look at QQQ's sector allocation:
Information Technology – 43.04%
Communication Services – 23.27%
Health Care – 8.46%
Consumer Staples 6.01%
Industrials 2.50%
The fund's top 10 holdings include:
9.95% allocated to Microsoft Corp. (MSFT)
9.63% allocated to Apple Inc (AAPL)
9.30% allocated to Amazon.com Inc. (AMZN)
4.83% allocated to Facebook Inc. (FB)
4.72% allocated to Alphabet Inc C Shares (GOOG)
4.15% allocated to Alphabet Inc A Shares (GOOGL)
3.12% allocated to Intel Corp. (INTC)
2.99% allocated to Cisco Systems Inc. (CSC)
2.26% allocated to Comcast Corp. (CMCSA)
2.14% allocated to PepsiCo Inc (PEP)
Keep in mind, these percentage allocations are subject to change.
QQQ Statistics
Moving on, let's take a look at some of QQQ's statistics.
According to Finviz, QQQ has an average daily volume of over 44M.
According to Morningstar, NASDAQ:QQQ has average annual volatility of 14.14% and return of 20.21% over the past trailing three-year period. That said, QQQ is slightly more volatile than the S&P 500 Index, which has an average annual standard deviation of 11.21%. Moreover, it has outperformed the S&P 500 Index over the same period.
How to Trade This Tech ETF
Now, how does understanding the intricacies of the PowerShares QQQ ETF help with your trading?
Well, just because you know the ins and outs of QQQ, it doesn't mean you can trade it right away… you also need to pair that knowledge with a money-making strategy.
For example, Jeff Bishop – the lead trader at Weekly Money Multiplier – uses options to express his opinion on the direction on index ETFs. Additionally, he uses chart patterns to signal when to buy call options or put options on these names.
Not only that, he focuses on the big picture.
Now, here's what we're talking about…
Using Options to Trade QQQ
Check out the hourly chart of the ETF: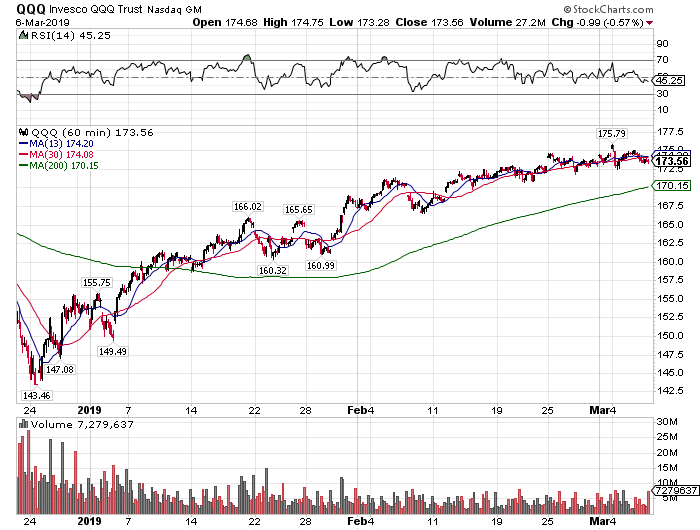 After months of straight buying in stocks, the market seemed to be exhausted… moreover, it seemed to have found some resistance around the $175 area. Now, Jeff Bishop waits for a specific set up and anticipated a drop in the ETF.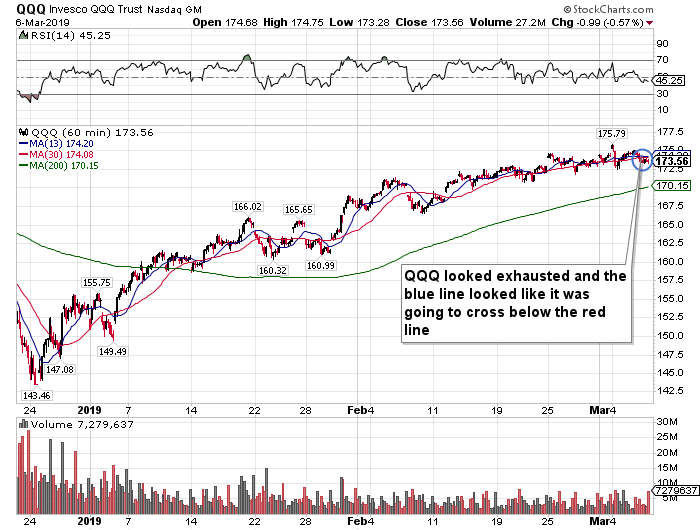 Now, the chart above was exhibiting Jeff's "money pattern". Basically, if the blue line crosses below the red line, it signals a potential down move. This could be applied to any stock or ETF, not just QQQ. That said, when this pattern materialized, Jeff purchased call options…
Here's what happened with QQQ…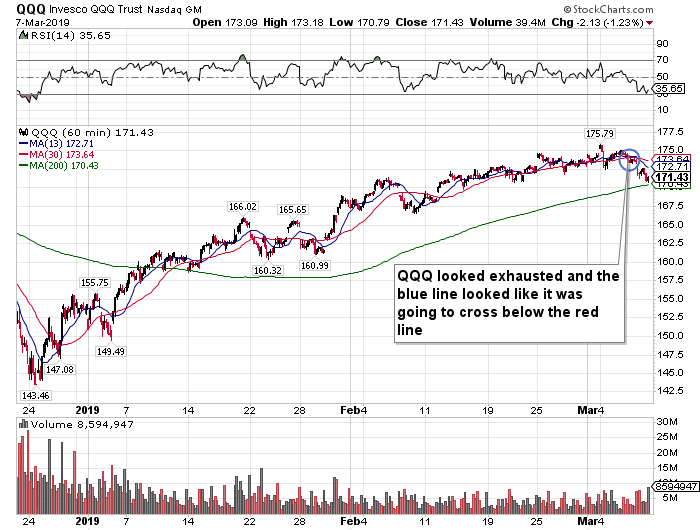 The target here was the green line, also known as the 200-hourly simple moving average (SMA).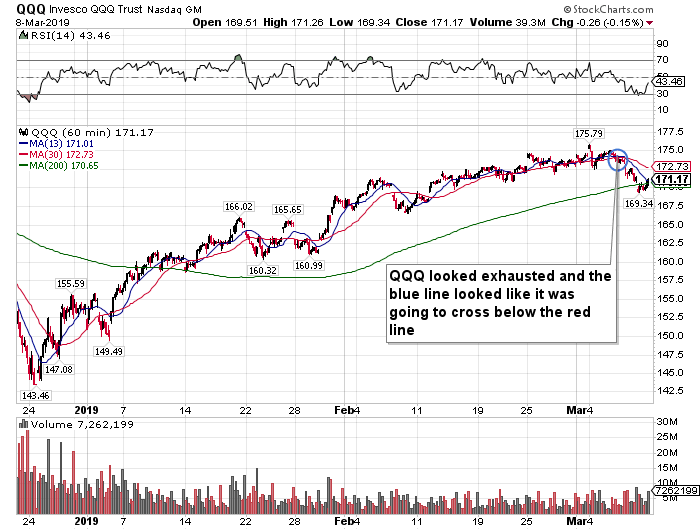 Once it reached the green line… Jeff took profits off the table.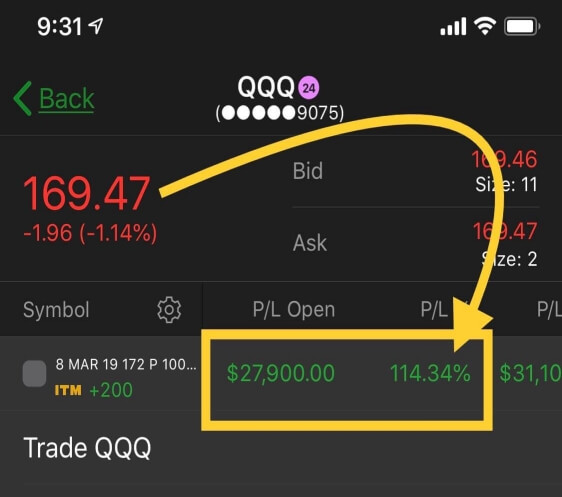 But that wasn't the only options trade he had on…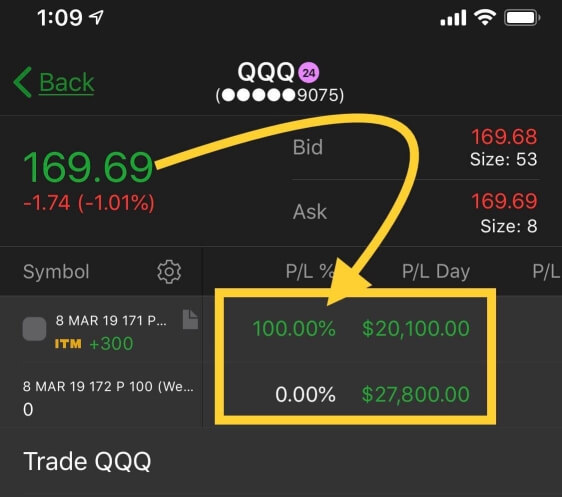 Just by staying up to date with the markets, focusing on the big pictures, as well as chart patterns… Jeff was able to lock in not one, but two 100% winners.
Want to Learn More About Trades like That?
That said, if you want to learn more about his strategy, check out this video lesson here.
Not only that, you can check out his 30 Days to Options Trading eBook here. In this eBook, you'll get an inside look at how Jeff Bishop is able to consistently double his money.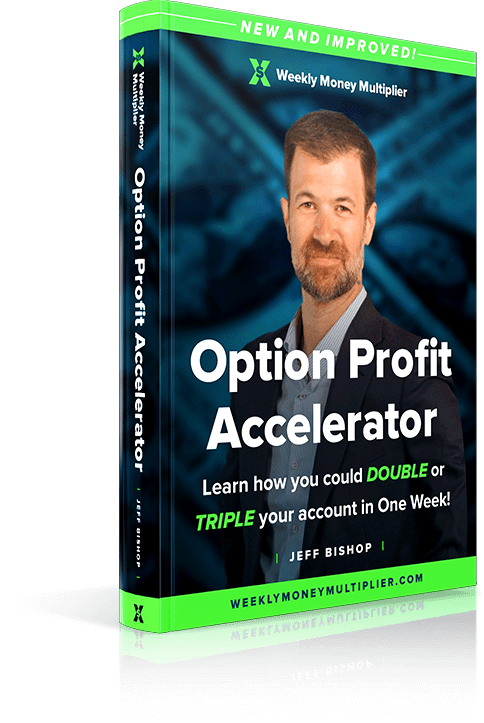 Make sure to check out page 13, in which he goes over how to hedge your portfolio. What's worse than losing profits or a bulk of your capital? He'll show you how you could use options to lock in your winners and let the rest ride.
Not only that, on page 26, you can understand the beauty of options and how a small move in QQQ could generate an unthinkable amount of percentage returns.
Additionally, on page 37, you can see Jeff's secret sauce and his blueprint to identifying untapped potential in the options market.
The Bottom Line
If you're looking to trade tech stocks, you might consider QQQ. However, it could get expensive, as the ETF trades at over $100 per share. But that doesn't mean there isn't another way to gain exposure to QQQ. You could also use options to trade the name and generate triple-digit returns on it. As always, make sure to conduct your due diligence before you invest or trade this ETF.