Goldman Sachs Group Inc (NYSE:GS) reported its 1Q 2017 financial results, and it missed the consensus estimates. This was a "rare" earnings miss for the financial services company. This caused the stock to fall nearly 5% on the day. Prior to its earnings report today, GS topped the Wall Street consensus estimates around 90% of the time. Let's get right into the company's 1Q 2017 financial results.
Goldman Sachs 1Q 2017 Financial Results
Goldman Sachs reported an EPS of $5.15 for the first quarter, while Thomson Reuters analysts were expecting the firm to report an EPS of $5.31. Additionally, GS missed on its revenue estimates. Thomson Reuters were looking for 1Q 2017 revenue of approximately $8.45M, but the firm's revenue came in lighter than expected, at around $8.03M.
Now, the potential cause for its underperformance may have been attributed to its equities trading revenue. Goldman Sachs' equities trading revenue fell by 6% year over. However, net revenues from its currency, commodities and bond trading was relatively unchanged, from the same period in the prior year. The firm's trading revenue underperformed some of its main competitors, such as Citigroup, JPMorgan Chase and Bank of America.
According to Goldman Sachs Chief Financial Officer Martin Chavez, "We did underperform and the underperformance was driven by commodities and currencies…We could have done a better job navigating the markets and that's all I will say."
Let's look at Goldman Sachs' statistics and valuation.
GS Statistics and Valuation
Heading into its earnings report, GS had a price-to-earnings ratio of 13.9. The Goldman Sachs Group, Inc. currently has a book value per share of 182.458, and consequently, it had a price-to-book ratio of around 1.2, as of today's close, which is below the industry average of 1.9. The Goldman Sachs Group, Inc. has a forward price-to-earnings ratio of approximately 11, based on next year's earnings estimates.
Goldman Sachs' 1Q 2017 total net revenues fell by 1.76%, quarter over quarter. However, the company's diluted earnings per common share grew by around 1% quarter over quarter. Now, GS also noted that its net interest income fell by over 40% year over year, while Bank of America, which also reported earnings this morning, stated that its net interest income grew by 5% over the same period.
GS traded in a range between $213.18 and $219.89 today. GS has a 52-week range between $138.20 and $255.15. Therefore, it is currently still over 50% above its 52-week low, but it's over 10% below its 52-week high. GS is trading slightly below its 200 day SMA. Moreover, the stock is trading below its 50-day simple moving average.
Here's a look at the stock's performance on the daily chart: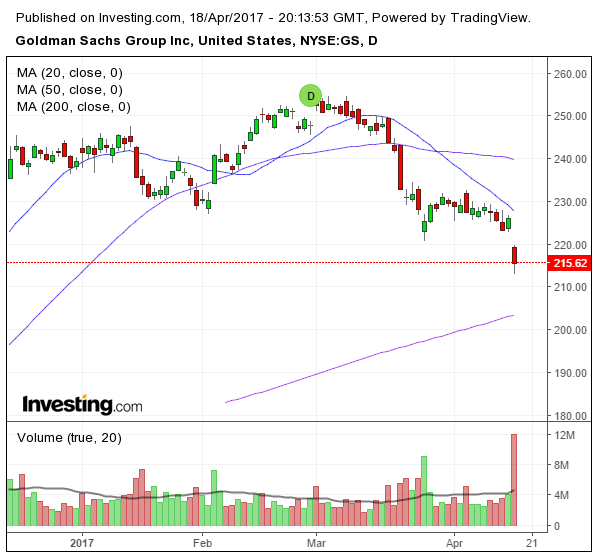 Source: Investing.com
If you take a look at the chart above, GS actually had a "bearish" pattern, as its 20-day moving average crossed below its 50-day SMA. Moreover, the stock failed to form a double-bottom pattern.
Final Thoughts
Goldman Sachs reported earnings, and it missed Wall Street estimates. Now, in comparison to other banks, GS had weak performance in trading, and consequently, the stock sold off and hit four-and-a-half month lows.
Related Articles: