Acuity Brands, Inc.was down significantly on the day, falling over 10% due to its second quarter financial results. The North American provider of indoor and outdoor lighting and energy management solutions missed Wall Street estimates by 5 cents. Additionally, Acuity missed the consensus revenue estimate. Let's get right into its financial results and an analysis into the stock.
Q2 Financial Results
Prior to AYI's Q2 financial results, it had a negative earnings surprise of 8%, and posted negative earnings surprises in three of its last four fiscal quarters. The company's most recent financial results marked its third straight earnings miss, which was primarily due to slowing demand for its lighting solutions.
During the second quarter, Acuity's sales rose by 3.5% year over year (YoY). However, its adjusted diluted earnings per share (EPS) fell by 1.7% (YoY). Despite growing its sales, analysts were expected $825M in revenue, and an adjusted diluted EPS of $1.82, but the company reported revenue of just $804.7M and an adjusted diluted EPS of $1.77. However, Acuity's management team noted that North American demand showed only a modest decline. That in mind, the company indicated the results were not as bad as traders believe them to be.
AYI Performance and Ratios
The stock traded between $172.11 and $180.25 today, marking a new 52-week low. AYI has a 52-week range between  $172.11 and  $280.89.
AYI's significant drop today, due to its earnings and revenues miss, dragged down one of its competitors, Cree Inc. (NASDAQ: CREE), which manufactures and markets lighting products and products for radio frequency and power applications. CREE shares were down over 7% on the day, which would be considered a sympathy play.
Getting back to AYI. The stock is currently nearly 2% above its 52-week low, but AYI is over 35% below its 52-week high. AYI was more than 25% below its 200 day simple moving average. Additionally, the stock was over 15% below its 50-day simple moving average.
Here's a look at AYI's performance on a daily chart: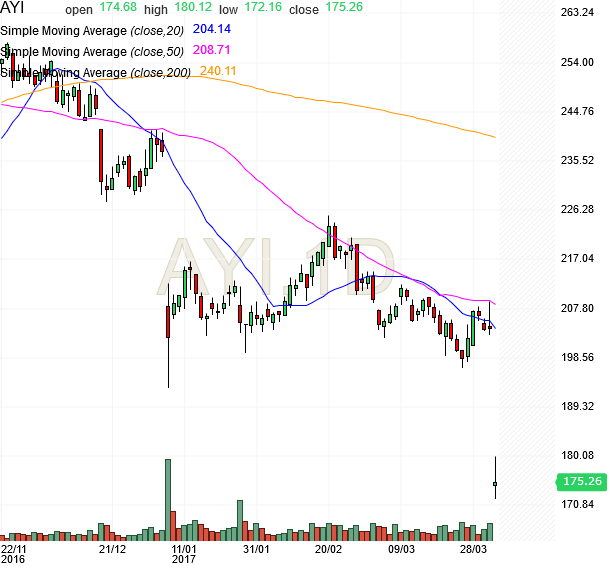 Source: Investing.com
The stock has a trailing 12-month (TTM) P/E ratio of 29.5. Additionally, the stock has a trailing 12-month price-to-sales ratio (P/S) of 2.62. AYI also has a price-to-book ratio of 5.2. Now, these valuation ratios are all above the industry average, potentially indicating the stock is overvalued. Prior to today, AYI shares have been down over 12% during the last three months, and down 11.55% YTD, significantly underperforming its industry of electronic components
Final Thoughts
AYI missed both its revenue and earnings estimates, and shares fell over 10%. In turn, this may have pulled CREE down with it, and a trade in CREE would be considered a sympathy play. The stock has been trading at a high valuation, in relation to its peers, and its financial results were one of the main catalysts that sent AYI lower.
Related Articles: