Automated Data Processing (NASDAQ: ADP) shares were down over 6% after the company announced its third quarter fiscal 2017 financial results. Despite ADP's adjusted earnings from continuing operations coming in at $1.29 per share, which beat the Zacks Consensus Estimate of $1.23, the company's outlook for the year indicated potential weakness, sparking a sell off in the stock.
Take a look at ADP on the 15-minute chart: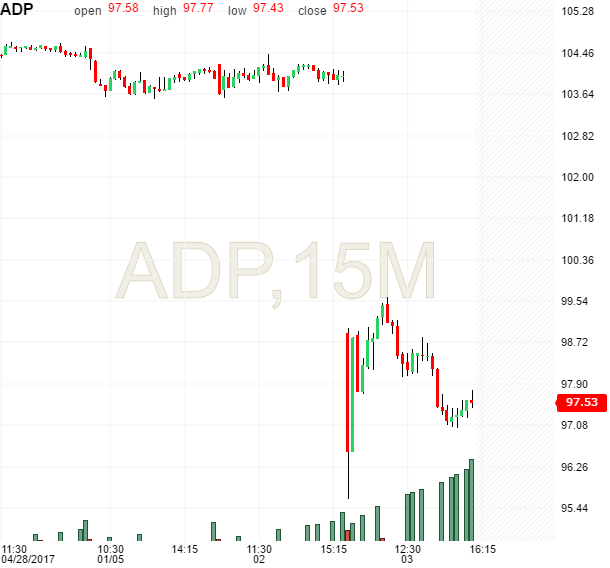 Source: Investing.com
Now, let's take a look at ADP's release.
ADP Third Quarter 2017 Earnings Release
ADP reported third quarter revenue of $3.4B, an increase of 5% from its third quarter revenue in the prior fiscal year. The company's net earnings from continuing operations came in at $588M, a growth rate of 10% year over year. Moreover, ADP's earnings from continuing operations before income tax rose to $828M, or a 4% increase year over year. The company's diluted earnings per share from continuing operations increased to $1.31, or 12% growth year over year.
According to ADP President and Chief Executive Officer Carlos Rodriguez, "Overall, our results this quarter reflect our continued investments in our product, service, and sales organizations as we worked to overcome our strong fiscal 2016 new business bookings performance driven by robust demand for our Affordable Care Act solutions…We are pleased with the progress we are making on our strategic initiatives and we remain committed to simplifying our organization and continuously improving the client experience with an enhanced service model and innovative solutions."
Now, the company showed some growth in these figures. However, the markets are forward looking, and what may have caused shares to fall was its fiscal 2017 outlook.
ADP Fiscal 2017 Outlook
ADP noted that it assumes worldwide new business bookings would decrease anywhere between 5% and 7%, compared to its figure in $1.75B in the 2017 fiscal year. That means the company is expecting worldwide new business bookings to come in at a range between approximately $1.63B and $1.66B. However, the company still expects its full-year 2017 revenue to grow around 6%, including approximately 1% point of pressure from ADP's disposition of its COBRA and CHSA businesses, as well as impacts from currency fluctuations.
Additionally, ADP expects its full-year diluted EPS from continuing operations to grow between a range of 17% and 18%, and adjusted diluted earnings per share grow between 13% and 14%.
Final Thoughts
When you're looking at earnings release, one key part you'll want to take note of is the company's guidance or outlook. Guidance gives investors and traders an idea of how the company expects to perform in the future, which could uncover some trading opportunities. This was the case with ADP today. If you read between the lines, you might've caught the bit of information that may have sent shares lower.
Related Articles: