Caterpillar Inc. (NYSE: CAT) shares closed up over nearly 8% today, following the company's strong first quarter 2017 financial results. Caterpillar beat the Thomson Reuters consensus estimate by over 100%. Additionally, CAT beat the consensus revenue estimate by over 5%. Moreover, the company raised its full-year EPS and revenue guidance, which sent shares higher. Let's get into some details of its financial results.
CAT Strong 1Q Growth
Caterpillar reported revenue of $9.822B for the first quarter of 2017, while the Thomson Reuters consensus estimate was $9.271B. In the same quarter for the previous fiscal year. Caterpillar reported revenue of $9.461B, and consequently, it grew its revenue by over 3% year over year. Now, excluding restructuring costs, Caterpillar reported diluted earnings per share (EPS) of $1.28, doubling its diluted EPS of 64 cents in 1Q 2016.
The company's revenue growth was primarily attributed due to increased sales volume, most notably, in its Resources Industries segment. Its Energy and Transportation sales volume increased slightly. Now, the company's sales increased in Asia and Latin America, while sales were relatively flat in North America and EAME. Asia and Pacific sales grew by over 12%, which was attributed to the increase in construction equipment sales in China, driven by increased investments in residential and infrastructure. Caterpillar's sales in Latin America grew by 14%, which could be explained by the stabilizing economic conditions in multiple countries in that region.
CAT Performance
As of April 24, 2017, CAT had a one-month return of 5.89%, a three-month return of 1.39% and a year-to-date (YTD) return of 6.05%. Today, the company made a new 52-week high, and the company has not been trading around these levels since late 2014.
Here's a look at CAT's performance on the daily chart: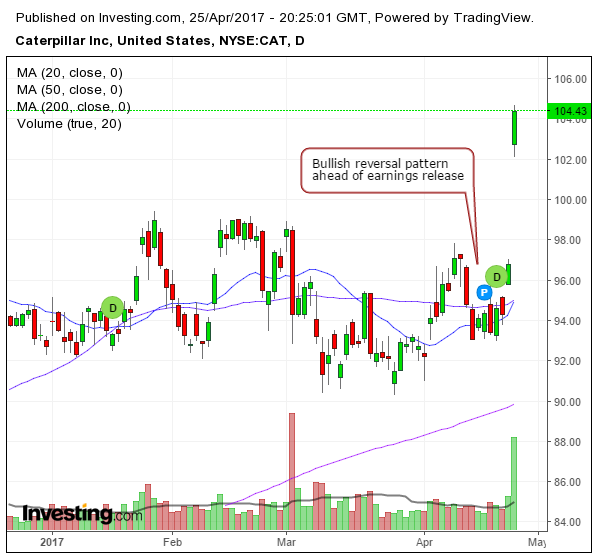 Source: Investing.com
Notice on the chart above, prior to CAT's earnings release, it formed a "three inside up" pattern, which is a bullish reversal pattern.
Caterpillar 2017 Outlook
Caterpillar raised its guidance due to its strong kickoff in 2017. Previously, CAT provided a full-year revenue guidance range of $36B and $39B, but now it expects its full-year 2017 sales and revenues to come in between a range of $38B and $41B. Moreover, the company previously expected profit per share to come in around $2.30, using the midpoint of sales and revenue outlook, or approximately $2.90, excluding restructuring costs. Caterpillar now expects its profit per share, excluding restructuring costs, to come in at approximately $3.75.
Let's take a look at Caterpillar's performance and valuation prior to its better-than-expected financial results.
In the company's conference call, Caterpillar noted that business optimism in North America is primarily due to the potential benefits of Trump's pro-business policy, in relation to tax reform and infrastructure. Not only that, but the company noted that it's witnessing an increase in demand for its large reciprocating engines used for midstream gas compression applications.
Final Thoughts
Caterpillar shares are trading at levels that it hasn't seen since late 2014. The company crushed earnings estimates, and raised its full-year 2017 outlook, and it'll be worth watching how Caterpillar trades tomorrow.
Related Articles: