The Walt Disney Company (NYSE: DIS) shares made new 52-week highs today, after RBC commented on Disney due to some Apple takeover speculations. In other news, Disney announced that The Beauty and the Beast surpassed $1B in global box office. Let's move into RBC's comments on the potential acquisition.
RBC Comments
There has been some speculation that Apple Inc. could acquire Disney, and RBC thinks this is a possibility. RBC Capital analyst Steven Cahall noted that some investors have been discussing the possibility of Disney being an acquisition target for Apple, if the world's largest publicly-traded company repatriates its cash. Now, this acquisition speculation was one of the main catalysts that sent DIS to new 52-week highs today.
According to Cahall, the M&A speculation that's currently going on around DIS, and this anticipation has added some conviction to the Disney's recent momentum. Cahall maintains an Outperform rating and $130 price target on DIS. However, Cahall's peer at RBC Capital, Amit Daryanani, who currently covers Apple indicated that he views an event of Apple's acquisition of Disney is a "greater than 0% probability event." Take note that Daryanani stated the added the odds are low. Both analysts indicated that if Apple were to acquire Disney, Apple would pay nearly a 40% premium to Disney's current price, as of today's close, which would be theoretical deal price around $157 per share.
Disney Statistics and Current Valuation
The stock traded between $112.99 and $114.25  today. DIS has a 52-week range between  $90.32  and  $114.25. Therefore, the stock is currently just over 25% above its 52-week low and just over 0.90% below its 52-week high. DIS is currently trading above its 20-, 50- and 200-day simple moving averages. The 20-day SMA has been holding as support for DIS, and we'll be closely following to see whether it breaks below the moving average.
Take a look at DIS's performance on the daily chart: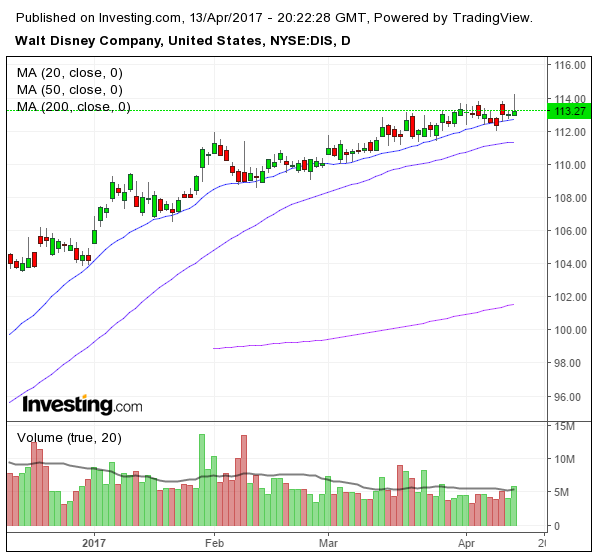 Source: Investing.com
The stock has a P/E ratio of 20.5, while the industry average is 22.4. Based on next year's earnings estimates, DIS has a forward price-to-earnings ratio of approximately 19.1. The Walt Disney Company currently has a book value per share of 27.0, and DIS closed with a price-to-book ratio of 4.19, which is below the industry average of 4.4. DIS has a price-to-revenue ratio around 3.3, and a forward price-to-revenue, based on next year's revenues estimates, of 3.02.
DIS grew its 2016 fiscal year revenue by 6.04%, year over year. Additionally, Disney's FY 2016 net income grew by 12.04%, when compared to its FY 2015 net income. The company's FY 2016 EPS grew by nearly 17%, over its FY 2015 EPS.
The Walt Disney Company is expected to report earnings on May 9, 2017*, and the consensus estimate is  $1.43, according to Zacks Investment Research's estimate based on 9 analysts' forecast. *Note: Walt Disney Company's earnings date is subject to change.
Final Thoughts
Disney shares hit a new 52-week high today, after RBC commented on the speculation that Apple would buy Disney. Now, it's just all talk and speculation. The next key event we'll be focusing on is the company's earnings announcement in May.