Domino's Pizza, Inc. (NYSE:DPZ) shares were down over 5%, after a report warned that the restaurant chain could be weak. Now, a report by M Science noted that its first quarter sales growth could be below the consensus estimate. That in mind, with DPZ potentially reported revenue below consensus estimates, there was some selling pressure in the pizza chain.


Comments on Domino's Pizza Sales Growth
According to M Science, Domino's Pizza domestic Q1 retail sales growth might come in "well below the rough consensus estimate." Now, M Science's data suggested that Domino's Pizza's Q1 domestic retail sales growth is trending approximately between a range of 2.5% and 3.5% points below consensus estimate of 14.6%, year-over-year growth.
However, last quarter, the company had same-store sales growth that was well above its competitors. The pizza chain also had the highest domestic same-store sales growth, when compared to the top 25 U.S. restaurant chains.
That said, we'll have to wait until it reports its financial results on April 27, 2017* to see how the company's retail sales and earnings grew. *Note: Domino's Pizza's earnings date is subject to change. According to Zacks Investment Research, the consensus EPS projection for the quarter is $1.16.
Let's do some research into DPZ's financials and recent performance.
Domino's Pizza Performance and Valuation
DPZ traded in a range between $175.19 and $182.87 today. DPZ has a 52-week range between  $116.91 and $192.01. Therefore, the stock is currently around 50% above its 52-week low and over 7% below its 52-week high. As of the close yesterday, DPZ was up just over 14% over a three-month period, and just above 17% YTD.
Here's a look at the stock's performance on the daily chart: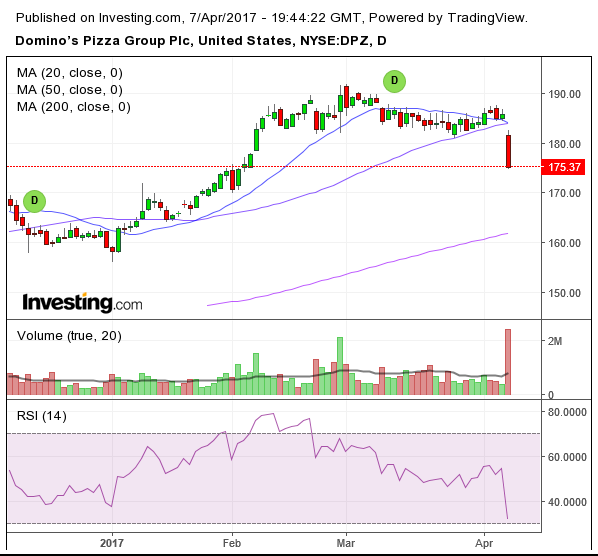 Source: Investing.com
If you notice at the chart, DPZ broke below its 20- and 50-day simple moving averages, which could potentially indicate a reversal of its uptrend. The RSI is also approaching the 30 level, indicating DPZ is approaching oversold conditions.
Moving on, let's look at the company's valuation ratios and recent growth rates.
Domino's Pizza, Inc. currently has a book value per share of -39.15. That in mind, DPZ is trading at a negative price-to-book ratio, while the industry average is 17.1, indicating Domino's Pizza may be in poor financial health and overvalued in relation to its peers. DPZ has a price-to-revenue ratio of approximately 3.5. The stock also has a forward price-to-revenue, based on next year's revenues estimates, of around 3.17. Based on next year's earnings estimates, DPZ has a forward price-to-earnings ratio of over 30. Moreover, it has a P/S of approximately 3.6, while the industry average is 2.6, again indicating DPZ may be overvalued when compared to its peers.
Although DPZ's valuation ratios may be indicating its overvalued, the company showed signs of growth after it grew its 4Q 2016 revenue by over 10%, year over year. In turn, DPZ was able to grow its net income by over 10%, YoY.
Final Thoughts
DPZ shares were down on a report that indicated its Q1 retail sales growth could come in well below the consensus estimate. However, we'll have to wait and see for a few weeks to see those actual numbers and compare them to the consensus.
Related Articles: