Dr. Pepper Snapple Group Inc (NYSE: DPS) shares fell over 5% today, after missing its revenue estimate, and this may be due to the shift in consumer preference. Wall Street was expecting Dr. Pepper Snapple to report revenue of $1.55B, but DPS came short and reported revenue of $1.51B. Moving on to the 1Q 2017 financial results.
DPS 1Q 2017 Financial Results
Dr. Pepper Snapple reported first quarter 2017 earnings per share (EPS) of 96 cents, which includes a 10 cent per diluted share gain due to the increase in market value of its initial equity investment in Bai Brands, as well as a 10 cent per diluted share tax benefit due to a shift in accounting measures related to stock compensation.
That said, the company's EPS was in line with the same period in the previous fiscal year. Now, Dr Pepper Snapple's core EPS came in at $1.01 for the quarter, which was over a 7% growth rate year over year.
Although Dr Pepper Snapple missed its revenue estimate, its sales volume still grew slightly, which included its Bai acquisition. The inclusion of Bai sales to third party distributors added 0.2% to sales volume growth, now net sales grew by 2% including the Bai acquisition.
Despite showing some growth in its EPS and minor growth in revenue, this wasn't enough for traders. Consequently, we saw shares fall over 5%. This could be attributed to the market's view on consumer demand in the soft drink industry.
Full-Year 2017 Guidance
Dr Pepper Snapple also issued full-year 2017 for some items. DPS expects organic volume growth to come in at just over 1%, and total volume growth is expected to be around 2%, including the Bai acquisition. The company also expects its net sales to grow around 4%.
Additionally, Dr Pepper Snapple noted the impact of the Bai acquisition is expected to be only 2 cents dilutive to its core EPS, including the 10 cent gain that was recorded for this quarter. The company also stated that it expects to repurchase shares of its common stock of $450M to $500M.
DPS Performance
Before today's performance, DPS was up just over 1% over the past month, 8.65% over the past three months, and nearly 15% year to date. Take a look at DPS on the daily chart: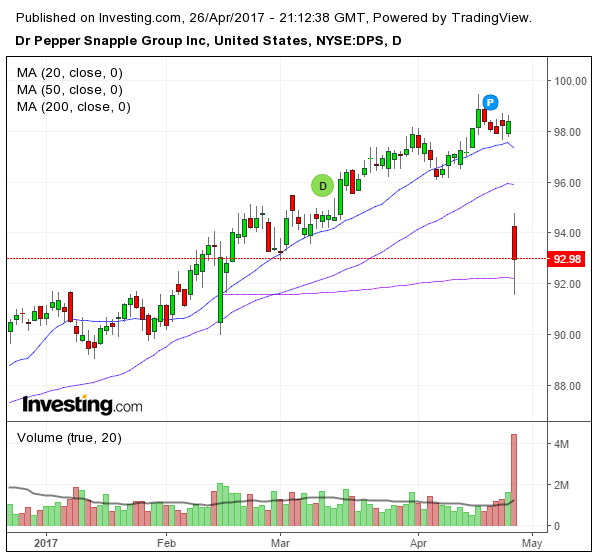 Source: Investing.com
Notice the blue circle with the letter "P", ahead of the earnings release, DPS formed a bearish pattern, known as the three inside down pattern. Thereafter, the stock had a catalyst, which was its revenue miss, and DPS broke its 20- and 50-day simple moving averages. It'll be interesting to see how the stock trades tomorrow, after breaking below its 200-day SMA at one point.
Final Thoughts
Dr Pepper Snapple shares were down over 5%, despite showing some growth and raising its full-year 2017 core EPS. The company now expects its 2017 core EPS to come in between a range of $4.56 and $4.66. As stated earlier, the stock broke some key support areas, and it'll be interesting to see whether it tests its 200-day SMA again tomorrow.
Related Articles: