Garmin Limited (NASDAQ: GRMN) announced its first quarter 2017 financial results today, and the company beat on both its earnings and revenue estimates. Garmin reported an earnings per share of 52 cents, which was above the Zacks Consensus Estimate of 45 cents. Additionally, its revenue came in at $638.5M, topping the Zacks Consensus Estimate of $634M. However, this may not have satisfied traders and investors. Here's a look at the GRMN's performance today: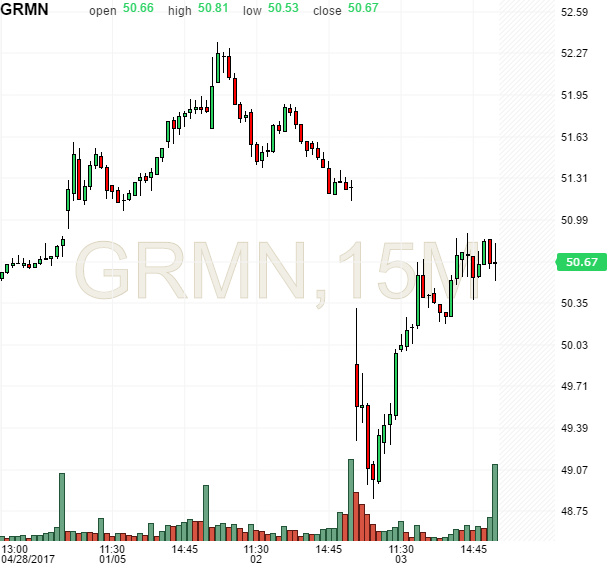 Source: Investing.com
If you take a look at the chart below, the stock hit a low of $48.83, but ultimately rebounded thereafter, and closed at $50.68.
Now, let's take a look at Garmin's first quarter 2017 financial results.
GRMN First Quarter 2017 Financial Results
GRMN reported total revenue of $639M, which increased by 2% year over year. Now, the company's aviation, marine, outdoor and fitness collectively grew by 12% year over year, from its first quarter 2016 figure. Now, those segments contributed 75% to the company's total revenue. Additionally, Garmin's operating income grew by 12%, from its figure in the first quarter of the 2016 fiscal year.
The company's marine segment grew to $104.45M, or 26% year over year. Moreover, its outdoor and aviation segments grew 20% and 16%, respectively. Although there were strong growth rates in those segments, Garmin's fitness and auto segments surprisingly fell year over year.
Although most of its segments exhibited some strong growth rates in the first quarter of 2017, traders placed more emphasis on the weakness in its fitness and auto segments. The contraction in the revenues generated by the fitness and auto segments may have been the reason behind Garmin's sell off today.
According to Garmin President and Chief Executive Officer Cliff Pemble, "We continued our trend of consolidated revenue growth led by double digit growth in our marine, outdoor and aviation segments…The fitness segment declined slightly due to the rapidly maturing market for basic activity trackers. However, demand for advanced wearables remains strong. Our product development pipeline is robust and we look forward to launching compelling new products throughout the remainder of the year."
Now, the company noted that the revenue decline in the fitness segment was due to lower volume in basic activity trackers. Garmin is tapping into the advanced wearable with GPS category, despite the increasing demand for basic activity trackers. Additionally, Garmin noted that its auto segment's revenues fell by nearly 20% due to the ongoing Personal Navigation Device (PND) market. With most smartphones offering advanced GPS technology and internet services, it could be hard for Garmin to expand in this space.
Final Thoughts
Garmin shares ended the day down by just over 1%, and traded below $50 during the after hours. Despite beating its revenue and sales estimates, the company reported declines in its fitness and auto segments, which may have been the reasons behind the stock's decline. The key takeaway here is to not take a press release at face value, you'll need to read between the lines to get a detailed idea of how the company is actually performing.
Related Articles: