The Health Care Select Sector SPDR Fund (NYSEARCA: XLV) shares were down over 1%, after its largest holdings Johnson and Johnson (NYSE: JNJ) reported its 1Q 2017 earnings results, which were mixed. Now, the Health Care Select SPDR Fund aims to provide investment results corresponding to the general price and yield performance of its underlying index, the Health Care Select Sector Index. That in mind, if one of the fund's top holdings falls, it could drag the ETF down, and vice versa. Not only that, but if the outlook on another major health care company changes, it could also affect XLV. That said, let's examine what caused XLV to fall over 1% today.
Here's a look at XLV on the daily chart: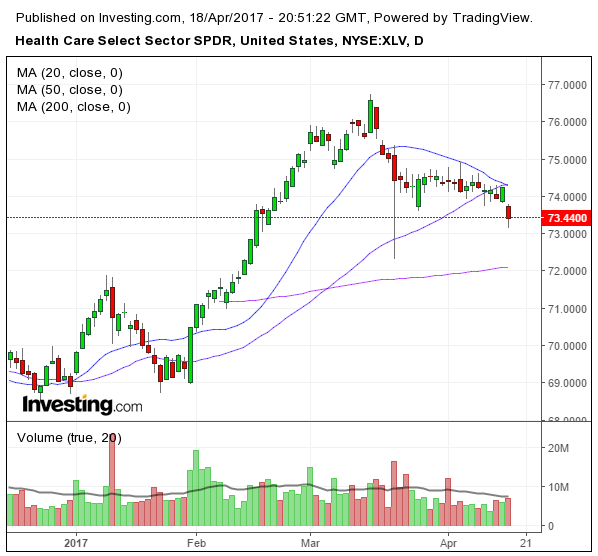 Source: Investing.com
XLV is trading below its 20- and 50-day SMA, and it seems as if its 20-day SMA is holding as support, and it may cross below its 50-day SMA.
Moving on, let's look at the main reasons why XLV fell today.
Johnson & Johnson 1Q 2017 Financial Results
Now, as of April 17, 2017, Johnson and Johnson was the Health Care Select Sector SPDR Fund's largest holding, with a weight of 12.06%. Consequently, if JNJ moves significantly, this could affect the performance of XLV, as we've seen it do today. Johnson and Johnson shares closed down over 3% on the day, despite beating its Street estimates.
Johnson & Johnson reported an EPS of $1.83, which beat the Zacks consensus estimate of $1.77. Moreover, the company was able to grow its EPS over 5%, from the same period in the prior fiscal year. However, the company missed the Street sales estimate. According to Zacks, the consensus estimate for JNJ's sales were expected to come in at $18B. However, Johnson & Johnson's sales came in at $17.77B.
The company's sales in the domestic market fell by over 1%, but international sales grew over 4%. Now, there were some drug sales that declined in 1Q 2017, which included: Xarelto (-9.5%), Invokana/Invokamet (-12.6%), Concerta (-9.5%) and Zytiga (-6.3%).
Now, despite raising its earnings and sales guidance for FY 2017, the markets may have still placed a higher emphasis on its sales miss. JNJ raised its FY 2017 EPS to a range between $7 and $7.15, which was previously $6.93 and $7.08. Moreover, it raised its FY 2017 revenue guidance to a range between $75.4B and $76.1B, compared to a range between $74.1B and $74.8B previously.
Take a look at JNJ on the daily chart below: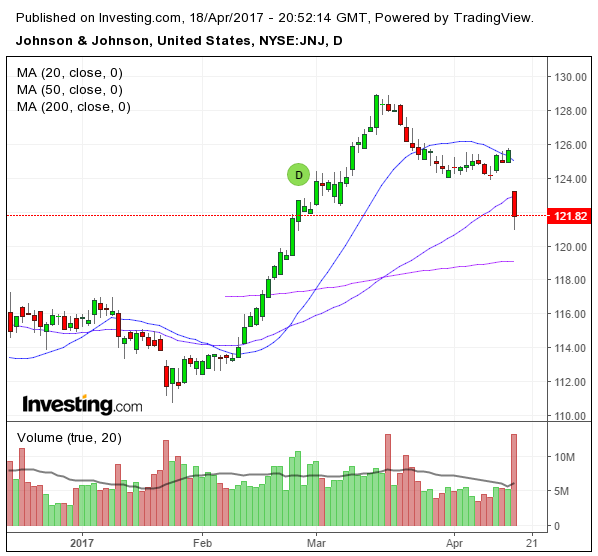 Source: Investing.com
JNJ closed below its 20- and 50-day SMA, indicating a potential trend reversal, but we'll need to see how it trades tomorrow for confirmation.
Cardinal Health Provides Update on FY 2017 Guidance
Cardinal Health (NYSE: CAH), a health care products company and drug wholesaler, announced that it expected its FY 2017 adjusted EPS to come in at the lower end of its forecast, indicating falling generic drug prices, as well as some other roadblocks in the U.S. drug distribution industry. Consequently, CAH closed down over 11%. Consequently, this may have caused some concerns in the health care industry, and added to the selling pressure in XLV, even though CAH is not one of XLV's top holdings. However, CAH is still held in XLV, and it has a 0.92% weighting in the portfolio.
Here's a look at Cardinal Health on the daily chart: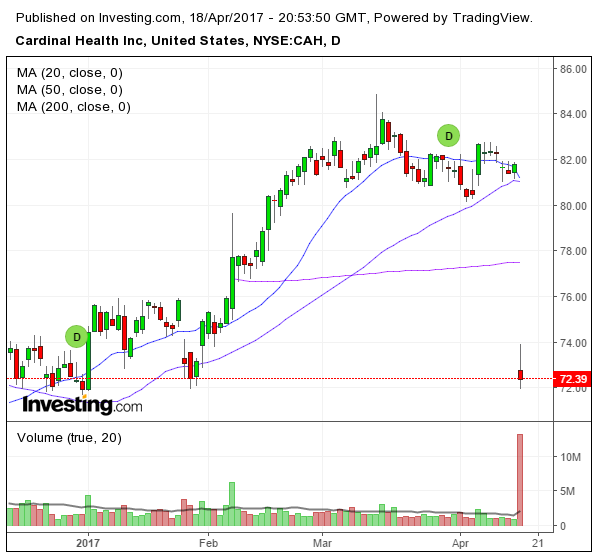 Source: Investing.com
Final Thoughts
Generally, when an ETF's top holdings rise or fall, the ETF should follow suit. Today, we saw this in action, after JNJ dropped over 3%, this cause XLV to close down over 1%. That in mind, if you follow or trade ETFs, you should always look at how that ETF's top holdings are performing.
Related Articles: