Honeywell International Inc. (NYSE: HON) shares were up over 2.50% today, after the company reported better-than-expected first quarter profit. The main reasons behind the company's upbeat financials was attributed to robust air travel, which benefitted the company's commercial aviation after-sales business, and stable oil prices, which help to buoy its energy division. Consequently, this drove HON to a new high. Let's examine the company's first quarter 2017 financial results.
HON 1Q 2017 Financial Results
The company reported revenue of $9.49B, which beat the consensus estimate of $9.33B. Honeywell reported an earnings per share (EPS) of $1.71, which beat the Street's consensus estimate of $1.62. The company's EPS was up 10%, when compared to its EPS for the first quarter of 2016. After normalizing for tax, its EPS came in at $1.66, which was up 11% year over year (YoY), excluding divestitures. Consequently, that figure exceeded the high end of its previous guidance range. Additionally, the company noted that it had over 2% in organic sales growth.
According to Honeywell President and CEO Darius Adamczyk, "Honeywell reported a strong start to 2017, with over 2 percent organic sales growth, 70 basis points of segment margin expansion, and free cash flow of nearly $800 million that was more than six times greater than 2016. Our strong operational performance resulted in reported earnings per share of $1.71. Normalizing for tax, earnings per share was $1.66, or 2 cents above the high-end of our first-quarter guidance and up 11 percent versus last year, excluding divestitures."
In response to this growth, the company raised the low end of its full-year guidance by 5 cents. Therefore, Honeywell now expects its full-year 2017 EPS would come in between a range of $6.90 and $7.10, which would be a growth of approximately 7% to 10% year over year.
With that in mind, let's see how the stock performed recently and its valuation ratios against the industry.
Honeywell Performance and Valuation Ratios
HON traded in a range between $126.10 and $128.30, marking a new 52-week high. Honeywell is currently just under 1% below its newly-minted 52-week high, and it's over HON is 20% above its 52-week low of $105.25. Heading into its earnings, HON was up over 5.61% over the past three months, and over 7% year to date. Over those periods, the stock has been outperforming the diversified industrials industry, as well as the S&P 500.
Here's a look at HON's recent performance on the daily chart: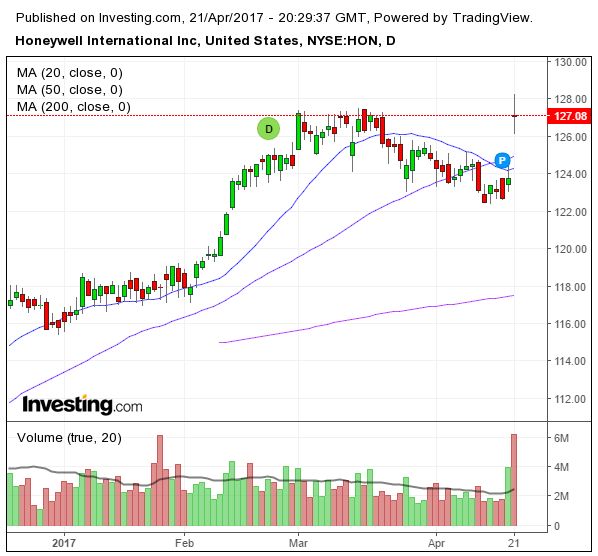 Source: Investing.com
Prior to today, HON had a price-to-earnings ratio of 20, which was below the industry average of 25.7. HON has a book value per share (BVPS) of 25.34, and consequently, it closed with a price-to-book ratio of 5.01, while the industry average was 3.9. Additionally, it had a trailing 12-month price-to-sales ratio that was, more or less, in line with the industry average. Honeywell International Inc. has a forward price-to-earnings ratio of 18.15, based on next year's earnings estimates. Now, keep in mind you shouldn't base your investment solely on valuation ratios. Rather, you should take into account the company's guidance and outlook, if it issues those figures.
Final Thoughts
Honeywell beat Wall Street estimates, and raised the lower end of its full year 2017 EPS guidance. In turn, shares made a new 52-week high and closed up over 2.50%, while the S&P 500 ended the day down slightly.
Related Articles: