iRobot Corp (NASDAQ: IRBT) was up over 15% and made a new all-time high today, following its strong 1Q 2017 financial results yesterday. The company showed strong growth, and iRobot's EPS and revenue topped Wall Street estimates. Let's look at iRobot's earnings growth and guidance.
iRobot Financial Results
The consumer home robotics company reported revenue of $168.5M for the first quarter of 2017, which was a 28.82% growth rate over its revenue for the first quarter of 2016. IRobot was able to grow its net income significantly during the first quarter of 2017, to $16.4M, compared with its net income of $3.9M for the same period in the previous fiscal year. That's a growth rate of over 300% year over year.
The company reported earnings per share (EPS) of 58 cents, while it reported an EPS of 13 cents in the same quarter in the previous fiscal year. However, keep in mind the divestiture of iRobot's Defense and Security business negatively impacted its first quarter 2016 financial results by 12 cents. Moreover, iRobot adopted a new accounting standard during the first quarter of 2017, and it recorded a discrete tax benefit of 6 cents.
Now, the company was able to grow its first quarter 2017 quarterly revenue in the U.S. by 34% year over year. Moreover, its international revenue grew by nearly 30% in the first quarter of 29%.
According to Colin Angle, chairman and Chief Executive Officer of iRobot. "Our first quarter results were outstanding. Building off the strong momentum we experienced during the year-end holidays, iRobot delivered first quarter 2017 consumer revenue growth of 32% due to growth across all regions."
iRobot Full-Year 2017 Guidance
The company's management raised guidance across the board. Previously, iRobot was expecting revenues to come in between $770M and $785M, and the company raised its guidance to meet $780M and $790M. Not only that, but iRobot raised its earnings per share estimate range to $1.45 and $1.70, from a range of $1.35 and $1.65. Additionally, the company raised the lower end of its guidance range for its previous operating income to $60M, from $57M. iRobot expects its operating income to come in between $60M and $70M for the 2017 fiscal year.
The company's increased its full-year 2017 financial expectations due to the momentum that i built during the 2016 holiday season, as well as marketing in China and Japan, to extend its reach.
IRBT Performance
Prior to today's performance, IRBT was up 10.64% over the past month and 11.12% over the past three months. Moreover, iRobot shares have been up 18.29%, as of yesterday's close. Now, over the past year, the stock has more than doubled, as of today's close.
Here's a look at IRBT on the daily chart: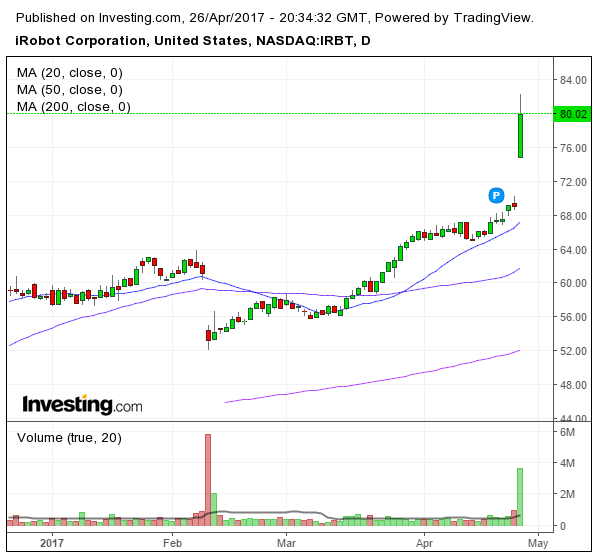 Source: Investing.com
Final Thoughts
IRBT made a new all-time high today, and was up over 15% after the company reported strong earnings and revenue growth, driven by its continued momentum in late 2016, as well as increased presence in China and Japan.
Related Articles: