The back story: It has been amazing to see how fast technology companies are growing compared to stodgy old names that actually produce things. As investors, we have to look for the new and disruptive ideas, the "next big thing" with the potential to sustain rapid growth while increasing profits along the way.
The example: In considering fast-growth tech versus new-age company, I ran a chart showing the total market cap of both Facebook (FB) and Berkshire Hathaway (BRK.A, BRK.B).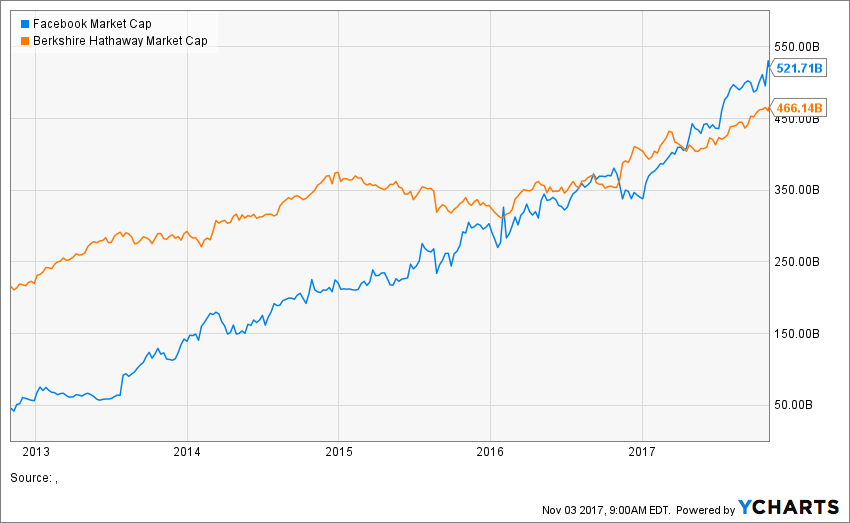 Just five years ago, Berkshire was worth roughly four times Facebook. Today, the upstart has a larger market cap.
Keep in mind that BRK is a diversified conglomerate of core businesses that may well be the best-managed large company in the world. Its CEO is none other than Warren Buffett, who is known for both running and investing in some of the best, most stable, and highest cash-flow producing companies out there.
Facebook sells online advertising. That's really about it.
Sure, you use the site to share pictures of what you're about to eat, to pass along funny stories, family news, to reinforce and broaden your political views and spiritual beliefs, but what the company really does is sell ads in the middle of all of that.
But the sheer number of people using Facebook — over 2 billion monthly users according to this week's earnings report — means that it can sell a lot of ads; all those posts you share help make FB even more money. I'm not sure that even Mark Zuckerberg could have imagined 10 years ago just how big this would get.
The lesson: Just because something grows into a huge multi-billion dollar valuation doesn't mean it's "overvalued." As investors, we need to be looking for new ideas and put aside some of the skepticism that comes from labeling something the "next big thing" in favor of seeing the investment potential it has while it proves whether it really deserves that label.
#-#-#
Jeff Bishop is lead trader at TopStockPicks.com. He runs short-term trading strategies, primarily using leveraged ETFs. At the time this article was published on RagingBull.com, he had no shares, options or open orders in FB, BRK.A or BRK.B.