McDonald's Corporation (NYSE: MCD) shares were up over 5% after the company announced its 1Q 2017 results. The fast food giant surprisingly beat consensus estimates, attributed to strong growth across the board. Now, let's take a look at the company's financial results for the quarter.
McDonald's 1Q 2017 Financial Results
McDonald's had some notable first quarter highlights, which included: 4% growth in global comparable sales, 14% growth in consolidated operating income, diluted earnings per share (EPS) growth of over 15%, and returned $1.6B to shareholders.
McDonald's blew its earnings and revenue estimates out the water, for the quarter. McDonald's reported a diluted EPS of $1.47, while the Thomson Reuters consensus estimate was $1.33. The company also reported revenue of $5.68B, which beat the Thomson Reuters estimate by over 2%.
Some key drivers for McDonald's strong growth were: the launch of All Day Breakfast in Canada and the U.S., continued momentum in the U.K. and strong performance in China. McDonald's comparable sales in the U.S. grew by 1.7%, which showed the continued demand created by its All Day Breakfast offerings, as well as Big Mac and beverage value promotions.
In the International Lead segment, comparable sales grew by 2.8%, driven by increasing demand in the U.K. and the launch of All Day Breakfast offerings in Canada.
McDonald's President and CEO Steve Easterbrook commented on the company's strong grow and stated, "Our efforts to build a better McDonald's are yielding meaningful results with continued positive momentum and a strong start to 2017 that includes positive comparable sales across all segments, higher global guest counts and enhanced profitability."
McDonald's to Introduce Mobile Ordering
Not only that, but McDonald's announced, last week, that it will introduce new digital ordering and payment functionality in all of its domestic restaurants by the end of 2017. Consequently, the fast food giant could have first-mover advantage, as it would be one of the first major fast-food chains to have mobile ordering. That in mind, if McDonald's properly executes the introduction of mobile ordering, it could be a key driver of earnings.
McDonald's Performance
McDonald's traded between $137.18 and $141.99, and marked a new 52-week high. Prior to today's strong share performance, MCD was up over 11% over the past three months, as of the close on April 24, 2017, and outperformed the restaurants industry over this period.
Take a look at MCD's performance on the daily chart: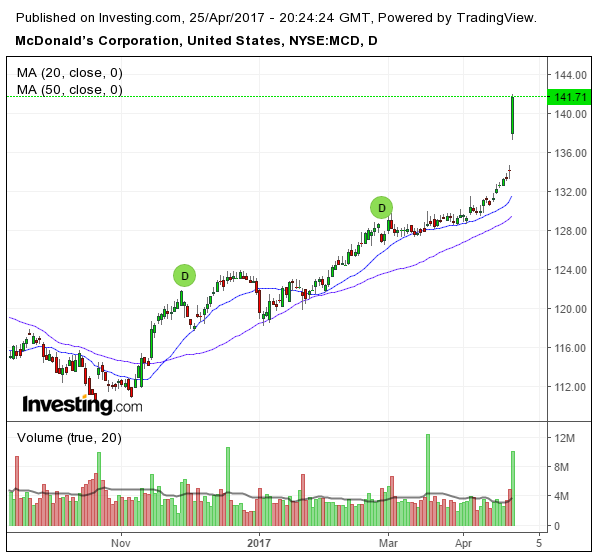 Source: Investing.com
MCD has been trading in a strong uptrend, and the stock continue to build momentum off of its strong first quarter financial results.
Final Thoughts
McDonald's CEO exuded confidence in the company and believes that it's well-positioned to continue growth in 2017. The burger giant beat the consensus estimate estimates, and was able to grow its diluted EPS by 18%, year over year. With the company announcing that it is working on a mobile ordering system and plans to offer mobile ordering by the end of 2017, it'll be interesting to see how McDonald's performs, if and when, it does so.
Related Articles: