Morgan Stanley (NYSE: MS) shares were up just below 2% on the day after it reported earnings that beat the Street estimate. Its earnings surprise was primarily due to higher trading revenue. Now, after Goldman Sachs earnings miss, traders were focused on MS do see if it would follow suit. However, it did exactly the opposite and beat the Street estimate by over 13%. Moving on, let's look at the firm's 1Q 2017 earnings results.
MS 1Q 2017 Earnings Results
Morgan Stanley reported net revenue of $9.7B for the first quarter of 2017, which was just over a 24% increase from its net revenue of $7.8B for the first quarter of the 2016 fiscal year. The firm's revenue beat Thomson Reuters analysts' consensus estimate of $9.266B. Morgan Stanley reported net income of $1.9B, or $1 per diluted share. Its net income grew over 70% year over year, compared to 1Q 2016, and its diluted EPS grew by over 80%. As stated earlier, Morgan Stanley's diluted EPS beat the Thomson Reuters' consensus estimate of 88 cents.
The firm's institutional securities segment reported net revenue of $5.15B, a 38.81% grow rate year over year. Moreover, its wealth management segment grew its net revenue by over 10% from its 1Q 2016 net revenues. Its investment manage segment grew by over 25% year over year.
One of the main reasons for Morgan Stanley's revenue and earnings growth could be attributed to its fixed income trading revenue, which nearly doubled year over year.
In relation to Goldman Sachs, Morgan Stanley outperformed, significantly, as Goldman shocked Wall Street with its first earnings miss since 2015. Now Goldman's revenue from bond, currency and commodities were relatively flat, and its equities trading revenue fell by over 5%.
Morgan Stanley Statistics and Valuations
The stock traded in a range between $42.11 and $42.94 on Wednesday. MS has a 52-week range between $23.11 and $47.33. That in mind, MS is currently over 80% above its 52-week low  and just around 11% below its 52-week high. MS is 2.54% above its 200 day SMA. Additionally, the stock is 3.81% below its 50-day simple moving average.
Here's a look at MS's recent performance on the daily chart: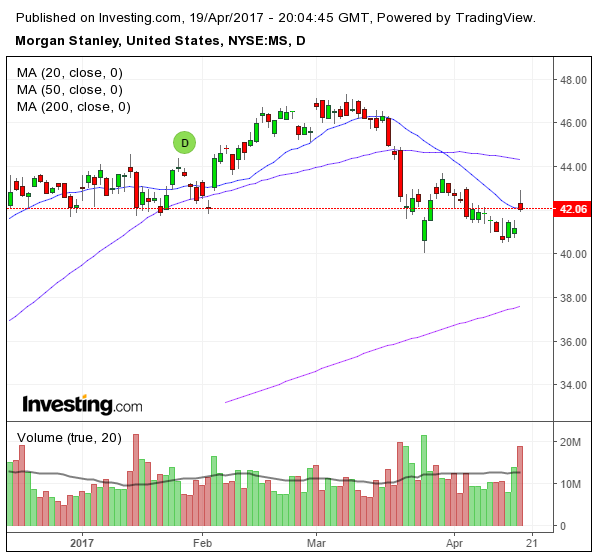 Source: Investing.com
Heading into today's earnings, as of Tuesday's closing price, MS had a price-to-earnings ratio (P/E) of 14.1, below the industry average of 16.4. MS has a book value per share (BVPS) of 36.994, and closed with a price-to-book ratio of 1.1, which was below the industry average. MS has a forward price-to-revenue, based on next year's revenues estimates, of around 2.15. Morgan Stanley had a trailing 12-month price-to-sales ratio of 2.6, which was also below the industry average of 2.6. That said, the stock was considered undervalued heading into its 1Q 2017 earnings results.
Final Thoughts
Morgan Stanley's 1Q 2017 revenue and earnings beat the Street's consensus estimate, and shares rose due to this catalyst. Now, many traders were eyeing MS this morning to see whether it's earnings would miss estimates, just as Goldman Sachs did. However, Morgan Stanley surprised the Street and grew its revenue and diluted EPS significantly.
Related Articles: