Netflix Inc. (NASDAQ: NFLX) traded in a range between $144.43 and $147.32, ahead of earnings and closed up 3.03% on the day. After the company's earnings announcement, the stock had a volatile after hours session, as the market was digesting Netflix's numbers. NFLX shares fell below $142 at one point. However, at 5:00 PM ET, the stock traded above $149. Now, let's take a look at the online entertainment company's earnings results.
Netflix 1Q 2017 Results
Netflix posted 1Q 2017 earnings were above expectations. However, the company's revenue was in line with analysts' estimates. At one point, the stock was down over 3%, which was primarily due to the company's subscription numbers. That in mind, Netflix added fewer subscribers than analysts expected. Additionally, the company's forward earnings guidance came in below analysts' estimates.
Netflix reported an earnings per share (EPS) of 40 cents per share, while the Thomson Reuters consensus estimate was 37 cents per share. The company reported revenue of $2.64B, in line with the Reuters estimate of $2.64B. However, there was one key metric that Netflix missed. That was the net adds for the quarter. Netflix reported net adds for domestic streaming of 1.42M, while the FactSet consensus estimate was 1.56M. Moreover, it only added 3.53M subscribers, for international streaming, while analysts were looking for 3.71M. The company's total number of subscribers reached 98.75M, but that was still below the FactSet estimate of 98.93M.
Guidance is one important metric that traders look at, when examining earnings. Since the markets are forward looking, guidance allows market participants to determine how the company could potentially perform in the future. That said, Netflix reported guidance for its Q2 2017 EPS, which it expects to come in at approximately 15 cents per share. However, according to the Reuters estimate, analysts were looking for Netflix to guide its Q2 2017 EPS around 24 cents per share. Now, the company guided its Q2 2017 revenue in line with the consensus estimate at $2.76B.
Although the company reported an EPS guidance for the second quarter of 2017 below the consensus estimate, Netflix expects to add 600K subscribers in the U.S. during the current quarter, which is above the FactSet consensus estimate of 364K. Moreover, Netflix expects to add 2.60M subscribers, internationally, which is above the consensus estimate of 2.09M. That in mind, markets may be focused on these figures more, which allows traders to determine how the company is growing.
NFLX Statistics and Ratios
NFLX has a 52-week range between  $84.50 and $148.29. Therefore, it is currently over 70% above its 52-week low and -just over 1% below its 52-week high. NFLX is 13.63% above its 200 day SMA. Additionally, the stock is 2.29% above its 50-day simple moving average.
Here's a look at NFLX's recent performance on the daily chart: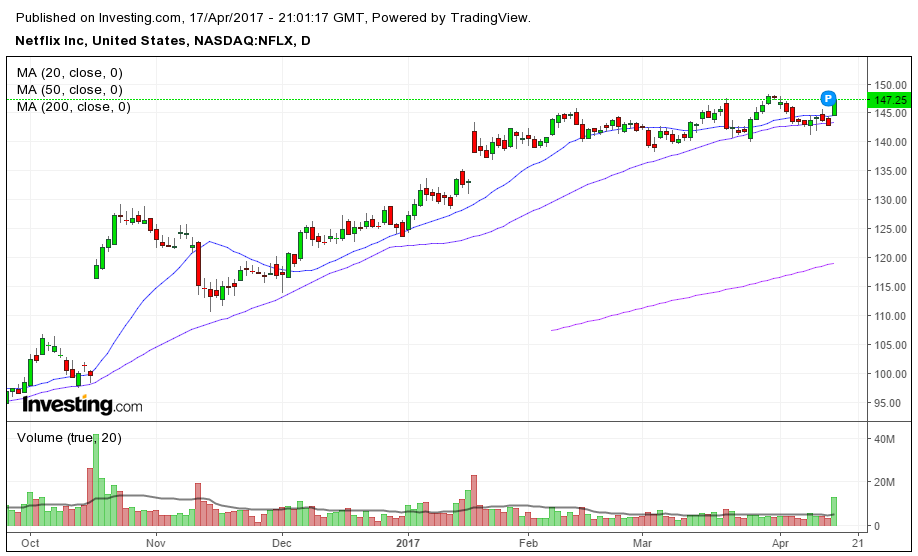 Source: Investing.com
NFLX is currently trading at a valuation higher than its peers. The stock is trading at a trailing 12-month price-to-earnings ratio over 300, which is well above the industry average of 22.3. Moreover, the stock is trading at a price-to-book ratio of 23, while the industry average is around 4.
Final Thoughts
Netflix beat its EPS estimate, and its revenue was in line with the consensus estimate, for Q1 2017. However, its Q2 2017 EPS guidance was below the consensus estimate. The stock was trading up over 1% at 5:30 PM ET, and this may have been due to its guidance for its net adds for Q2 2017.
Related Articles: