Halliburton Company (NYSE: HAL) reported its first quarter 2017 financial results, and North American drilling activity fueled its profits. One of the world's largest oilfield services provider reported an adjusted income from continuing operations came in at 4 cents per diluted share, while Zacks Consensus Estimate was 3 cents per share. Let's get right into Halliburton's financial results.
Halliburton First Quarter 2017 Financial Results
With the recent rise in the utilization of the increasing North America rig count, Halliburton was able to boost its revenue nearly 2%, from its total revenue in the first quarter of 2016. However, its revenue came in slightly below the consensus estimate. HAL reported 1Q 2017 revenue of $4.279B, while the Zacks Consensus Estimate was $4.281B. Now, the company's revenue miss was primarily attributed to weak growth in the international market.
North America revenue was approximately $2.2B, which was over a 20% increase quarter over quarter, and significantly outperformed its largest competitor. This was primarily due to the increased activity in Halliburton's well construction and pressure pumping service lines. International revenue came in at $2B, around an 8% decrease quarter over quarter, due to lower activity in project management, completion tools, landmark and fluid services.
Let's look at the revenue of Halliburton's operating segments.
Halliburton's Completion and Production revenue rose by 15% quarter over quarter, and the segment's operating income grew by over 70%, from the fourth quarter of 2016. Again, this growth was driven by the company's improved pressure pumping pricing, as well as the utilization in the U.S. land market. Now, international revenue was impacted, negatively, by seasonal decline in the completion tool sales in the Eastern Hemisphere.
Moving on, the company's Drilling and Evaluation revenue grew by 4% quarter over quarter. However, operating income in this segment fell by over 50%, primarily from lower pricing, decreased fluid sales in the Middle East, and a decrease in software sales across all regions.
Let's get into the company's performance, prior to today's earnings release.
HAL Performance
Prior to the company's earnings release, Halliburton had a price-to-book ratio of 4.3, which was well above the industry average of 2.1. Moreover, it had a trailing 12-month price-to-sales ratio of 2.6, nearly in line with the industry.
Based on Friday's closing price, according to Morningstar, HAL was down over 15% over the past three months, and over 12% year to date. Over the past one year period, HAL was up just over 18%, and outperformed the oil and gas equipment and services industry, significantly.
Here's a look at the stock's performance on the daily chart: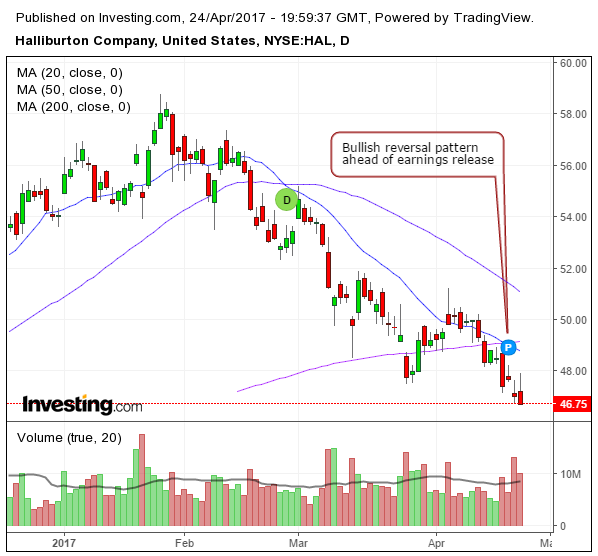 Source: Investing.com
Now, Halliburton stated that it expected its revenue in its Completion and Production segment to increase in the upper teens, in percentage terms, during the second quarter of 2017.
Final Thoughts
Halliburton beat the consensus earnings estimate, but fell short of the consensus estimate, which was due to the decrease in activity in the International market. However, the company was still able to grow its adjusted diluted EPS and total revenue year over. That said, the main things to focus on are drilling activity, and oil and gas prices.
Related Articles: