Philip Morris International Inc. (NYSE: PM) reported its first quarter financial results today, and it had showed some relatively weak growth rates. Additionally, PM missed the Street's consensus estimate. Moving on to the details of the company's first quarter 2017 financial results.
Philip Morris 1Q 2017 Financial Results
Philip Morris reported diluted earnings per share of $1.02, which was up 4 cents, or 4.1%, when compared to the first quarter of 2016. The company reported an adjusted EPS of 98 cents, which was, more or less, flat, when compared to its 1Q 2016 adjusted EPS. According to the Zacks, the consensus adjusted diluted EPS was $1.03, and therefore, PM missed the estimate by nearly 5%.
Philip Morris reported net revenue, which excluded excise taxes, of $6.1B, a 0.3% decrease year over year. According to Zacks, analysts were looking for the company's net revenue to come in at $6.4B, a miss of over 4.5%. The company's net revenues, including excise taxes, came in at $16.6B, a decrease of 1.4% year over year.
Philip Morris' earnings and revenue miss could be attributed to the decrease in the company's total cigarette and heated tobacco shipment volume. That figure came in at 178B for 1Q 2017, which was a decrease of over 9% year over year. Cigarette shipment volume fell by 11.5%, to 173.6B units. Philip Morris' operating income also fell by 3.1% year over year, to $2.4B.
Philip Morris expects its FY 2017 diluted earnings per share to come in at a range between $4.84 and $4.99.
Philip Morris Valuation Ratios and Statistics
Heading into the company's earnings release, PM had a price-to-earnings ratio of 25.4, while the industry average was 15. The company had a trailing 12-month price-to-sales ratio of 6.6, while the industry average was 6.4. Moreover, according to Morningstar, the company had an average annual revenue growth rate of -5.1% and an average annual net income growth rate of -6.7%, over a three year period. Additionally, PM currently has a negative book value per share, while the industry average has a price-to-book ratio of 20.
The stock traded between  $108.56 and $110.73 today. PM traded between $86.78 and $115.63 , over the past 52 weeks. Consequently, it's currently 5.25% below its 52-week high and 26.25% above its 52-week low. Philip Morris gapped down below its 20-day simple moving average, and closed below its 50-day simple moving average. Consequently, this signaled a reversal in its previous uptrend.
Here's a look at the stock's performance on the daily chart: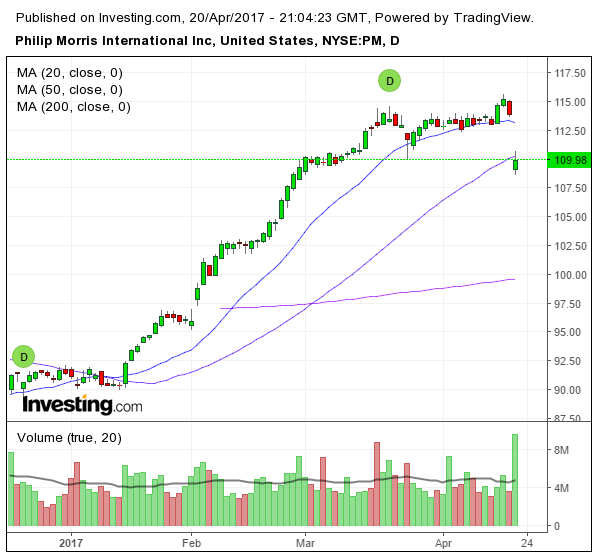 Source: Investing.com
Final Thoughts
Philip Morris' earnings and net revenue missed the consensus estimates, and consequently, shares fell over 3%. The stock showed some weak growth in some of its income statement figures, and it showed a decrease in its overall shipment volume.
Related Articles: