While most financial services firms that have already reported earnings grew year over year, Synchrony Financial (NYSE: SYF) did the exact opposite. The company missed Wall Street estimates and profits declined, and consequently, the stock ended the day down over 15%. Let's look at the stock's performance today: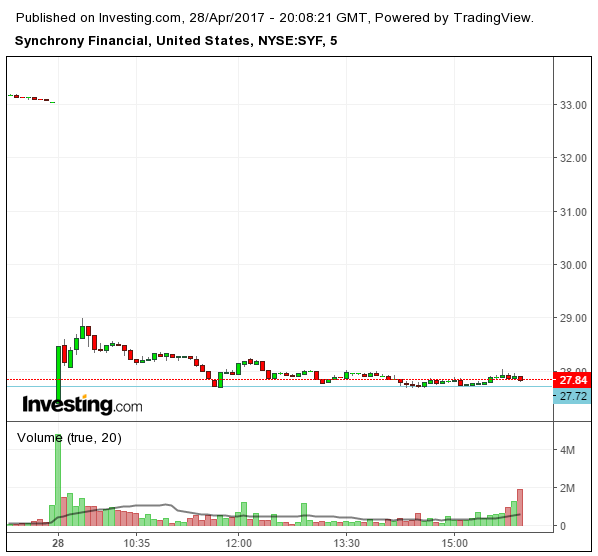 Source: Investing.com
The stock found some support around the $27.75, and we'll be watching this area closely to see if it could catch a bounce on Monday.
Moving onto its financial results.
SYF First Quarter 2017 Financial Results
Synchrony Financial reported its first quarter 2017 financial results today, and they were disappointing. Now, this could be an indication that the company is having a tough time growing, despite the strong growth in the markets, rising rates and optimistic outlook on the U.S. economy.
Wall Street was expecting the Synchrony Financial to report an adjusted diluted earnings per share of 73 cents and revenue of $3.6B. Synchrony reported revenue of $3.91B, which topped the consensus estimate. However, it reported 61 cents per diluted share, over a 15% miss. Synchrony's net earnings came in at $499B, a significant decrease from the same period in the prior fiscal year.
Now, the financial results weren't all that bad. SYF's net interest income came in at $3.6B, a 12% increase year over year. Now, this was primarily due to the strong growth in its loan receivables. Additionally, its net interest income after retailer share arrangements rose by 14%. The company's quarter-end loan receivables growth came in at 11%, which was due to the increase in purchase volume and growth in average active accounts.
Here's what Synchrony Financial CEO had to say:
"We continued to execute our business strategies which helped us generate strong organic growth in each of our sales platforms. We are augmenting organic growth with the launch of new programs and the expansion of our network, while remaining focused on the application and development of digital innovations and analytics capabilities. Furthermore, we continued strong growth in our direct deposit platform, which supports our operating objectives. We have maintained solid returns and a strong balance sheet as we continue to focus on growth and returning capital to shareholders."
Profit Decline
Despite having growth in some areas, traders were focused on Synchrony Financial's weak profits. Now, Synchrony tried to explain why its adjusted net income fell, but traders weren't having that. Synchrony noted that it was forced to take a provision for loan losses, which increased by $403M to $1.306B, due to higher loan loss reserve build and loan receivables growth. Consequently, this pretty much negated nearly all its gains in interest, and caused Synchrony Financial's profit to fall. Traders just saw that Synchrony underperformed, causing the stock to sell off.
Final Thoughts
SYF shares weak profits and adjusted diluted EPS miss caused shares to plummet today. However, the stock built some support around the $27.75 area, and we'll see whether this holds up on Monday.
Related Articles: