TD Ameritrade Holding Corp (NYSE: AMTD) shares were up over 1%, despite reporting some mixed earnings results. The company beat the Street's revenue estimate, but reported a diluted EPS below the consensus estimate. However, the holding corporation reported 2Q 2017 profit of over $200M. Now, let's move onto the specifics on its 2Q 2017 financial results.
TD Ameritrade Financial Results
TD Ameritrade was able to collect around $19.5B in net net client assets, and it reported over 500K client trades per day, on average, for the second quarter of the 2017 fiscal year. That in mind, this reflected strong year-over-year growth rates. Its net new client assets grew at an annualized growth rate of 10%, while its average client trades per day rose 2% year over year.
AMTD reported a diluted earnings per share (EPS) of 40 cents, which was up 5% year over year, on net income of $214M. However, Zacks Investment Research surveyed nine analysts, and the consensus estimate for AMTD's diluted EPS was 41 cents. Moving on, TD Ameritrade reported net revenues of $908M, which beat the the Zacks consensus estimate of $884M. AMTD's net revenues grew by 58% year over year. Moreover, it reported client assets of $847B, up 19% year over year.
TD Ameritrade reaffirmed its FY 2017 earnings, and it expects its diluted EPS to come in between a range of $1.50 and $1.80.
Let's move onto TD Ameritrade's statistics and valuation ratios.
TD Ameritrade Valuation Ratio and Statistics
AMTD traded in a range between $37.20 and $38.25 today. The stock traded between a range of $26.37 to $47.41, over the past 52 weeks. Consequently, AMTD is currently just over 20% below its 52-week high and over 40% above its 52-week low. Heading into earnings, AMTD was down over 19.55% over the past three months, as of April 18, 2017. Moreover, it was down over 7% over the past month. AMTD closed right around its 20-day simple moving average and broke above its 200-day SMA.
Take a look at AMTD's performance on the daily chart: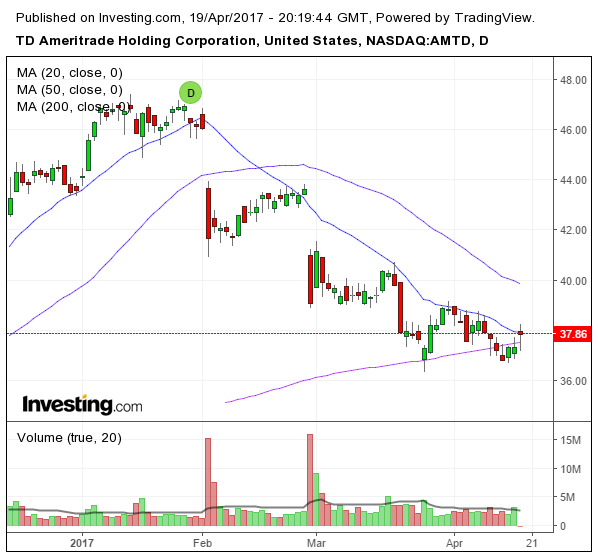 Source: Investing.com
AMTD has a book value per share (BVPS) of 9.847, and the stock closed with a P/B of 3.84. The stock has a P/E ratio of 23.3, while the industry average was 16.4. AMTD has a price-to-revenue ratio of approximately 5.9, and a forward price-to-revenue, based on next year's revenues estimates, of around 5.4. TD Ameritrade had a trailing 12-month price-to-sales ratio of 6, which was above its industry average of 2.6. AMTD had a debt-to-equity ratio of 0.3, which was below the industry average of 2.1.
Final Thoughts
TD Ameritrade shares were up over 1% today, even though it slightly missed the EPS consensus estimate. However, AMTD showed strong growth in its net revenue for the second quarter of 2017, reporting over a 50% growth rate year over year. Moreover, it reported client assets of $847B, a 19% year over year.
Related Articles: