The story: Tech stocks are one of the main reasons for the remarkable bull run that started after the financial crisis of 2008. With a lot of big-name tech companies crushing earnings, it seems like the market keep riding the coattails of tech stocks into record territory.
What to know: Alphabet (GOOG, parent company for Google), Microsoft (MSFT), Intel (INTC), Nvidia (NVDA) and Apple (AAPL) are near all-time highs, driving the S&P 500 and Nasdaq 100 higher.
Names like AAPL, MSFT, GOOG and INTC make up roughly 40 percent of the technology sector index represented by the Technology Select Sector SPDR (XLK), the leading index ETF for the space.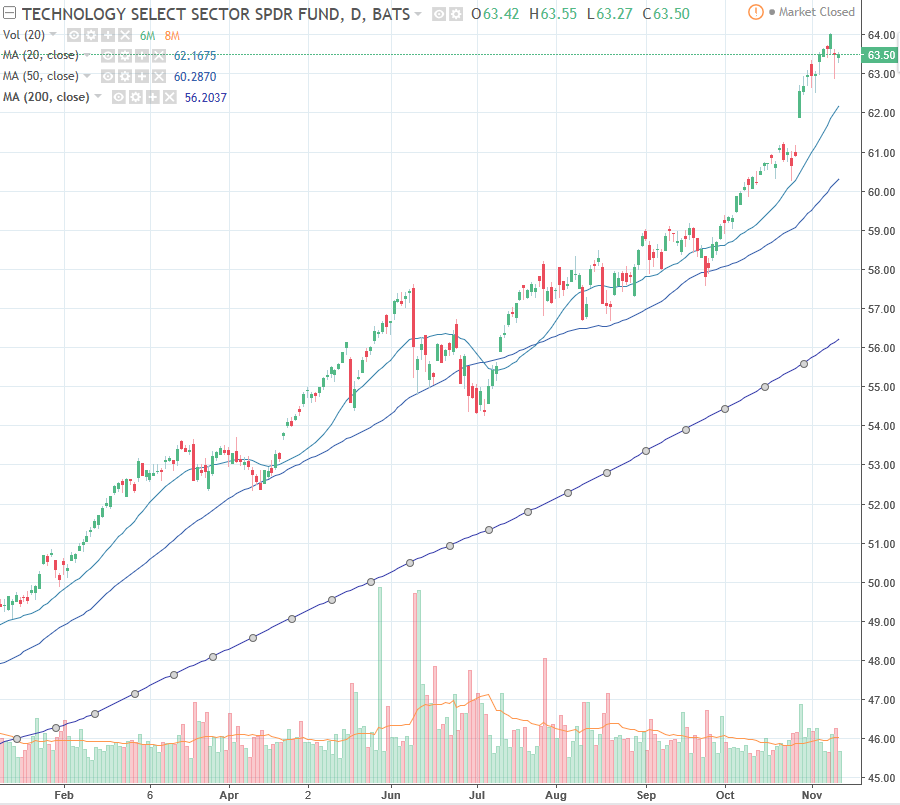 The PowerShares QQQ Trust (QQQ), which has similar top holdings to XLK, is also on a tear: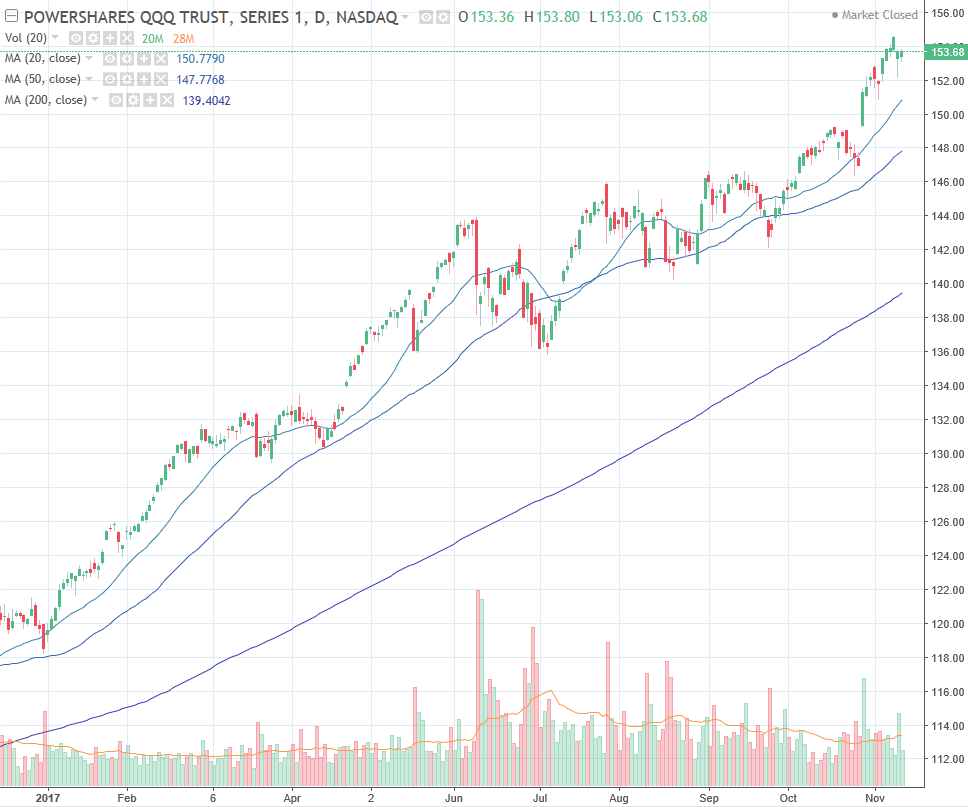 With its top holdings near all-time highs, it seems like the tech sector is going to build momentum, until there's a concrete reason for a sell-off. For now, a potential downturn hinges on the battle in Washington over tax reform and the corporate tax plan. If plans for tax relief stall, tech stocks — indeed, all stocks — could take a hit.
Without much real insight into what is happening behind the scenes in Congress, I expect tech stocks and the broader market to rally into year-end until there's a negative catalyst to stem the tide.
The play: I'm looking for a pullback to potentially get long these technology ETFs. Without a real reason for a sell-off, dip buyers have been banking while shorts have been getting mauled. I'm not getting in front of this bull run and losing money unnecessarily. The BTFD trade will keep working until it doesn't, which is why the tech sector and major indices look like they'll continue higher; I might buy call options on dips or buy these ETFs out right, if the charts show it to be the right move.
#-#-#
Jeff Bishop is lead trader at TopStockPicks.com. He runs short-term trading strategies, primarily using leveraged ETFs. At the time this article was published on RagingBull.com, he had no shares, options or open orders in XLK, QQQ, GOOG, MSFT, NVDA, INTC or AAPL..