That's right, Tesla Inc (NASDAQ: TSLA) is just became more valuable, by market cap, than Ford Motor Company (NYSE: F), after the electric car company surpassed $300 for the first time. You might be wondering how this electric company just surpassed Ford, and is now only slightly behind General Motors Company (NYSE: GM) in market cap. Well, it could be due to its potential expansion into the Chinese market, as well as its recent vehicle delivery numbers.
Catalysts That Sent Tesla Above $300
Now, last week, China's Tencent Holdings filed a Form SC 13G, which noted that the company bought a 5% stake in the innovative U.S. electric car company Tesla, valued at $1.78B. The investment by this Chinese tech company could allow Tesla to tap into the lucrative market of self-driving vehicles and other related services. Tencent Holdings could assist Tesla in selling, or even potentially building, electric vehicles, allowing Tesla to expand into the world's largest auto market.
In addition to that catalyst, Tesla announced that it delivered just over 25,000 vehicles during the first quarter. Approximately 13,450 were Model S and 11,550 were Model X. The company's vehicle deliveries in the first quarter marked a new quarterly record for Tesla, which represented a 69% increase from the first quarter of 2016. The electric car maker's first quarter production amounted to 25,418 vehicles, which was also a new quarterly record.
In addition to Tesla's strong first quarter 2017 delivery numbers, about 4,650 vehicles were in transit to customers at the end of the quarter. Now, those car deliveries will be counted towards its delivery numbers during the second quarter of 2017.
TSLA Performance, Statistics and Valuation
The stock traded between $294.53 and $304.00 today, marking a new all-time high. TSLA currently has a 52-week range between $178.19 and $304.00. Tesla Inc would be considered a momentum play, after it gained over 10% over the past week, prior to today. Additionally, the stock has been up 18.66% over the past month and 37.57% over the past three months.
Here's a look at TSLA on the daily chart: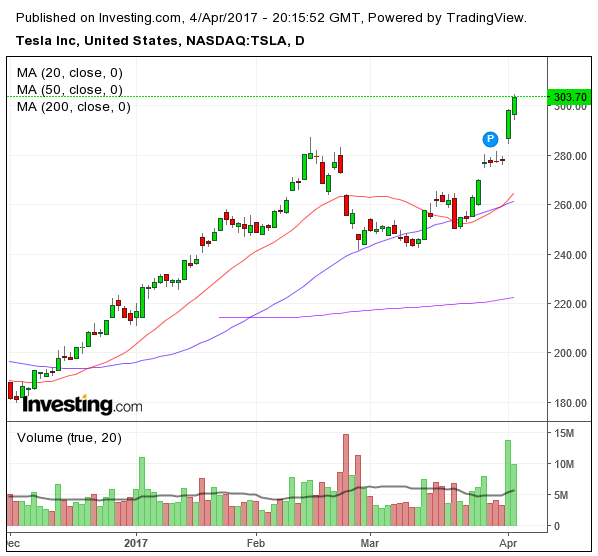 Source: Investing.com
As you can see above, TSLA's price recently broke above its 20- and 50-day simple moving averages, which signaled a reversal from its short-term downtrend. That in mind, the stock is trading well-above its moving averages, and it could establish a new uptrend, after breaking out from the rounded bottom pattern.
TSLA has 162.9 million shares outstanding, 127.5 million shares floating and a short interest of over 20%. As we've stated earlier, TSLA would be considered a momentum play, and if shares continue higher, it may cause some shorts to cover, potentially increasing buying pressure. In turn, TSLA could continue higher after its move above $300.
Final Thoughts
Tesla Inc just surpassed $300, and the main catalysts was the $1.78B investment by China's Tencent Holdings, and TSLA's record car delivery numbers. Now, TSLA has a high short interest of over 20%, and if the stock runs higher, there could be a short squeeze.
Related Articles: