Pot stocks look like they could be on fire again. Now, there are so many cannabis stocks out there, and some times, it's hard to find which ones to trade. However, there are ways to find potential pot stocks to trade. For example, you could use Finviz to find potential stocks to trade. Now, once you find a potential cannabis stock to trade, you need to conduct your due diligence… but we've got you covered with that. When you're learning how to trade, it helps to focus on a basket of stocks. For example, if you're interested in trading the marijuana industry… you would focus on the top marijuana stocks. That said, one of the top pot stocks is Aurora Cannabis stock (ACB) – formerly known as ACBFF.
Aurora Cannabis Stock Overview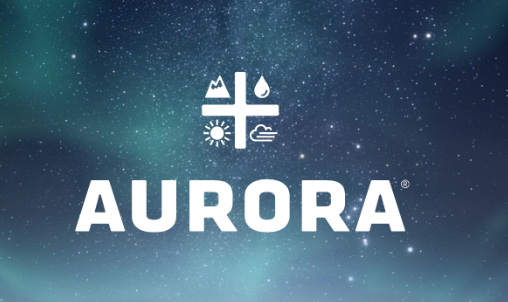 In order to properly conduct your due diligence on a stock… it helps to learn about its history and management team. Now, Terry Booth, Chief Executive Officer, founded Aurora Cannabis in 2013 – investing $2.5M to start funding for the company. With more than 20 years of experience – being the CEO of 6 companies over that period – Booth has a plethora of experience to lead Aurora Cannabis. If you want to read more into the company's management team, take a look here.
Aurora Cannabis traded under the ticker ACBFF before listing on the New York Stock Exchange. Previously, ACBFF traded on the OTC Markets, but once it expanded its growth initiatives, it looked to raise more capital. Consequently, it looked to one of the major exchanges, and fulfilled all the NYSE listing requirements and finally moved off OTC markets. In turn, this caused the stock to have some strong growth.
Now, Aurora Cannabis is one of the largest and quickest growing marijuana company in the world. Currently, Aurora Cannabis has a production capacity of 500K kilograms per year. Now, with an increasing number of states, as well as countries pushing for cannabis legalization… the company has started to aggressively expand internationally. Aurora Cannabis generates sales and has operations in 24 countries around the world – moreover, it's hiring new talent to help further drive growth.
For example, Aurora Cannabis announced it would hire hedge-fund manager Nelson Peltz to serve as an adviser. The company took this step to seal new cooperation agreements, as well as continue its global expansion strategy. Once Aurora Cannabis announced this news, it sent ACB stock higher by over 10%. Consequently, this moved other top cannabis stocks like Canopy Growth and Cronos Group.
Moving on, let's look at some of the specifics.
Aurora Cannabis Business
ACB stock is one of the top marijuana stocks due to the fact is has strategic growth initiatives in place. Aurora Cannabis is looking to:
Expand its production capacity.
Expand into new areas with legal cannabis laws in order to capitalize on new opportunities.
Diversify its product offerings.
Through these initiatives, Aurora Cannabis has been able to build 11 production facilities – which should continue to grow. Some of its production facilities include:
Aurora Sun located in the sunniest city in Canada with a production capacity of over 150K kilograms per year.
Aurora Sky located at Edmonton International Airport in Canada. This facility provides access to various courier services, customs, and security. It has a production capacity of over 100K kilograms per year.
Aurora Nordic, located in Odense, Denmark with a cultivation capacity of 120K kilograms per year.
MedReleaf Exeter, located in Ontario, Canada with a funded capacity of over 100K kilograms per year.
Aurora Cannabis Strategic Placements
Not only does it have some of the most innovative technologies in the business… Aurora Cannabis stock has some strategic investments, partnerships, and subsidiaries, such as:
CanniMed Therapeutics – A Canadian biopharmaceutical company with over 15 years of pharmaceutical cannabis cultivation experience.
MedReleaf – A cannabis producer focused on research and development (R&D) and is innovating the production of high-quality cannabis products.
Whistler Medical Marijuana – One of Canada's most iconic marijuana brands, which has developed and brought award-winning organic cannabis to the market.
Cann Group (ACB stock has 22.9% ownership) – This cannabis stock is focused on cultivating, manufacturing, and breeding medicinal marijuana in Australia.
Alcanna (Aurora Cannabis stock has 25% ownership) – One of the three largest private sector alcohol retailers in North America, which could help with the distribution of cannabis-alcohol beverages in the future.
Now that you have a basic idea of Aurora Cannabis stock, let's look at some details about ACB stock.
ACB Stock Statistics
Here's a look at Aurora Cannabis stock price performance over the last three years – on the weekly chart.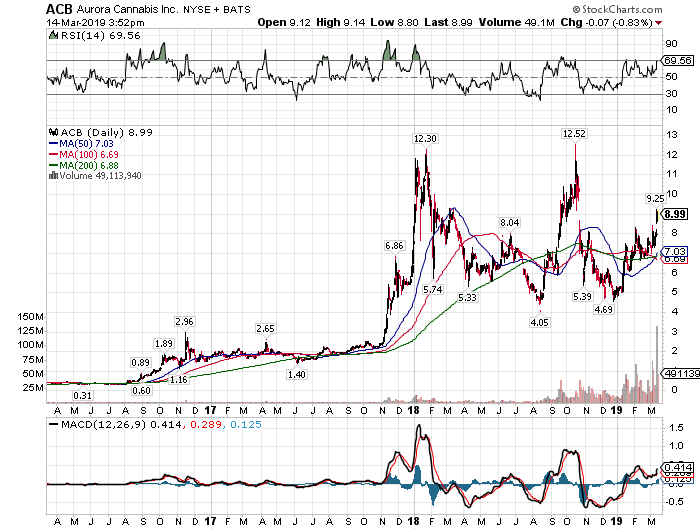 As you can see in the chart above, Aurora Cannabis has grown significantly over the years. However, it has been trading in a wide range for quite some time now – trading between $4.05 and $12.52 over the past few months.
Currently, Aurora Cannabis stock is considered a mid-cap stock, with a market capitalization of $8.75B… but it's really close to breaking the $10B market, which would make it a large cap. Now, ACB stock currently has 965.11M shares outstanding, with 962.05M shares floating. The stock has been up over 80% year to date, as over March 14, 2019… but it could continue to climb – with its new additions and changes.
Now, all this information is great… but how do you put it into action?
Ways to Trade Cannabis Stocks
Well, traders like Jeff Williams specialize in stocks like this.
But what is it exactly they look for? Well, it's chart patterns. For example, here's a look at how you could've traded ACB stock.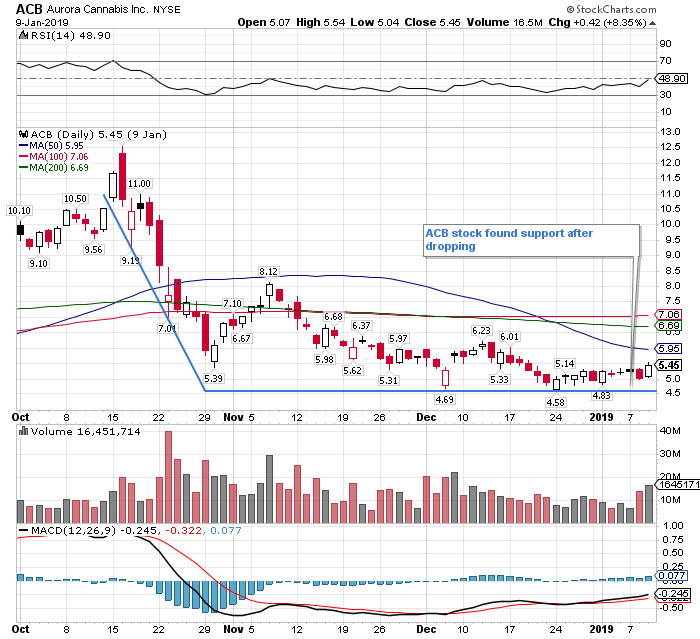 This is one of Jeff Williams' money-making strategies… there are three things to watch with this pattern.
A steep drop in stock price.
Stock finds a support area (prices that the stock had a hard time breaking below). The support for ACB stock price was around $4.50 – $4.60.
Thereafter, you want to see the stock start to rise.
Now, you could have bought ACB when it broke above $5 and risked down to $4.50. In other words, if the stock broke below $4.50… you would have sold your shares for a small loss. If you followed that approach… here's what the stock did after.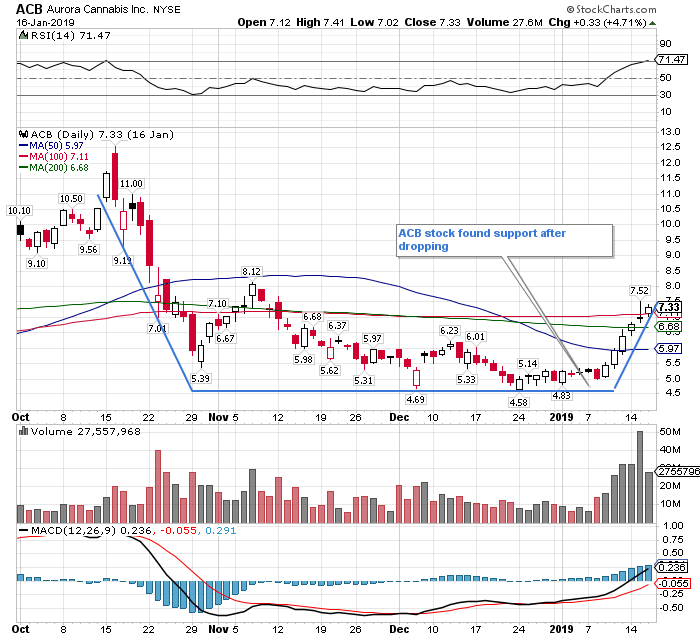 Jeff Williams has applied his strategies to generate profits like these: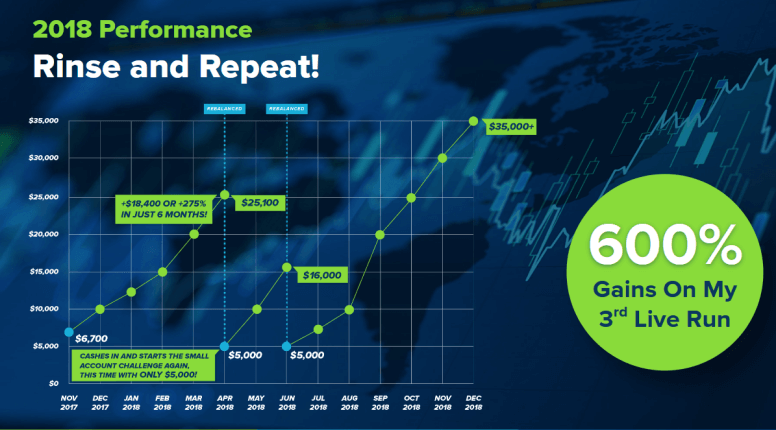 Want to See How Jeff Williams Grew His Account by 600%?

Jason Bond has three patterns that he looks for that could have also been applied to trading Aurora Cannabis stock. Just by focusing on his patterns, catalysts, and areas of value… he was able to more than double his account within the first two months of the trading year.

Want to Get an Inside Look at Those Patterns?
Final Thoughts on ACB Stock
Getting back.
There are a number of ways to trade the top cannabis stocks. However, there's one thing to keep in mind with pot stocks like ACB… they can be volatile, and if you just started out trading… you should have a mentor walk you through cannabis stock plays. Now, ACB has quickly become one of the leaders in the cannabis space, and if you want to trade this name… make sure you do your research, and pair it with chart patterns. While cannabis stocks may be considered risky… they can provide a wealth of opportunity. Of course, if you buy and hold Aurora Cannabis stock, you might experience large swings in your profit and loss (PnL)… however, if you actively trade marijuana stocks, it may be safer because you have a better handle on your risk.