It wasn't too long ago when the marijuana – also known as cannabis – the industry was at a crossroads. States wanted to legalize, while former Attorney Jeff Sessions was not looking to legalize it any time soon… However, the industry and marijuana stocks caught a break in November when Jeff Sessions was ousted and replaced by Matthew Whitaker, who sympathizes with medical cannabis patients. That said, the political landscape for the cannabis industry this year is not as daunting as it was last. Now, let's take a look at the best marijuana stocks to buy in 2019, but first, we need to go over the ongoing changes in the industry.
Marijuana Industry Overview
Now there is upside potential in marijuana stocks and industry. You see, the Democrats are retaking control of the House of Representatives, which should drive policymakers to push for legalizations in states – and potentially on the federal level.
Here is a look at the current legal landscape of cannabis.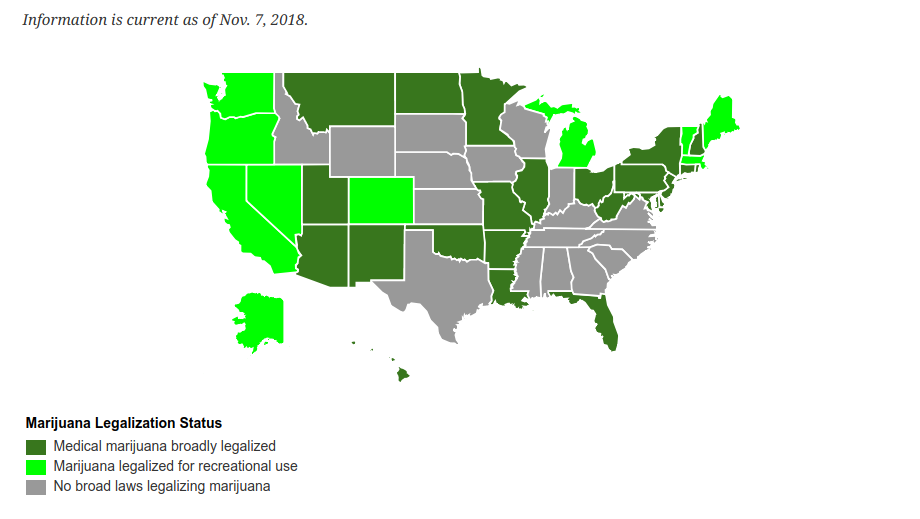 That's a lot of states with legal medicinal and, or, adult-recreational use of cannabis.
Moreover, in October 2018, Canada became the second country to legalize marijuana, as well as the largest country with a legal cannabis marketplace. Now, with Canada legalizing cannabis countrywide, it could open up the floodgates of new legalization laws. For example, Mexico is taking the next steps to legalize marijuana, after its supreme court noted that an absolute ban on recreational marijuana use is unconstitutional.
Keep in mind, trading cannabis stocks is risky and a difficult to learn at first. However, if you're looking to profit in small-cap stocks, which includes many companies exposed to the cannabis industry, check out this webinar.
Moreover, if you want to learn how to trade marijuana stocks, check out this guide. That in mind, let's take a look at some cannabis stocks to potentially buy in 2019.
Best Marijuana Stocks to Buy in 2019
Now, in no particular order, here are some top marijuana stocks to keep on your radar.
Aphria (NYSE: APHA)
Now, with the recent market volatility, Aphria plummeted significantly. However, this could be a great sight for investors and bullish traders. Moreover, the stock has found some support around the $4 area and has been catching a bounce to kick off the year. Additionally, it's setting up for one of Jason Bond's patterns – he specializes in small-cap stocks and has consistently generated insane returns…and he's teaching people how to develop the mindset of a seven-figure trader.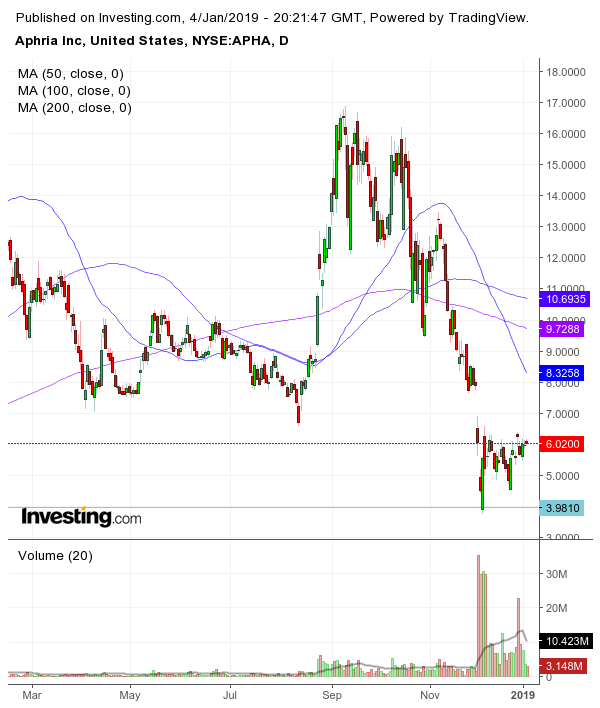 Aphria is a low-cost Canadian producer, supplier, and seller of medicinal cannabis. Now, the company is dedicated to providing consumers with pharma-grade medical marijuana, coupled with superior patient care. Moreover, Aphria is looking to generate returns to shareholders.
Here's a look at Aphria's historical earnings per share (EPS) and revenue, as well as its EPS and revenue forecasts.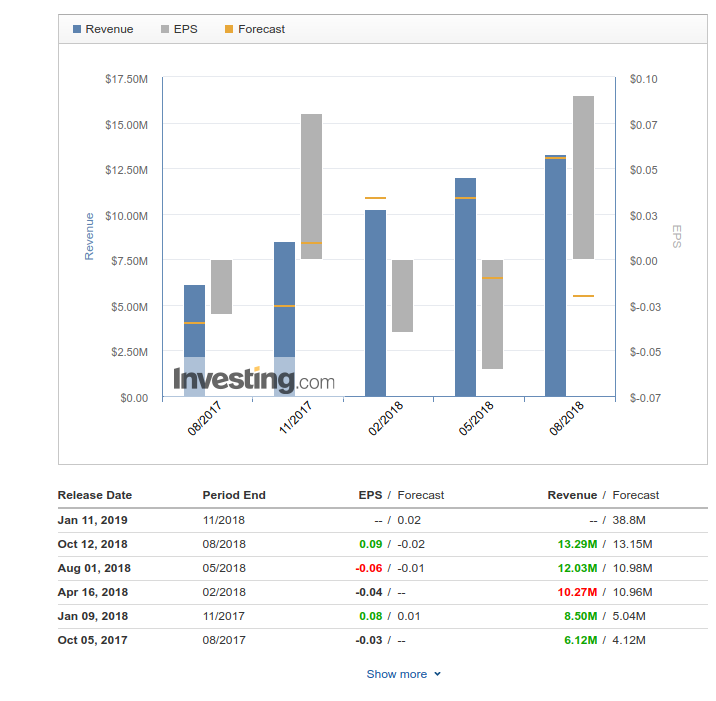 By looking at these figures, Aphria is projected to turn a profit and grow its revenues by nearly 200% quarter over quarter (QoQ).
Moving on, let's take a look at another potential cannabis stock that could be poised for growth in 2019.
Cronos Group (NASDAQ: CRON)
Cronos Group is a Canadian cannabis grower and seller. With the Canadian market facing supply shortages, the price of cannabis could rise. In turn, this would benefit Cronos Group.
Now CRON's core assets include Peace Naturals, Original BC (OGBC), and Whistler Medical Marijuana Company (WMMC). These three core assets could help Cronos to produce 100K kilograms of marijuana per year. That said, the company is projecting a massive increase in revenues.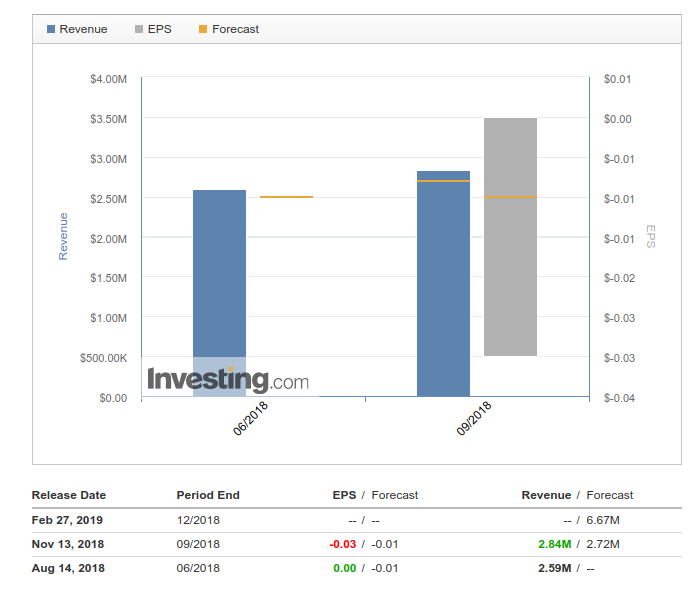 Cronos Group also has one positive catalyst that could further bolster their revenues.
Following Constellation Brand's (STZ) $4B investment in Canopy Growth Corp. (CGC), Altria (MO) followed suit. Nearly everyone knows the cannabis market is filled with growth opportunities…what better way to gain exposure than by investing in a cannabis stock?
Altria Group (MO) is taking action to become a first mover in the cannabis space, and purchasing a 45% stake in Cronos Group…that's approximately a $1.8B investment.
With this capital injection, Cronos Group could further expand into different territories. In turn, this could turn Cronos Group into a well-establish cannabis stock.
Those catalysts could push Cronos Group to new highs: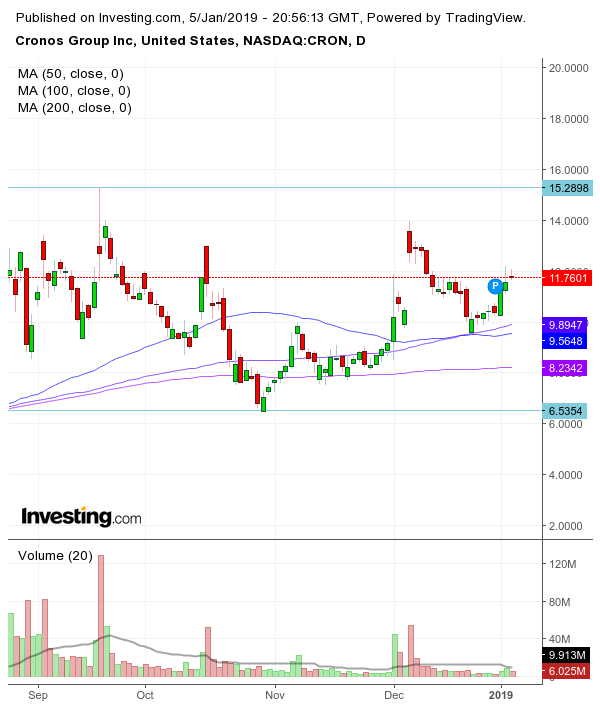 Even though the market was selling off, Cronos Group held up fairly well. This cannabis stock has multiple positive catalysts in the works. That said, this stock could be one of the best performing marijuana stocks in 2019. Currently, the stock is consolidating and could be poised for a breakout. Now, if you don't understand technical patterns, check out how they could benefit your trading.
Let's take a look at one last cannabis stock to consider this year.
Canopy Growth Corp. (NYSE: CGC)
Canopy Growth is one of the most established companies in the space.
Canopy Growth is well-diversified with various brands, and is innovating the industry. The company's portfolio includes Canopy Health Innovations, Canopy Innovation Lab, Battelle, ebbu, Entourage Phytolab, and Scientus Pharma.
Not only that, the company has been continuing with acquisitions to bolster its portfolio. For example, Canopy Growth acquired Storz & Bickel – cannabis device maker.
As mentioned earlier, Constellation Brands and Canopy Growth Corp. closed the $4B investment deal. That in mind, CGC could be well-positioned to take a large part of the cannabis beverage market.
Now, here's a look at CGC on the daily chart.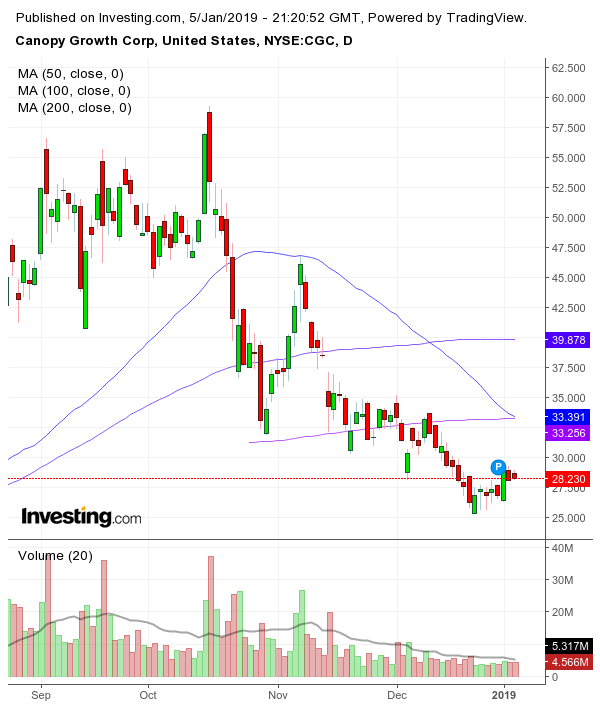 The stock looks like it's found support, and could make a move higher. Moreover, this is one of Jason Bond's favorite patterns to trade. Moreover, it may be currently undervalued, after being exposed to the market selloff.
Final Thoughts on Best Marijuana Stocks
Now, keep in mind, cannabis stocks could be volatile, especially if you're new to the game. Before you even consider trading cannabis stocks, start with the basics. That means conducting your own due diligence, recognizing money-making patterns, as well as journaling your trades.
Moreover, there are politics involved with this space. If you want to stay up to date on any changes in the cannabis industry, take a look here.
Finally, make sure your risk tolerance is suitable to trade marijuana stocks. If you're extremely risk averse, then this industry might not be for you. However, if you like to take on risk and are looking for growth, it might make sense to consider this industry.