Cannabis stocks are heating up with legalization news, and investors and traders are looking for ways to gain exposure to this new industry. Now, if you don't already know which cannabis stocks to focus on… it helps to learn about the leaders. Once you learn about the leaders in the space, you can figure out the business models and find laggards (stocks that move with the leaders). That said, let's take a look at the cannabis industry first before we look at the ins and outs of Cronos stock (CRON). First, here's a look at Cronos Group stock price performance over the past year: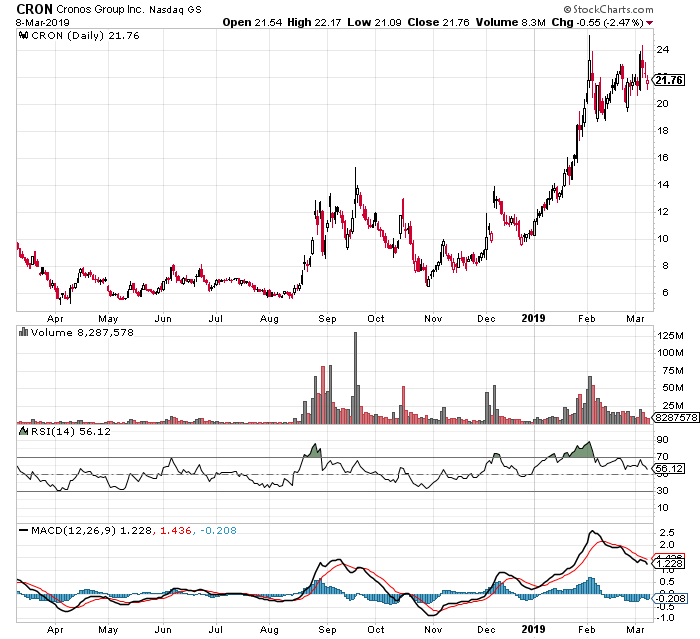 Cannabis Stocks Industry
Before we delve into the ins and outs of Cronos stock, let's look at the state of the cannabis industry. Here's a current view of the U.S. marijuana laws map: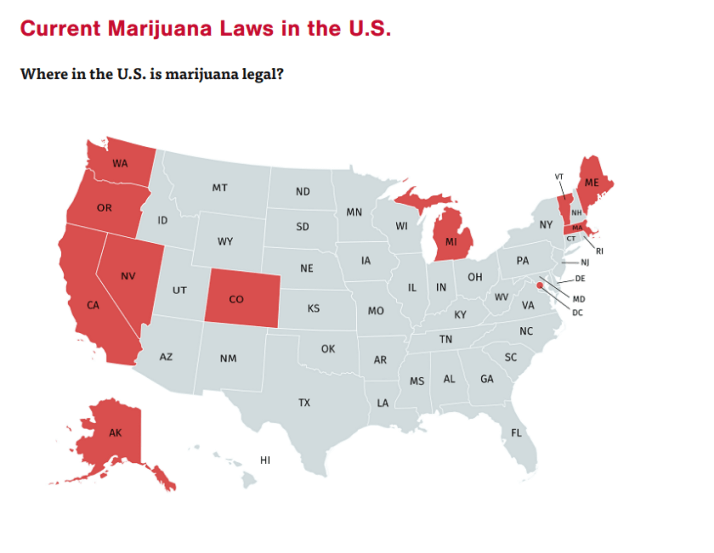 Source: Drug Policy
Multiple states already have legal cannabis laws, and that could snowball into more states looking to legalize it. Not only that, Canada has already legalized both recreational and recreational use of cannabis. Consequently, there has been increasing demand for cannabis products. In turn, we've seen cannabis stocks catch a nice pop since those catalyst events.
That said, according to Grand View Research, the legal cannabis market is projected to reach $146.4B by the end of 2025. Not only that, other research firms like Nielsen Holdings have started to team up with cannabis analytics companies in order to study the impact of cannabis legalization. Now, they'll probably come to the conclusion that legalization of cannabis would affect consumer spending and shopping trends. In order words, the legalization benefits cannabis stocks because there are more consumers purchasing those products.
Additionally, Canaccord Genuity – the largest underwriter of cannabis-related stock offerings – is laying the foundation for potential listings and mergers and acquisitions of companies in the space. Not only that, Jefferies Financial Group has initiated coverage on multiple North American cannabis stocks. In turn, this should further drive growth in cannabis stocks.
Now that we've got that out of the way, let's take a look at the intricacies of Cronos Group stock.
Cronos Stock In Focus
Cronos Group is a vertically integrated cannabis company operating within Health Canada's Access to Cannabis for Medical Purposes Regulations. The company distributes its products globally, and therefore, is geographically diversified. Now, the company aims to establish a valuable international cannabis community, build industry-leading companies to better the cannabis consumer experience.
Cronos stock has three core assets:
Peace Naturals

CRON stock owns 100% of Peace Naturals, which is a company licensed to both produce and sell medical marijuana with 95 acres of land. Additionally, Peace Naturals is able to cultivate cannabis oil.
Cronos Group stock's subsidiary company has been growing rapidly in order to meet the demands of Canadian patients, as well as patients around the world. In order to meet patient needs, Peace Naturals offers both dried flower and cannabis oils.

Original BC (OGBC)

Cronos Group also owns 100% of OGBC – a cannabis company licensed to cultivate and sell medical cannabis. OGBC produces medical cannabis on its 31 acres of land in the Okanagan Valley in British Columbia.

Whistler Medical Marijuana Company (WMMC) – Cronos Group stock sold all of its common shares in the company recently to Aurora Cannabis for a purchase price of $175M Canadian dollars.
CRON Stock Receives Investment From Altria Group
Now, in an attempt to keep up with the fast-paced cannabis industry, we've seen companies from both the alcoholic beverage and tobacco market invest into cannabis stocks. For example, Constellation Brands (STZ) – the market of Corona, Svedka, and Modelo – invest $4B into Canopy Growth (CGC) – one of Cronos Group stock's competitors.
Cronos stock also received a strategic investment from Altria Group (MO), which also acquired a 35% stake in JUUL labs (an e-cigarette company).
According to Cronos Group, "As previously announced, Altria's investment represents an approximate 45% ownership interest in Cronos Group. Altria also has a warrant to acquire additional ownership in Cronos Group, which is exercisable over the next four years. If exercised in full today, the warrant would increase Altria's ownership in Cronos Group to approximately 55% and provide Cronos Group with additional proceeds of approximately C$1.4 billion."
That said, with this investment, Cronos stock could continue its rise higher.
Now, let's take a look at some specifics about the stock.
Cronos Group Stock Specifics
As shown in the chart from earlier, CRON stock has seen a strong price movement over the past few months.
Now, CRON stock is up over 100% year to date. Over the past year, Cronos stock is up more than 120%. The stock currently has 178.71M shares outstanding, with 157.42M shares floating. Additionally, over 15% of the company is owned by instituations. Moreover, it has a short float of 14.90%. That said, if CRON stock has a positive catalyst, it would not be farfetched to see it fall into a short squeeze.
But what are traders watching in CRON stock?
Well, some traders are looking at the potential catalysts and the charts.
For example, here's a look at the daily chart on CRON.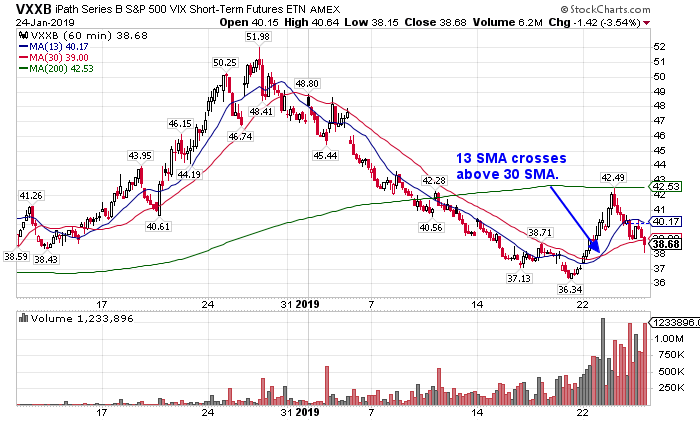 This is known as a bull flag pattern – also known as a continuation pattern. Now, one trader here at RagingBull who's great with chart patterns is Jason Bond. This is one of his bread-and-butter strategies, and falls into the category of "continuation" patterns.
Just by using three patterns and catalyst events, he was able to lock in these profits to start off 2019: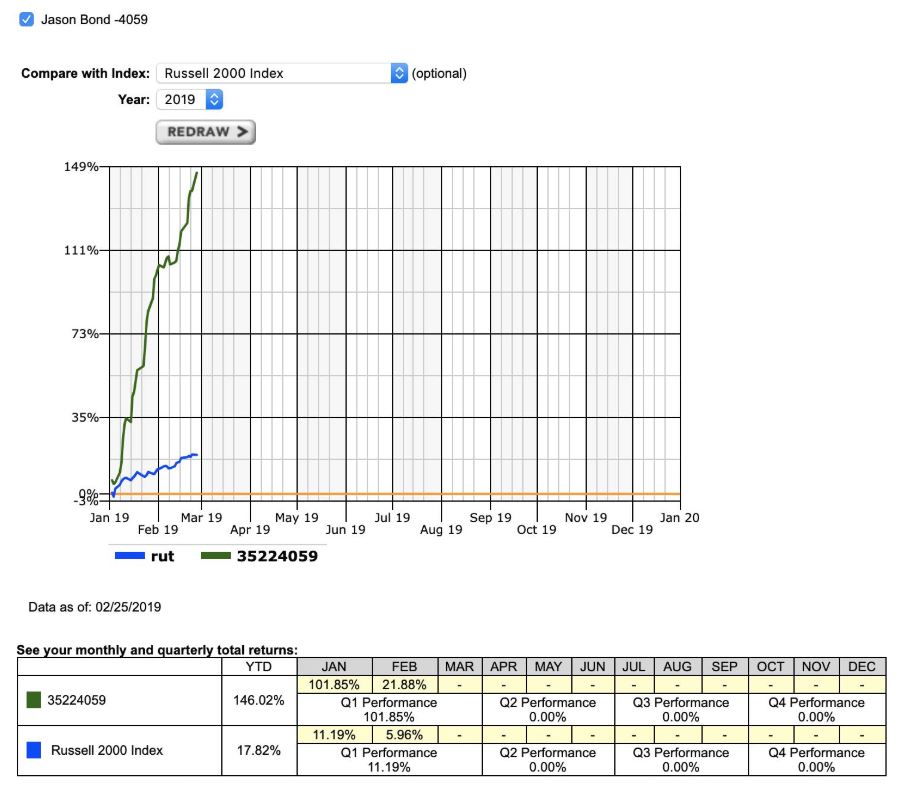 Want to Get an Inside Look at Those Patterns?
Getting back to CRON stock.
There are plenty of technical traders looking at this bull flag pattern… and many believe it could run higher. Now, if you want to trade Cronos Group stock, make sure you conduct your due diligence.
Remember, cannabis stocks are a new breed of stocks, and they can be volatile. That said, it helps to have a mentor to help you along the way.
Keep in mind, there are still ongoing developments in the cannabis industry. That said, it helps to stay up to date on politics and any other potential catalysts affecting Cronos stock.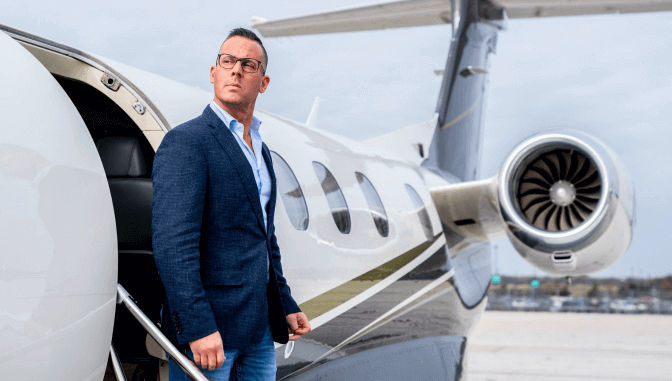 Why Most Traders Fail – And What You Can Do About It.
Forget about hypothetical and wishy-washy scenarios… Millionaire Roadmap instructors trade with real cash…stream their accounts in real-time…and produce real results.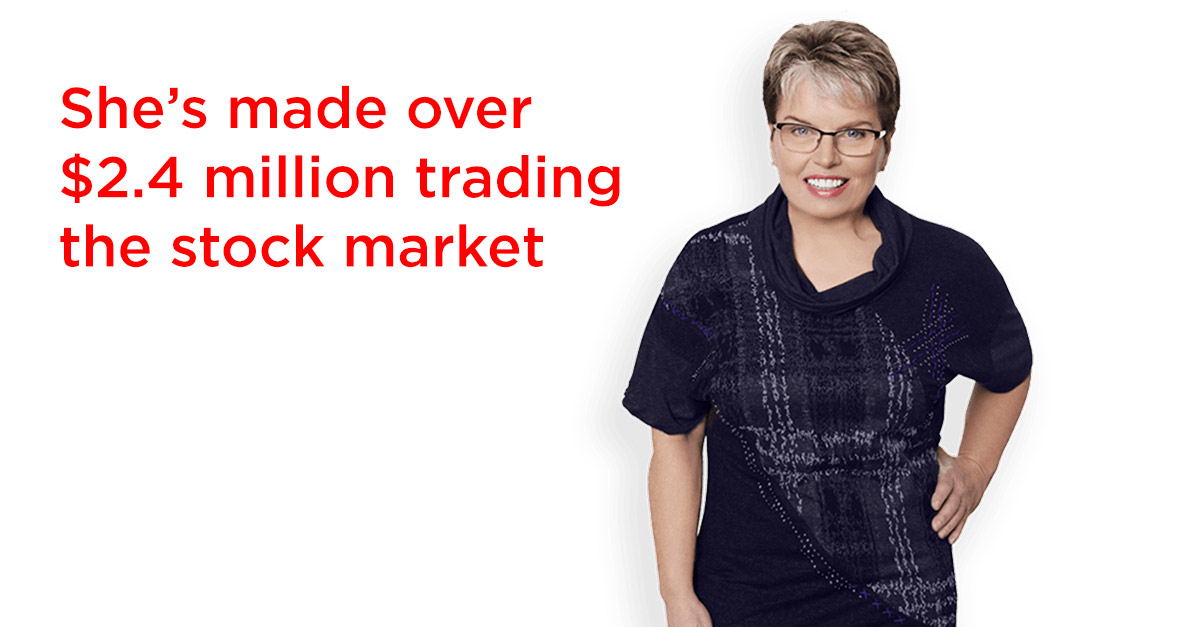 "Never lose more than 2% of your entire account on any trade."
That's just one of the golden rules that has helped Petra Hess amass millions in trading profits.
Want to find out the rest?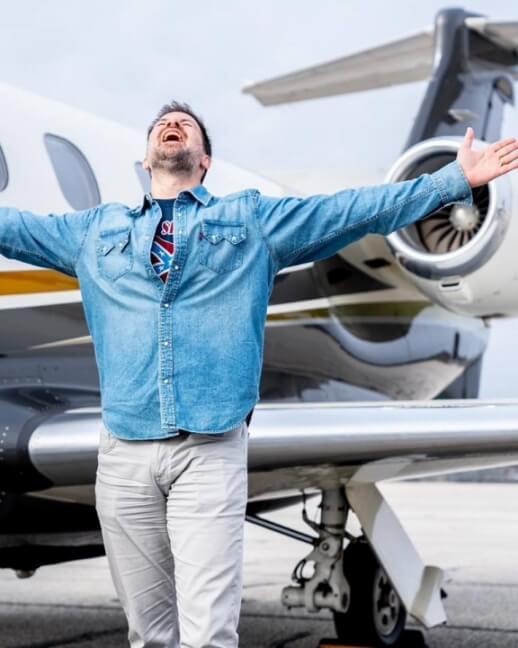 If you give him 30 days… He'll make you a better options trader. Jeff Bishop averaged one +100% winning option trade per week in 2018. And now he wants to teach you.