Cannabis growers in California and elsewhere were rattled recently after White House Press Secretary Sean Spicer said the federal government would increase enforcement of recreational marijuana. The announcement appears to have ended what little ambiguity was left surrounding the new GOP administration's stance on pot.
California became the most prominent state to legalize recreational weed among adults, triggering bullish bets on the industry as a whole. With a population of 39 million and an economy comparable in size to the world's most advanced nations, California is considered the one state that can pressure Washington to reclassify or de-schedule marijuana. An either/or scenario is necessary for recreational weed to become a viable industry. Without federal reclassification, recreational weed growers will be hard-pressed to access financing even in states where their business is legal.[1]
An Unusual Alliance
California's elected officials have already joined forces with the cannabis industry to fight the federal crackdown. They are prepared to bring their case before the courts and Congress to protect the legalization measure approved in a state referendum last November.[2]
The state's Proposition 64 passed with overwhelming support in the Nov. 9 plebiscite. More than 57% of state voters – nearly 8 million people – voted in favor of legalizing recreational use of the drug.
The unusual alliance between state officials and the cannabis industry is more practical than it sounds. At stake is billions of dollars in profits for businesses and billions more for the state treasury.
While it's true that legalization in California will have a major impact on the rest of the country, there's no guarantee the recreational weed industry will take off in the golden state – especially with federal prohibition strictly enforced. California took the medical marijuana industry to the next level with its low regulation and leading research facilities. If it screws up recreational, it will undermine the national effort to decriminalize the drug and make it a viable industry.
Stakes Are High
Looser regulation and laissez-faire capitalism are what the recreational marijuana industry needs to thrive in California. Some experts argue the money trail would reluctantly bring big banks and venture capitalists into the fold, who together would nurture a rapidly expanding industry. On the business side, it wouldn't be just recreational growers who profit, but companies across a spectrum of industries including pharmaceuticals, agriculture and technology.[3] For these reasons, California is prepared to put up a big fight against White House enforcement.
Republican Congressman Dana Rohrabacher (R-Costa Mesa) has already announced plans to counter Spicer's threat with legislation that would limit the Justice Department's ability to enforce federal laws against recreational weed in the state.
State Attorney General Xavier Becerra has also come to bat for the industry, vowing to uphold Proposition 64 by any legal means necessary.
"If there is action from the federal government on this subject, I will respond in an appropriate way to protect the interests of California," he said.[4]
Practically speaking, a federal crackdown on recreational weed will just drive the industry underground, perpetuating a decades-old war on drugs that has had very little positives to show for it.
A favorable tailwind could help California's legal marijuana market reach $6.5 billion by 2020, serving as a "watershed" moment for the U.S. industry and abroad, according to research from Arcview Group. If the numbers hold, that would give California a 28% share of the national weed industry, inclusive of both recreational and medical products.[5]
How Traders Should Respond
Marijuana stocks have gotten high off legalization in California and several other states, but investors shouldn't take this to mean that recreational weed growers are about to take off. As a nascent industry, recreational marijuana investments will be highly volatile for the foreseeable future. Many of them trade as penny stocks and very few have a viable business model. The latest crackdown, if anything, makes the industry less appealing in the short run, but it has presented itself with some great opportunities for investors. Long term outlook is still very positive.
Most of the promise remains in medical marijuana, but this segment also faces headwinds after Spicer's comments cast doubts on the industry as a whole. Pot-related investments have declined sharply as a result. Leafly, a marijuana information database, says many marijuana-related stocks have declined up to 15% since February 23.
Since peaking at three-month highs on February 21, the North American Marijuana Index has plunged more than 10%. The index is an equal-weighted average of some of the leading cannabis stocks in the U.S. and Canada.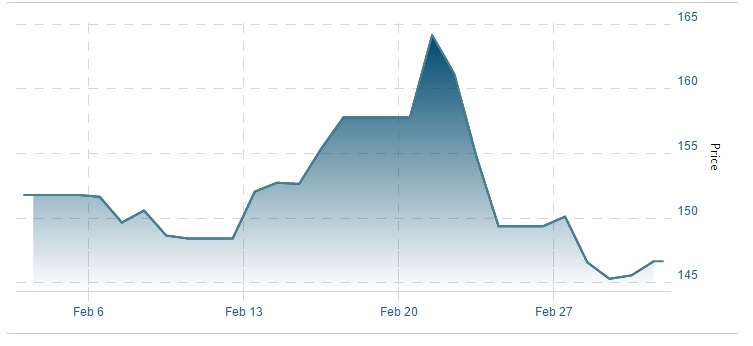 While investors should be encouraged by the response from California lawmakers and industry to the growing threat of federal enforcement, they should expect uncertainty to result in tepid trading conditions in the short term. Investors seeking exposure to this sector may want to consider diversified pharmaceuticals that have passed clinical drug tests and are making their way to market. Some of these companies include Cara Therapeutics (CARA), AbbieVie (ABB) and GW Pharmaceuticals (GWPH).
Investors for the time being may also want to consider stocks with indirect exposure to the weed industry. For example, Scotts Miracle-Gro (SMG) is a garden equipment company that is booming as a result of the pot euphoria. The company doesn't grow weed, but manufactures specialty fertilizer and equipment that are used as inputs for the marijuana industry.
Long story short, the marijuana industry has been and will continue going through some rocky stages, but that's to be expected. It's hard to deny the positive effects that the green plant has had on the states that have legalized it. While other states are not yet sold on the idea, it is only a matter of time before they are all on the same page. While the Federal Government may be poised to crack down on legalization, it's interesting that the Patent and Trademark Office has been granting cannabis patents to multiple companies. Headlines can be deceiving and there is still a long way to go, but a closer look reveals that the US Government doesn't seem as intent on hindering the industry.


---
[1] Debra Borchardt (November 7, 2016). "How California's Marijuana Legalization Vote Could Impact The Entire Country." Forbes.
[2] Patrick McGreevy (February 25, 2017). "California officials and the marijuana industry prepare to fight a federal crackdown." Los Angeles Times.
[3] Debra Borchardt (November 7, 2016). "How California's Marijuana Legalization Vote Could Impact The Entire Country." Forbes.
[4] Patrick McGreevy (February 25, 2017). "California officials and the marijuana industry prepare to fight a federal crackdown." Los Angeles Times.
[5] The Cannabist (August 23, 2016). "Report: Legalizing marijuana in California could create $6.5 billion market by 2020.