You've probably already seen or heard about marijuana stocks going bananas. You're probably thinking, "How can I make money trading pot stocks?" There are a few tips for trading marijuana stocks, and you can use technical analysis and catalysts to potentially make money trading marijuana stocks.
Now, with more countries and states looking to legalize cannabis, these stocks could potentially continue running. But what if you don't want to chase these names up? Well, some of the gurus here at Raging Bull have proven they could make money trading pot stocks. They've been using their market-tested strategies to get into these names and banking on them. Let's take a look at some examples of how to potentially make money trading marijuana stocks.
How to Make Money Trading Marijuana Stocks
When you're trying to make money trading marijuana stocks, you need to stay up on news. If you miss one key piece of information, you might miss the trade. That said, you might want to create a watchlist of marijuana stocks to keep an eye on. Don't worry if you don't have access to a professional news service. Google is your friend. However, make sure you're only looking at trusted news services. For example, you might consider looking at Bloomberg, Reuters, CNBC, and Finviz for news.
Moreover, you'll want to focus on any changes in cannabis laws because that could potentially move these stocks.
Here's a look at the current state-by-state marijuana policies.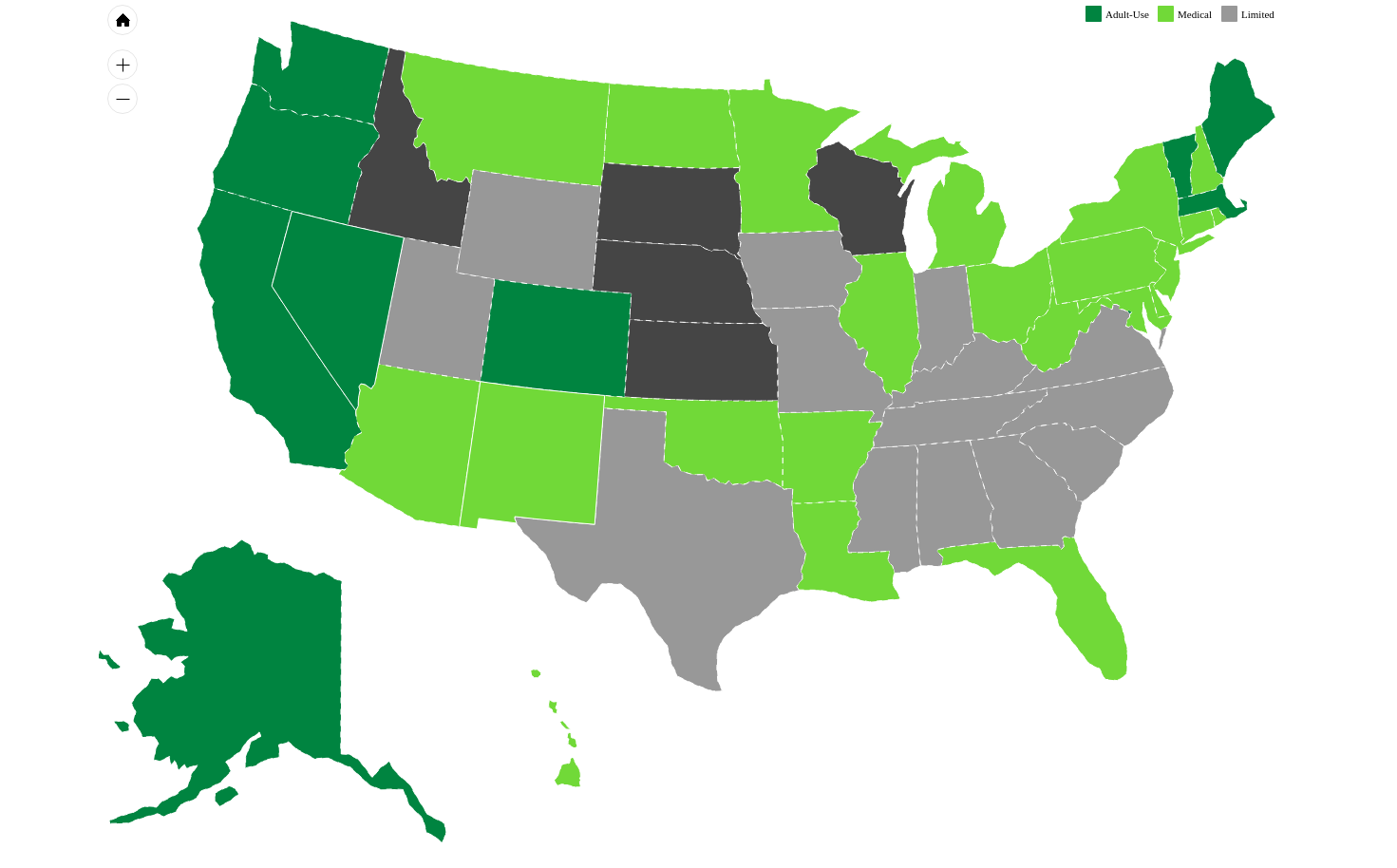 Source: National Cannabis Industry Association
Moreover, you'll need to know the legalization status for marijuana in different countries. For example, the most recent runup in marijuana stocks could be attributed to the upcoming changes in marijuana law in Canada. With Canada looking to legalize cannabis for recreational use, marijuana stocks have been going bananas.
How to Trade Marijuana Stocks
Marijuana stocks can be very volatile, especially as the United States is still hammering out details about the legality of this drug. However, if you proceed with caution, do your due diligence, research carefully before investing, and follow a few best practices, you can learn how to successfully trade pot stocks. Here's an overview of how to trade marijuana stocks.
Wait for a Positive Catalyst
When you're looking to trade marijuana stocks, you need to wait for a positive catalyst. For example, when Constellation Brands (STZ) announced it would be investing $4B into Canopy Growth Corporation (CGC), it signaled there were positive changes coming to the industry. That's right, the maker of Corona and Modelo beer is looking to tap into the potential of the cannabis industry.
Here's a look at CGC on the hourly chart after this news hit the wires.
The stock doubled in just under 2 weeks after STZ announce it would be investing in CGC.
Now, prior to this press release, Jeff Bishop thought CGC found a bottom and owning calls with a $25 strike price made sense. He thought marijuana stocks could continue higher and started to build a position in the name.
Here's a look at a snippet of one of Jeff's emails to the community.
Keep in mind, he entered this trade due to the potential optimism in the industry. When the options moved against him, he was willing to buy more call options on CGC.
Now, here's a look at the stock again.
Normally, Jeff would wait until the 13-period simple moving average (SMA) crosses above the 30-period SMA on the hourly. If this happens, he looks to buy call options. Jeff likes to trade based on the "money pattern" a lot and found that you could multiply your money with just a small move in the underlying. Well, he was already in these options, and it didn't really make sense to buy more.
Here's what happened with the trade.
Now, you could only imagine what would have happened if Jeff bought longer-dated options. With just a small move in the underlying stock, he doubled his money in a short period. This isn't a rarity, as we've seen Jeff multiply his money on a number of occasions.
Another tip for trading marijuana stocks is to look for sympathy plays.
Sympathy Plays for Marijuana Stocks
It seems like when a few marijuana stocks move, it turns into a snowball effect. Consequently, there are a plethora of sympathy plays. For example, Jason Bond traded some marijuana stocks based on the industry catalyst. After Constellation Brands announced the investment in CGC, marijuana stocks were going crazy.
We saw marijuana stocks like Tilray (TLRY) and Weed Inc. (BUDZ) have large percentage moves. Here's a look at TLRY on the hourly chart.
Here's a look at BUDZ, which Jason was stalking for a while.
Jason bought BUDZ and let the community know about his trade. This is Jason's bread-and-butter trade, and he found marijuana penny stocks that could potentially move.
Well, in just one day, BUDZ returned 10% and Jason took profits.
Final Words
To learn how to trade pot stocks successfully, you need to stay on top of any changes in the industry. When you see significant potential changes, such as marijuana legalization in a country or state, you might want to start looking at potential marijuana stocks to buy. Remember, marijuana stocks could be volatile, and you should only trade capital that you could afford to lose. Don't go out putting all of your savings into marijuana stocks because there's still some uncertainty.