Marijuana stocks got high in January, as investors shrugged off political jitters and focused on the potential of the so-called 'gold rush' industry.
Marijuana stocks are off to a fast start in 2017, fueled by strong seasonality and growing M&A activity in the pot industry. Three stocks in particular stood out as the winners.
Insys Therapeutics: Management Shakeup Sparks Rally
Speciality drugmaker Insys Therapeutics (INSY) rose sharply in January, as investors went bargain hunting following a key management departure. Founder and CEO John Kapoor resigned last month amid several improprieties associated with the marketing of Subsys, the company's breakthrough fentanyl spray approved for cancer patients. Under Kapoor, the company was fined $2.9 million by the state of New Hampshire for aggressively marketing its opioid treatment. New Hampshire faces the highest per-capita fentanyl death rate in the U.S.[1]
After plunging more than 65% last year, INSY shares spiked 11.3% in January. The stock was up as much as 16.5% following a high-profile healthcare conference hosted by J.P. Morgan on January 9. It was here that INSY presented to a room full of investors its vision for the future. However, with sales slumping, INSY's management team has a lot of work to do to convince investors that Subsys can still be the company's flagship product.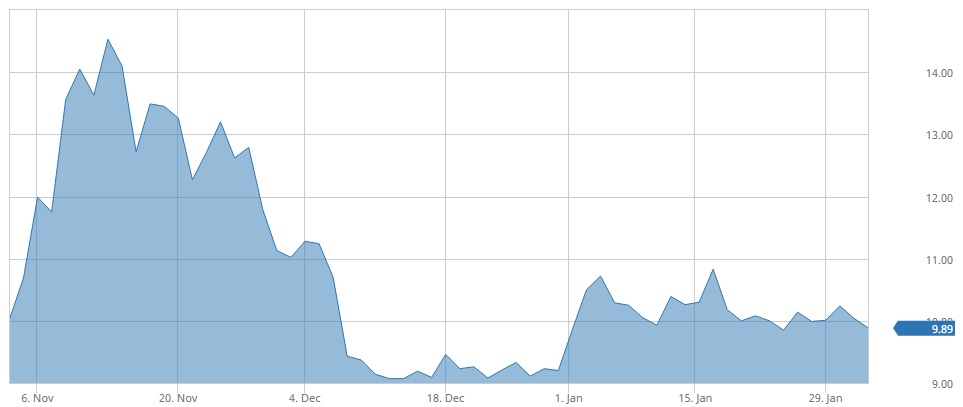 AXIM Biotechnologies: The Chewing Gum Cannabinoid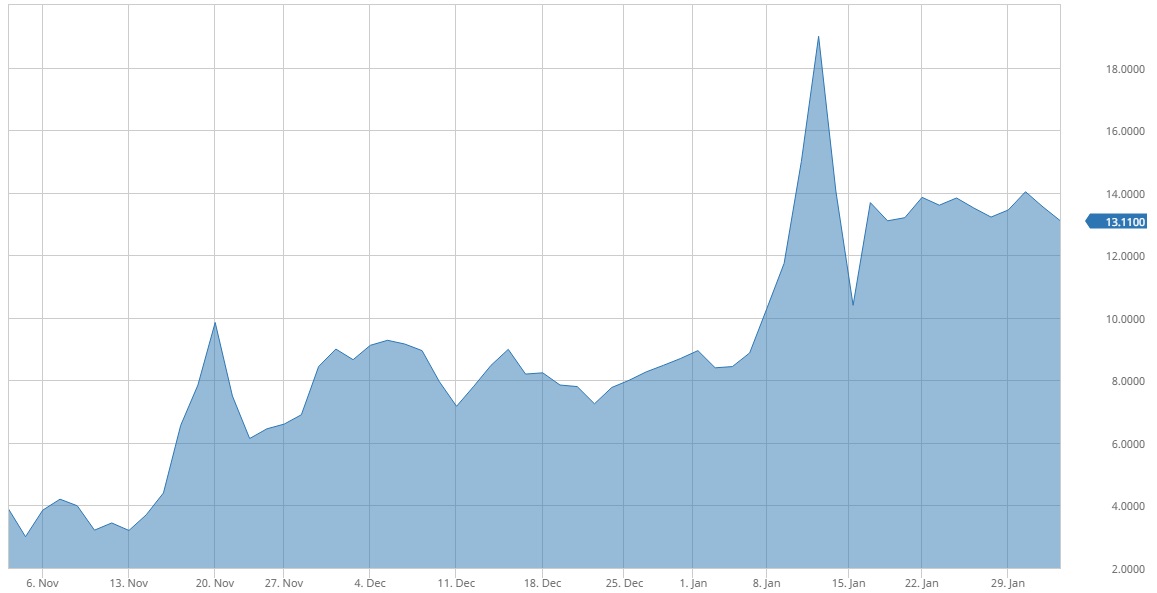 AXIM Biotechnologies (AXIM) has taken a unique approach to cannabinoid treatment by pioneering low-cost R&D on compounds with prior 'evidence of safety'.[2] In an industry where the average cost of developing a drug is around $2.6 billion, AXIM is emerging as an affordable portfolio builder for investors looking to break into the pharmaceutical industry.
AXIM shares spiked 61.2% in January, as investors bought into the company's positive clinical results on flagship products like CanChew Plus CBD Gum, a chewable treatment for irritable bowel syndrome. By comparison, the U.S. Marijuana Index, a gauge of the country's leading pot investments, rose 3.8% over the same period. All this, and the company is spending less than $100,000 per quarter on R&D. For these reasons, the company was named one of the top marijuana money makers of High Times magazine.[3]
Canopy Growth Corporation: WEED Expands Strategic M&A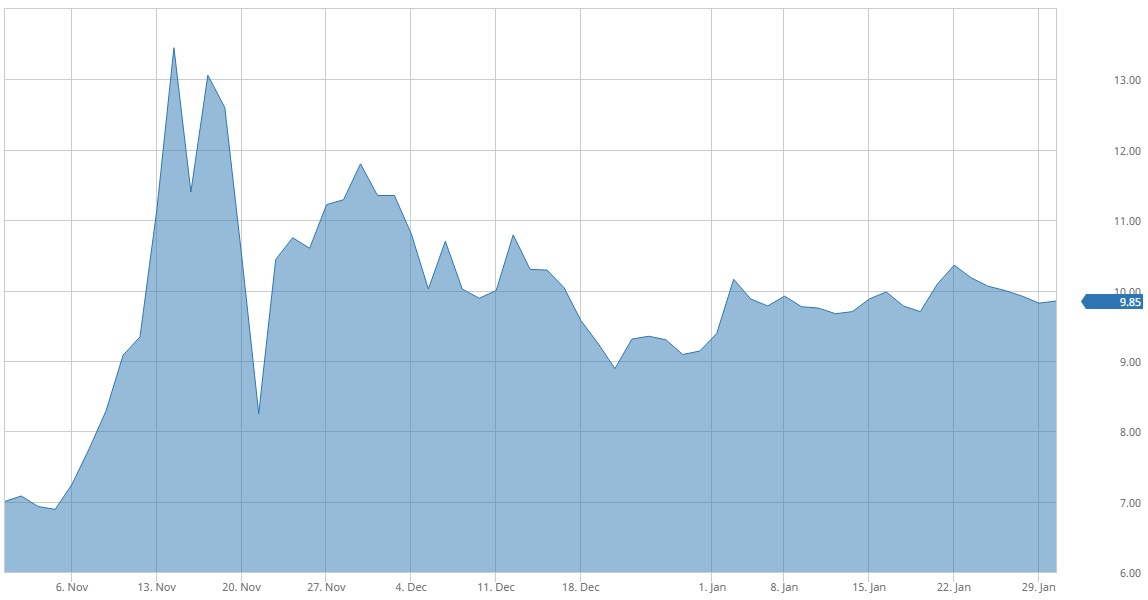 Shares of Canopy Growth Corporation (WEED) climbed 7.8% in January, outperforming the marijuana index and broader equities market. The diversified cannabis company joined elite company on February 1 by ringing in the Toronto Stock Exchange with a four-letter ticker symbol: WEED. On the TSX, four-letter stock symbols are usually the purview of billion-dollar companies and other major players.[4]
WEED has found consistency over the past two months after a meteoric rise in the wake of legalization reform in several U.S. states. With the company expanding its M&A capability, analysts believe the stock is still undervalued. Last month, WEED announced the acquisition of Mettrum Health Corp, a licensed producer of medical cannabis. The acquisition highlighted WEED's capacity in growing market share in a year that could be filled with many more strategic acquisitions.
Marijuana stocks are likely poised for new heights in 2017, although the uptrend could be volatile as investors navigate political headwinds. Legal marijuana sales reached $6.7 billion in 2016, according to Arcview Market Research. Legal sales are forecast to hit $20 billion by 2020. That's a 198% increase.[5] The industry's strong growth potential has led many analysts to declare marijuana the 'gold rush' of the 21st century.
---
[1] Pat Grossman (January 18, 2017). "Opioid maker settles lawsuit over fentanyl spray." Union Leader.
[2] Marketwired (January 31, 2017). "AXIM Biotech: Building a Lower Cost Portfolio of Cannabinoid Therapeutics – SECFilings.com." Yahoo! Finance.
[3] Jermaine Farmer (January 12, 2017). "Axim Biotechnologies Inc. (OTCMKTS:AXIM) Continues to Impress on All Fronts." Oracle Dispatch.
[4] Will Ashworth (February 2, 2017). "Canopy Growth Corp. Joins an Elite Crowd." Yahoo! Finance.
[5] Jack Delaney (January 30, 2017). "Top Marijuana Stocks This Week (Jan. 30)." Money Morning.