It's 4-20, also known as weed day, or "Black Friday" for the cannabis industry. As a friendly reminder, Monsanto Company (NYSE: MON) stated on Twitter, "Happy 4-20. Time for our yearly reminder: Monsanto has not and is not working on GMO marijuana." Here's a look at the tweet, if you don't believe us.

Source: Twitter
Now, previously, there were rumors circulating that Monsanto was creating a genetically modified (GMO) version of cannabis. The myth has been "debunked," as the company has continued to state that it has not and is not working on GMO marijuana.
Let's get into some company news now.
Monsanto President Brett Begemann filed an SEC Form 4 yesterday, and disclosed a sale of 80,940 shares at a price of $116.13. Additionally, Monsanto reported earnings a few weeks ago and had some strong growth second quarter and first half 2017 results, according to the company. Let's take a look at those earnings.
Monsanto 2Q 2017 Financial Results
Monsanto reported an as-reported earnings per share (EPS) of $3.09, and an ongoing EPS of $3.19 for the second quarter of the 2017 fiscal year. Now, the company's strong results was primarily driven by its strong gross profit growth in its corn and soybean businesses, and the absence of the Argentine peso devaluation. Moreover, its strong growth in its net sales and EPS were also attributed to its sale of the Latitude wheat fungicide business.
The company reported net sales of $5.07B for 2Q 2017, while it reported total net sales of $4.53B in 2Q 2016, over a 11% growth year over year. Moreover, its diluted EPS grew by over 25% year over year. Now, the company expects its FY 2017 EPS come in at the high end of its range between $3.95 and $4.44 on an as-reported basis, and $4.50 to $4.90 on an ongoing basis.
MON Statistics and Valuation
MON traded in a range between $115.77 and $116.09 today. MON has a 52-week range between $88.76 and $116.60. MON is currently trading above its 20-, 50- and 200-day simple moving averages, as shown in the chart below. As of April 19, 2017, MON was up over 3.14% over the past month, and outperformed its industry by over 4%. Moreover, it returned over 7% over the past three months.
Take a look at MON's performance on the daily chart: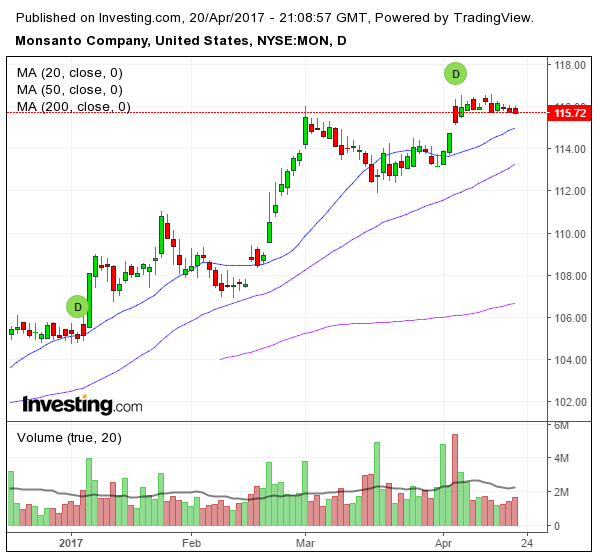 Source: Investing.com
No, the stock's rise isn't attributed to the potential changes in the cannabis industry. The company is not working on GMO cannabis.
Moving on.
The stock has a P/E ratio of 26.8. Monsanto Company had a price-to-book ratio of 9.2, while the industry average was 3.8. Monsanto has a trailing 12-month price-to-sales ratio of 3.5, while the industry average was 2.2.
MON is estimated to report earnings on 2017-06-28*. *Note, the earnings date is subject to change.
Final Thoughts
Monsanto stated, yet again, that it hasn't been and is not working on GMO cannabis. The company recently reported earnings, and showed some strong growth. It seems as if the company is going to focus on its current businesses, as its been performing well, recently.