The political landscape surrounding marijuana is rapidly changing. Public polls show that more than half of the United States is in favor of legalizing marijuana. Meanwhile, marijuana has already been legalized in Canada, Mexico, Belize, Jamaica, and many other countries. Understanding the scope of cannabis legalization will help you evaluate the marijuana stock forecast so you can identify the top marijuana stocks and come up with an effective plan for profiting off of them.
The Shape of the Marijuana Landscape
Canada has already legalized recreational marijuana. Canadian Prime Minister Justin Trudeau is looking to legalize cannabis, while strictly regulating and restricting access to it. When the Cannabis Act passed, Canada became one of the first major countries in the world to regulate the legal sale of cannabis.
While Trudeau may have had many reasons to legalize recreational marijuana use, economics could be the real driving force here.
Profits from Legalized Marijuana
According to Arcview Market Research, legal marijuana sales in North America grew to $6.7 billion in 2016, up roughly 30 percent from a year earlier, with the hike fueled by expansion of the legal cannabis market in U.S. and Canada. In addition, Arcview projects North American sales to grow to over $20 billion by 2021, a compound annual growth rate of 25%.
Here's a look at a survey conducted by Deloitte: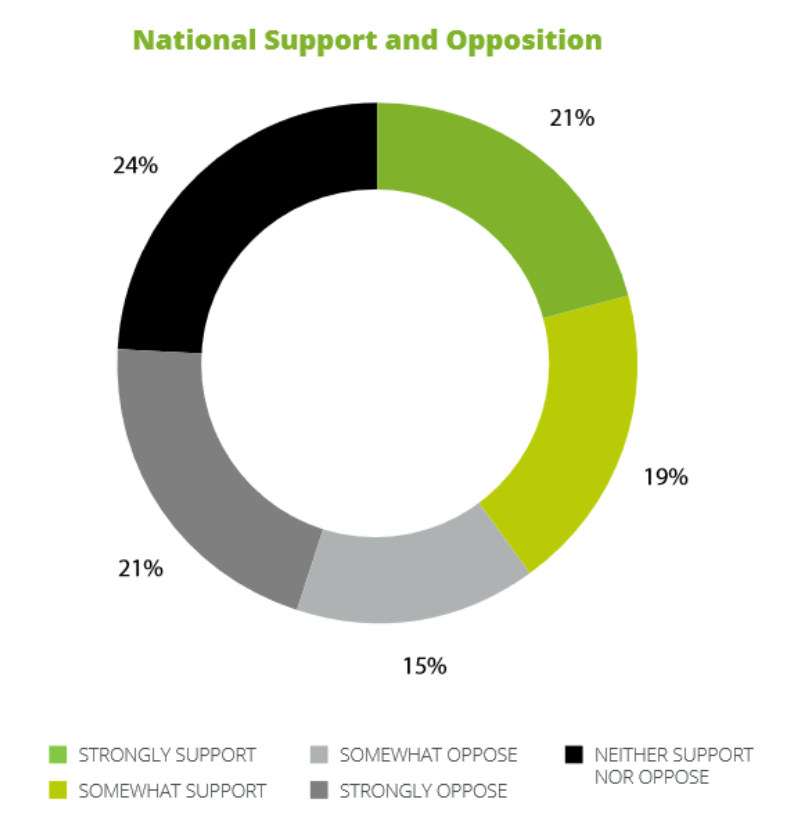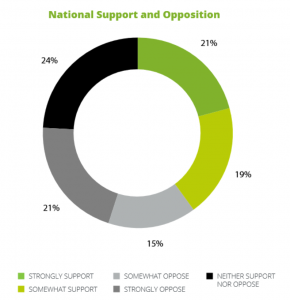 Source: Deloitte
Keep in mind that this is just a sample, and there is sample bias. Some of those surveyed may have been afraid to say they support legal marijuana use, while in fact they might.
Similar to Arcview's study, Deloitte forecasts strong growth in the legal cannabis market. Here's a look at their projections: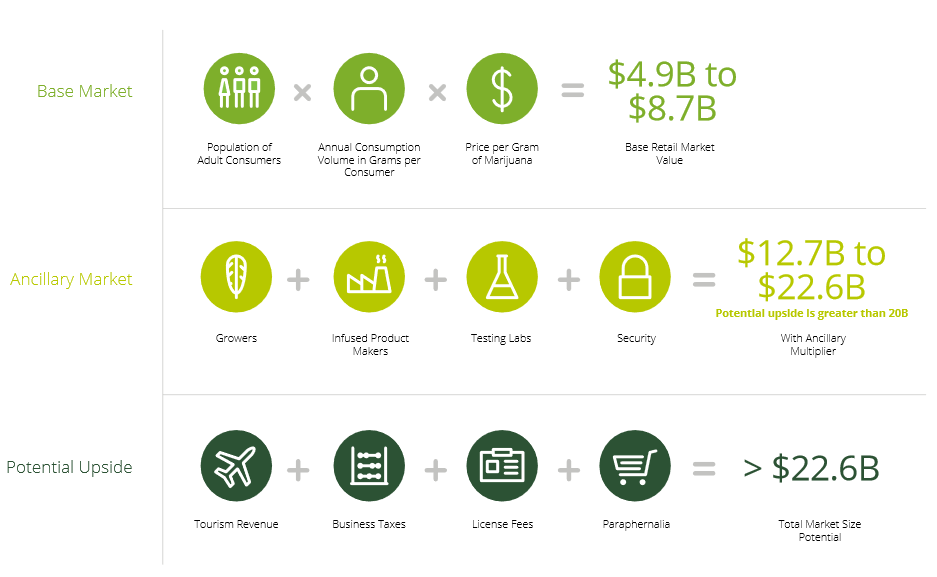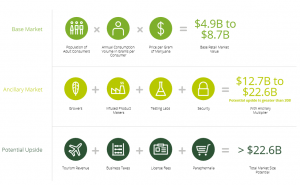 Source: Deloitte
These are projections; growth could be larger or more explosive than expected with the potential legalization of cannabis in Canada and the likely expansion of US states allowing the use of marijuana for recreational and medical purposes. (California, Colorado, Nevada, Oregon, Washington, Alaska, Maine and Massachusetts are the legal-marijuana states.). The more states that cross the line, more sales will grow.
What this means is that you could potentially profit from the top marijuana stocks. Here's a look at some of the issues shaping the marijuana stock forecast.
Canopy Growth Corp.
Canopy Growth Corporation (OTCMKTS: TWMJF) is a leading marijuana company that topped $1 billion in market cap. The company has some core brands, including Tweed, Bedrocan and Mettrum that many cannabis users are familiar with, even if they don't recognize the Canopy name.
Tweed is one of the most recognized cannabis production brands in the world, with a large following due to the high-quality products it offers. Bedrocan provides patients with medical-grade cannabis, and Bedrocan PV was a pioneer in the medicinal cannabis industry in Holland and has decades of experience selecting and refining cannabis. This ultimately led to the standardization of whole bud cannabis strains that patients could rely on.
Mettrum, Canopy Growth's third core brand, has a unique color-based strength and dosage system, as well as a robust online-physician portal and investments in medical research and multiple production facilities.
TWMJF has built some momentum due to the recent developments in the cannabis industry, and is poised to rise with the potential changes in Canadian cannabis laws.
Aurora Cannabis Inc.
Aurora Cannabis Inc. (OTCMKTS: ACBFF) is another stock that stands to benefit from expanded legalization. Based in Vancouver, British Columbia, Aurora Cannabis — and its wholly-owned subsidiary, Aurora Cannabis Enterprises Inc. — is a licensed producer of medical marijuana pursuant to the access to cannabis for medical purposes regulations. Aurora currently operates of a 55,000-square-foot state-of-the-art production facility and is currently constructing an even larger hybrid greenhouse.
Aurora has started selling dried flower cannabis to medical patients, and obtained a license from Health Canada to sell cannabis oils. Aurora recently surpassed $500 million in market cap; even after gaining more than 300 percent in 2016, the stock has room to run amid marijuana expansion.
Aphria Inc.
Aphria Inc. (OTCMKTS: APHQF) is a third cannabis stock that could benefit from the proposed law in Canada. Aphria is based in Ontario, and is a low-cost producer of cannabis. The company produces, supplies and sells medicinal marijuana to patients, using natural growing practices. That in mind, Aphria aims to provide patients with pharmacy-grade medicinal marijuana, coupled with high-quality patient care and low costs.
Like Aurora, Aphria has surpassed $500 million in market cap, continuing to rise after gaining over 300 percent a year ago.
Final Thoughts
Cannabis stocks have the potential to continue riding the wave of growth as Canada's legislation moves forward. That said, it's still important to understand the risks. The stocks mentioned here, for example, are traded on the OTC Markets and not subject to stringent reporting requirements. There are many competitors — and more emerging all the time — and all of the companies have limited histories, so don't get too high on the news and go too easy on your due diligence.
Hone your stock market trading skills overall and you can increase your chances of success both with the top marijuana stocks and with other types of trading.