If you've been keeping an eye on SPY Daily editions, then you know…
I've been on top of my game. Teaching and trading SPDR S&P 500 ETF (SPY) options is the foundation of my career. This is the most powerful fund in the entire world.
If the largest holdings of a fund include Apple (AAPL), Facebook (FB), and Microsoft (MSFT)…
Why wouldn't you want to learn more about trading the heart and soul of the American economy?
Some economic calendar events are more important than others. I love studying economic calendars and sharing my thoughts with members, but certain items can matter more than others as it relates to actually trading real money.
For example, the Federal Reserve increasing or decreasing rates or inflation reports coming in a percent above or below are items that matter to me.
Those can be market-moving catalysts, and as a trader, I better prepare myself for events of this nature.
But not every economic calendar schedule is high-impact, which is what we're looking at today…

The beauty of what you can do with me is disregarded what might move markets in a green, red, or sideways craze.
What you can do with me is focus on one trade, on one stock, at one time, and that's exactly why I am sharing my Market Navigator trade of the day thoughts with you.
The top priority I'll share with you this morning is today's chart of the day, SPY's daily chart.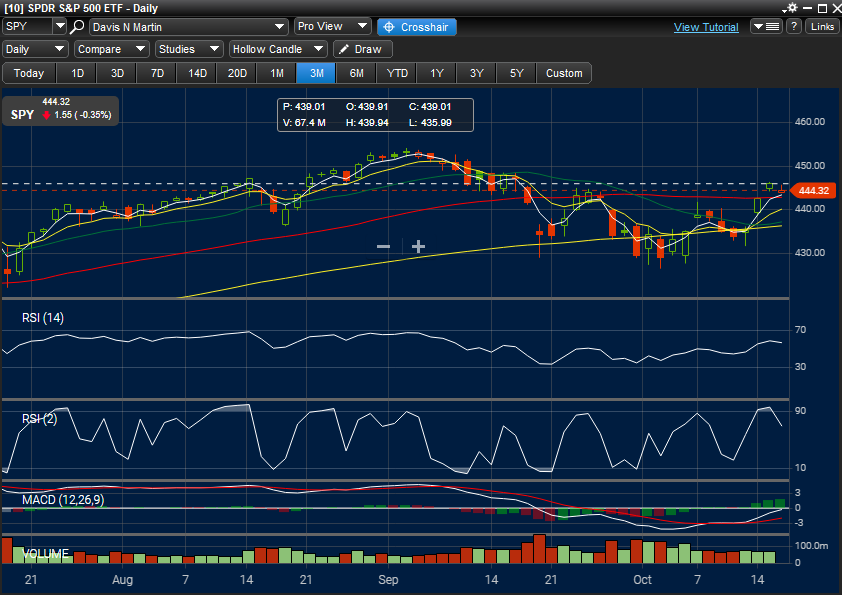 SPY's Daily Chart
You may notice that SPY is trading just above its 50-day simple moving average line, shown in red on the chart above.
The 50-day simple moving average line is more important than it may sound as oftentimes when SPY is trading above it, Wall Street sees an overall uptrend, leading them to cover short positions.
The best part about this morning's scan is that SPY is trading just above this level, making it a support level that algorithms could be ready to go on buying sprees off of.
Therefore, as long as SPY holds its 50-day simple moving average line today, I'll be looking for SPY to trade to the upside – potentially as soon as the opening bell rings.
But ahead of that… I want you to know that we keep a close eye on reader input and feedback. I'm a passionate teacher, trader, and I care about your success. That's why you're reading this right now – my goal is to teach you new knowledge ahead of the opening bell.
That said, check your inbox tomorrow at 10 AM ET. As a part of my mission of being dedicated to your success, you'll see what you've been waiting for.
Think simple,

Davis Martin